Advertiser Disclosure
How to Get Your Free Annual Credit Report
Review a free, complete report every 12 months from each credit bureau through AnnualCreditReport.com. In between, keep tabs with a free service.
The government-mandated AnnualCreditReport.com website is the quickest way to request your credit reports for free every 12 months, but you can also do so by phone or mail. Here's how, when and why to use AnnualCreditReport.com.
How to get your reports from AnnualCreditReport.com
Go to AnnualCreditReport.com
Enter your name, Social Security number, address and birthdate
Request a credit report or reports
Successfully answer security questions about your credit history
Generate your credit report online
Here is a detailed walk-through of the steps:
First, make sure you're on the right site; some have similar-sounding names. The one you want looks like this: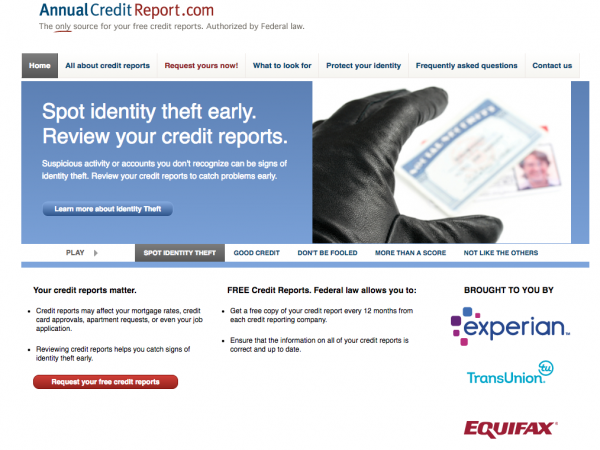 You'll have to enter your name, address (and a previous address if you've lived at your current one for less than two years), Social Security number and birthdate.
Then you'll choose the credit bureau or bureaus — Equifax, Experian and TransUnion — from which you want reports by checking the boxes.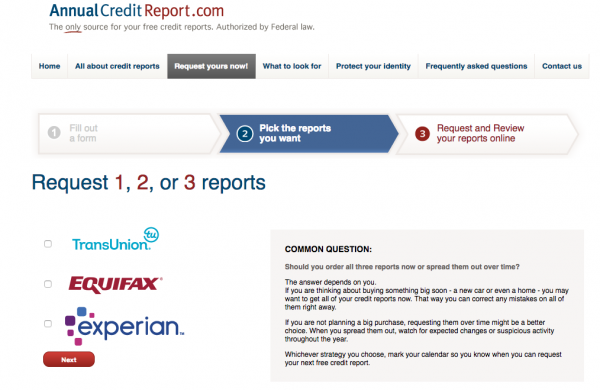 For each report request, you'll be asked a few questions about your finances that presumably only you can answer — for instance, the approximate amount of your mortgage payment or who holds your auto loan and when you took it out.
Some consumers have reported difficulty using the site, particularly answering security questions about accounts that are several years old. If you can't recall those details, you can request your reports by mail or phone; this process doesn't require security questions. Reports will be sent within 15 days of receiving the request.
Mail a request form to:
Annual Credit Report Request Service
P.O. Box 105281
Atlanta, GA 30348-5281
Or call 877-322-8228. Visually impaired consumers can also call this number to request audio, large-print or Braille reports.
If you successfully answer the security questions, you can generate your report online. We recommend you print out a copy or save it on your desktop.