[Update: Check out the 2016 brackets now as you prepare for your next tax filing.]
Filing your taxes in the next couple months, for last year's income? Find your federal income tax bracket and tax rate for income earned in 2013.
For the 2013 calendar year, the highest marginal tax rate is 39.6% – but a married couple filing jointly with a taxable income of $400,000, just barely in the highest bracket, would pay only 27% of their income to the federal government. The reason why is in the difference between the marginal tax rate and the effective rate. The former indicates how much your last dollar is taxed, while the latter is the percentage of your income paid in taxes.
2013 marginal tax rates (for 2014 filing season)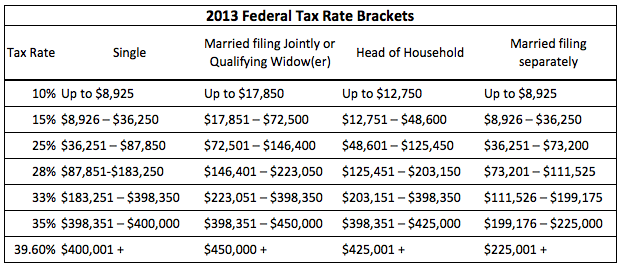 Best Tax Software for 2014
NerdWallet investigated the online and software options offered by two of the largest online tax preparers.  The conclusion? H&R Block is significantly less expensive for investors while TurboTax is a more pleasant user experience. 
Cost for 1 Federal & 1 State Return:
Online: $69.90
Software: $64.95 (can be downloaded)
"Easy to use, maximizes refund, and price was GREAT!!!"
"It was difficult to navigate and locate any errors."
"It was nice to import our information so I didn't have to re-enter everything in."
"Took me all of about a couple of hours to fill out my tax return…in the past it usually took me around 5 hours…so much easier!"
Cost for 1 Federal & 1 State Return:
Online: $86.98
Software: $89.99 (can be downloaded)
"The wizard guides you through everything and it is nearly impossible to forget anything."
"Very easy because information from last year's returns transferred automatically."
"Used a different lower cost program last year. Never again."
"We've had several "life-changes" and TT makes them all easy to navigate."
Sample 2013 effective tax rates for a married couple filing jointly (for 2014 filing season)

But your tax payments will probably be even lower
Imagine a married couple that earned $400,000 last year: though they are in the highest tax bracket, their tax bill will be lower than $140,000 (35% of $400,000). Rather, they'll pay just $108,346 (27%) to the federal government. And that's before we include any deductions – their tax bill is probably only going down from there. Because the tax rates refer not to your gross income – the amount you think of as your salary – but your taxable income, which is your gross income minus 401(k), charitable, mortgage and other deductions.
Gross income vs taxable income
Let's take a look at another example. You're filing singly, and your gross income last year was $40,000 – this is the income that you'd find on your offer letter.
But just because your gross income is $40,000, your last dollar earned won't necessarily be taxed 25%, because your taxable income might be far less than $40,000 after you claim deductions, exemptions and adjustments.
For example, if you contributed $5,000 to your 401(k) in 2013, you reduce your tax liability by that same amount. These contributions are what we call tax deductible: they're subtracted from your gross income to determine your taxable income. It's what the federal government calls a tax adjustment, a type of tax deduction.
Your taxable income is now $35,000 ($40,000 in gross income minus $5,000 of tax-deductible retirement savings), putting you in the 15% marginal tax bracket.
If you wanted to subtract out your tax deductions – that's mortgage interest, charitable giving, medical expenses and more – you'd keep a record of all tax-deductible expenses, add them together at the end of the year and subtract that amount from their tax liability.
But it doesn't always make sense to deduct each expense. When you file, you can either choose to itemize your deduction – that is, subtract out your medical expenses, charitable donations and so forth – or take the standard deduction, which is the amount that anyone who doesn't itemize gets to subtract from their gross income. The standard deduction varies by your filing status but not income, so those with higher incomes – who presumably spend more on those line-item deductions – are more likely to benefit from itemizing.
2013 standard deductions by filing status
$6,100: Single or married filing separately
$8,950: Head of household
$12,200: Married filing jointly or qualified widow(er)
If you could only deduct your $5,000 401(k) deduction, you'd miss out on the standard $6,100 deduction for those filing singly. You'd be better off skipping the accounting and just taking the standard deduction. By contrast, somebody who gave $20,000 to charity and put $10,000 into her 401(k) is better off itemizing.