With new software, the lives of 1.3 million Wal-Mart workers were turned upside down.
The retail giant started using a  "just-in-time" scheduling system that replaced consistent schedules with erratic workweeks.
This scheduling system, adopted in 2007, allocated hours based on the level of store traffic each day, leaving some workers with two-hour or four-hour shifts that could come at any time, day or night.
By scheduling the exact number of employees needed at any given time, no more and no less, Wal-Mart trimmed costs. The company claimed the software made scheduling more consistent, but many employees said it made planning their lives and getting regular sleep more difficult. Chains such as Forever 21, Armani Exchange, Bath & Body Works and Barnes & Noble use the system, too, according to a worker advocacy group.
Fair? Many employees say no, and Wal-Mart has reconsidered. Good for employee health? Hardly, according to recent studies.
But the most important question remains: Is this widespread practice of "just-in-time" scheduling actually saving companies money? Recent research suggests the answer may be no.
Long-term health consequences for employees
It's not surprising that irregular hours can cause more stress for workers. After all, humans are creatures of habit, and whenever conditions change, it takes time and energy to adapt. But constantly adjusting to new schedules can also have long-term consequences, possibly including brain damage.
A 2014 Penn Medicine study, published in The Journal of Neuroscience, found that chronic sleep deprivation could lead to the loss of brain cells. Researchers observed that mice that were on erratic schedules experienced an irreversible loss of 25% of their locus coeruleus neurons, which are essential for alertness and cognition.
Penn Medicine is currently researching whether humans on irregular schedules are affected the same way as the mice in the study. If they are, workers with erratic schedules could be at a higher risk for developing cognitive problems, which could lead to lack of focus both at work and at home.
Morale — and the bottom line — takes a hit
In a recent report, the Retail Action Project explores the experiences of New York City retail workers, surveying over 200 people and conducting in-depth interviews with 44. Although some interviewees said they were happy with their jobs, the overwhelming majority expressed frustration with their erratic work hours and unfair workplace expectations.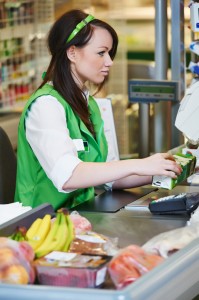 "This is the worst job I've ever had," said retail worker Melvin, one of the interviewees in the Retail Action Project's report entitled "Short Shifted." "And this is the worst pay I've ever had. I just try to give my best performance, just so I can use that and go somewhere else. This is not a place for growth."
Among all industries, according to a 2012 study by the Center for American Progress, people working in accommodation, food services, leisure, hospitality and retail – some of the industries most affected by irregular shift work – also reported the highest rates of employees quitting their jobs. In another 2012 study, the Hay Group found that there was a whopping 67% median turnover rate for part-time store workers.
These high turnover rates can come with a big price tag. The CAP study found that the cost of replacing employees with salaries under $30,000 was about 16% of a worker's salary.
Workers demand consistent schedules
In 2013, the Organization United for Respect at Wal-Mart, a group of the retailer's employees, led a worker strike for better hours, prompting the corporation to revamp its "just in time" scheduling system to one that gives workers more hours and flexibility.
The company started an Access to Open Hours program last spring, an online app that allows workers to volunteer for more shifts as they become available. This helps part-time workers pick up more hours while gaining experience working in different departments.
"We post schedules three weeks in advance," Wal-Mart spokesman Kory Lundberg told NerdWallet. "We don't do call-in schedules."
Even though schedules are posted in advance, some employees say that several last-minute changes are made afterward, especially around the holidays, and that hours remain scattered. Workers who don't have Internet access may also have trouble taking advantage of the new program. Wal-Mart is among the first to use scheduling software to help workers gain more hours and flexibility.
Workplace scheduling has become part of the national conversation with recent proposed legislation. A bill introduced in the U.S. House in July, called the Schedules that Work Act, in part calls for employers to post schedules two weeks in advance and to pay extra for split shifts.
Investing in employees pays off
Even if the bill doesn't pass, though, adopting more workable schedules for employees could pay off for companies in the long run.
Massachusetts Institute of Technology researcher Zeynep Ton wrote in the Harvard Business Review that companies trying to maintain razor-thin margins at their employees' expense could be doing a disservice to their businesses. He cited a study that followed the earnings of a large retailer for 17 months, finding that for every extra dollar spent on employees, stores recouped $4 to $28 in sales.
Employees are worth the investment. When employee well-being isn't factored into scheduling, it can come at a high cost.
---
Hardware store employees photo via Shutterstock.
Cashier photo via Shutterstock.