---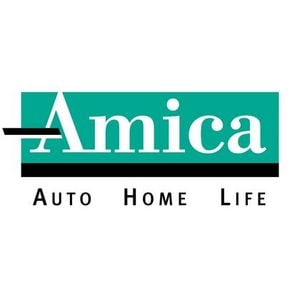 at a glance
Customer satisfaction ratings for Amica are generally top-notch.
Amica has fewer consumer complaints than the industry median relative to its size.
Amica's auto insurance includes several free perks most insurers don't, such as free lock and air bag replacement.
Amica isn't among the nation's largest insurers, but this company is mighty in terms of customer satisfaction ratings. If you want insurance policies with built-in perks that you can bundle together for a discount, give Amica a look.
Amica auto insurance
Amica auto insurance earned 5 stars out of 5 for overall performance. NerdWallet's ratings are determined by our editorial team. The scoring formula looks at account pricing and discounts and website transparency, as well as financial strength. Other factors include ease of filing a claim and complaint data from the National Association of Insurance Commissioners.
Basted on these star ratings, Amica is among NerdWallet's Best Car Insurance Companies for 2020.
» MORE: Car Insurance Quotes: What You Need to Know
Amica offers the standard menu of auto insurance coverage, though its policies come with some attractive built-in perks, including:
Depreciation won't be taken into account if your car is totaled within the first year of ownership (not available in all states).
Free lock replacement if you lose your keys or they're stolen.
Free repair of an air bag after it deploys.
Reimbursement for lost earnings if you go to court at Amica's request.
Free repair for damaged auto glass (if replacement isn't necessary).
$1,000 for bail bonds.
At extra cost you can upgrade to Platinum Choice Auto, a package that contains several coverage options, with details varying by state. You may also add any of the following coverages to your policy without owning the Platinum Choice Auto package:
Accident forgiveness. You earn points for good driving, time with the company, referring new customers or adding other policies. You can use the points for accident forgiveness, preventing a price increase if you get in a crash.
Disappearing deductible. You can also choose to use your points to reduce or eliminate your deductible.
Identity fraud monitoring. This service monitors your credit files and personal information, provides access to a fraud specialist if your identity is stolen and pays up to $15,000 toward resolving the problem.
Full glass coverage. You pay no deductible for glass repairs or replacement.
Prestige rental coverage. You get up to $5,000 toward the rental of a comparable car if yours is in an accident.
Amica's auto insurance discounts:
Loyalty discount for staying with an auto insurer for at least two years.
Discount for being claims-free in the past three years (other than glass or towing).
Multi-line discount for pairing auto insurance with a home, condo, renters, life or umbrella policy.
Multiple auto discount.
Discount for paying your premium using autopay.
Paid-in-full discount.
Discount for receiving policy information and bills electronically.
Home ownership discount.
Legacy discount if you're younger than 30 and your parents have had Amica auto insurance for five years.
» MORE: Compare car insurance rates
Amica homeowners insurance
The company offers standard homeowners insurance coverage, as well as some unconventional upgrades.
Home business coverage pays for work-related items if they're lost or stolen.
Catastrophic coverage pays for property damage from earthquakes or floods, not typically included in standard policies.
Dwelling replacement coverage pays out if your home needs repairs exceeding the policy limit — up to 30% (varies by policy and state).
Amica's Platinum Choice policy includes the optional coverages above (except catastrophic), plus:
Additional coverage for liability and medical payments, business property and loss or theft of valuables.
Replacement cost reimbursement for damaged or stolen items, rather than the depreciated value.
Water backup/sump overflow, in case water backup causes damage, up to $5,000.
Credit card coverage worth up to $5,000 if your card is used fraudulently.
Computer coverage, which includes tablets, smart TVs and phones.
A loss assessment plan, which covers community property near your home.
Home Repair Assistance Program: Amica partners with Contractor Connection, a national network of 2,000 licensed and insured contractors. Your claims process will be hassle-free and the professionals can be on the scene within hours of an emergency, Amica says.
Amica's home insurance discounts:
Loyalty discount for staying with an insurer at least two years.
Multi-line discount for combining your homeowners policy with auto, life or umbrella coverage.
Discount if you have no claims in the past three years.
Auto-pay discount.
Discount if you receive policy information and bills electronically.
Discounts for having an alarm system or devices that detect temperature changes or gas or water leaks.
Discount for insuring a new or remodeled home.
» MORE: Home Insurance Quotes: What You Need to Know
Amica life insurance
Amica offers both whole and term life insurance policies.
Level term life is available for 10-, 15-, 20-, 25- or 30-year terms. The price stays the same throughout the term, and you can buy from $100,000 to more than $1 million of coverage.
Annual renewable term will cover you up to age 85 as long as you pay your premiums. The price goes up each year as you age.
The company also offers whole life insurance, including smaller whole life policies, ranging from $5,000 to $25,000 with no medical exam.
Amid the COVID-19 pandemic, not all companies are accepting new life insurance applications. For the latest information on how to cope with financial stress during this emergency, see NerdWallet's financial guide to COVID-19.
» MORE: Compare life insurance quotes
Amica complaints and customer satisfaction
Amica had fewer than the expected number of complaints to state regulators relative to its size for home, life and auto insurance, according to three years' worth of data from the National Association of Insurance Commissioners.
Amica stands out for its customer satisfaction scores, earning the highest honors in three J.D. Power studies.
| J.D. Power study | Amica ranks... |
| --- | --- |
| Auto Insurance Shopping | Better than most |
| Auto Insurance Claims Satisfaction | Among the best, with top award |
| Home Insurance | Among the best, with top award |
| Property Insurance Claims | Among the best, with top award |
More about Amica
Dividend-paying policies: You can opt to pay extra upfront for a dividend-paying auto, home, marine or umbrella liability policy. As a mutual insurance company, Amica does not have investors or stockholders; the policyholders own the company. The dividend payouts are not guaranteed and are not available in all states.
Website: Amica's website offers many explainers, FAQs and a clear rundown of product choices. You can log in to file and track claims, pay bills and see or update policy details.
Mobile app: Amica's apps for iPhone and Android let you report and track claims, make payments, view auto insurance ID cards and get roadside assistance.
Other insurance from Amica
If you like bundling insurance products, you can do so with Amica.
| Other types of insurance from Amica include: | |
| --- | --- |
| Condo and renters insurance | Small business insurance |
| Marine insurance | Motorcycle insurance |
| Umbrella insurance | Wedding and event insurance |
Recap: Amica pros and cons
| Pros | Cons |
| --- | --- |
| High customer satisfaction ratings and low consumer complaints. | May deny coverage to some people deemed risky by the company. |
| Many policy perks and discounts. | |
| Potential for earning dividends. | |
Auto insurance ratings methodology
NerdWallet's auto insurance ratings reward companies for customer-first features and practices. Ratings are based on weighted averages of scores in several categories, including financial strength, consumer complaints, website transparency and affordability. Using our editorial discretion, we also consider customer satisfaction surveys. These ratings are a guide, but we encourage you to shop around and compare several insurance quotes to find the best rate for you. NerdWallet does not receive compensation for any reviews. Read our
editorial guidelines
.
Methodology: Insurer complaints
NerdWallet examined complaints received by state insurance regulators and reported to the National Association of Insurance Commissioners in 2016-2018. To assess how insurers compare to one another, the NAIC calculates a complaint index each year for each subsidiary, measuring its share of total complaints relative to its size, or share of total premiums in the industry. To evaluate a company's complaint history, NerdWallet calculated a similar index for each insurer, weighted by market shares of each subsidiary, over the three-year period. Ratios are determined separately for auto, home (including renters and condo) and life insurance.