Online broker Scottrade is perhaps best known for its exceptional customer service, with a large network of branches that host live investor education seminars and provide representatives to answer customer questions and offer guidance in person. That, coupled with the broker's $0 account minimum requirement for IRA accounts, makes it a strong candidate for beginner investors who need a bit of guidance. More seasoned traders will appreciate Scottrade's research offerings and mid-range commissions.


Scottrade

Arielle O'Shea
February 3, 2016
4.0
---
Quick facts
Commissions: $7 per trade
Account minimum: $0 for IRAs; $2,500 for brokerage
Promotion: 50 commission-free trades with deposit of $10,000 or more
Scottrade is best for:
Beginner investors
IRA investors
Investors who prioritize customer service
Scottrade at a glance
Overall



Stock trading costs
$7
Options trades
$7 + $0.70/contract
Account minimum
$0 for IRA accounts; $2,500 for brokerage
Account fees (annual, transfer, closing, inactivity)
No annual or inactivity fee; $75 outgoing transfer fee
Trading platform
Browser trading and Scottrader Streaming Quotes platform available to all customers; ScottradeELITE for customers with balance of $25,000 or more who have placed nine or more trades in the past three months.
Mobile app
Above-average capabilities
Mutual funds
More than 2,500 no-transaction-fee mutual funds
Commission-free ETFs
None
Research and data
Free
Tradable securities
• Stocks
• Bonds
• Mutual funds
• ETFs
• Options
Customer support/branches
Phone support weekdays 6 a.m. to 1 a.m., Saturday-Sunday 9 a.m. to 7 p.m. Eastern; email support and live chat; 500 local branches
Promotion
50 commission-free trades with deposit of $10,000 or more
Where Scottrade shines
Relatively low commissions: Scottrade's $7 stock and ETF trade commissions make it more affordable than some competitors, including TD Ameritrade and E-Trade. The company offers a large selection of no-transaction-fee mutual funds, but has no commission-free ETFs. Scottrade also has low account fees, with no inactivity or annual account service charges, and very competitive mutual fund trade fees of $17. And there's good news for options traders: In June 2016, Scottrade lowered its options fee to 70 cents per contract, down from $1.25 per contract.
Customer service: This is part of the company's secret sauce. Scottrade is consistently given high marks for customer service, in large part due to its 500-branch network, which is the largest among online brokers. Customers can speak to an investment advisor in person and attend local investor-education events. The company's phone system automatically routes callers to their local branch during business hours. Scottrade also has an extensive online education center, with live webinars, videos and articles.
Trade platforms and tools: One of Scottrade's platforms, ScottradeELITE, is available only to customers with balances of $25,000 or more who have placed nine or more trades in the past three months. That desktop platform, designed for active traders, was revamped in 2014 with much stronger functionality and a better user experience.
Other customers can place trades through Scottrade's online trading platform, or Scottrader Streaming Quotes, which has no balance or trade requirements. It offers a good number of features for a basic platform, including customization, advanced charting with 30 technical indicators, watch lists and, of course, streaming quotes and live news updates.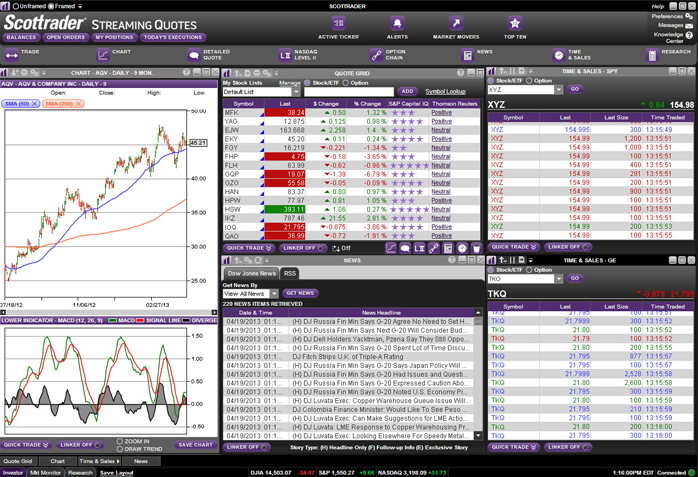 Scottrade also has a partnership with Interactive Brokers that allows customers to trade complex options and create advanced orders.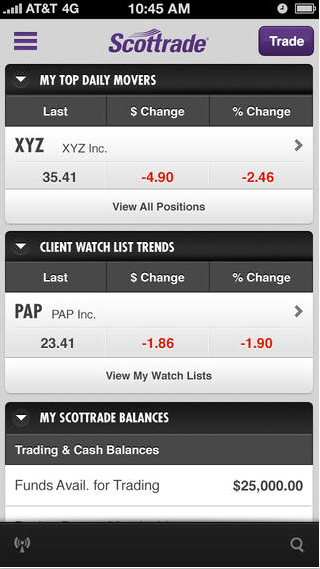 Mobile apps: Scottrade's mobile apps are well-designed and fairly advanced, allowing customers to place trades, monitor market performance with watch lists and — on some platforms — access research. Apps are available for iPhone, iPad and Android.
Where Scottrade falls short
Account minimum: Scottrade doesn't have a minimum for IRA accounts, which makes it a good option for beginner investors. But the company's brokerage account minimum is on the high side at $2,500, and the company's promotion doesn't apply until a qualifying deposit of $10,000 or more. To get the full $2,000 cash bonus, an investor needs to deposit more than $1 million.
Limited investment selection: A lack of commission-free ETFs isn't unusual for an online broker, but it's less common at Scottrade's price point for commissions; most brokers that don't offer commission-free ETFs are considered deep-discount options, like OptionsHouse and TradeKing. If ETFs are your investment of choice, commissions will quickly add up here. The company also doesn't offer futures trading or forex trading.
Access to ScottradeELITE: Again, having an advanced trading platform that is out of reach for some customers isn't uncommon. However, customers who want a professional-level trading platform and can't meet Scottrade's minimums might prefer TD Ameritrade, despite its higher commissions.
The bottom line
Scottrade offers the kind of hand-holding that beginner investors need to get started: a breadth of educational resources, in-person support and free investor seminars. The company's $0 account minimum for IRAs makes it an attractive option for those accounts, and advanced investors will appreciate the company's strong trading platforms and wealth of research, though the investment selection at Scottrade is limited.
Arielle O'Shea is a staff writer at NerdWallet, a personal finance website. Email:aoshea@nerdwallet.com. Twitter: @arioshea.
This post updated Feb. 3, 2016. It originally published Oct. 29, 2015.