As a graduate student, your No. 1 job is to succeed in school, but that doesn't mean the cost of housing, food, transportation, tuition and books falls to the wayside. Balancing school and finances can be challenging for any grad student, but if you're in New York, San Francisco, Honolulu, Washington D.C., or Boston, you're doing it in one of the most expensive cities in the country.
But by sticking to a balanced budget, you can attend graduate school and thrive. When you're living on a fixed income, a budget helps you allocate your money. To start, calculate the total amount you have to work with each year. This could be a combination of federal, state and private loans, plus savings and income you have from a part-time gig or your spouse's job.
» MORE: Compare graduate student loans
Many loans don't take into account higher costs of living, so if you're relying on them solely, you might not have enough to cover your entire budget. If that's the case, look for additional income streams such as graduate school scholarships. Once you know how much money you have, determine how much you'll need to spend in various categories. Exact amounts will vary based on your lifestyle and location, but here's a model to get started: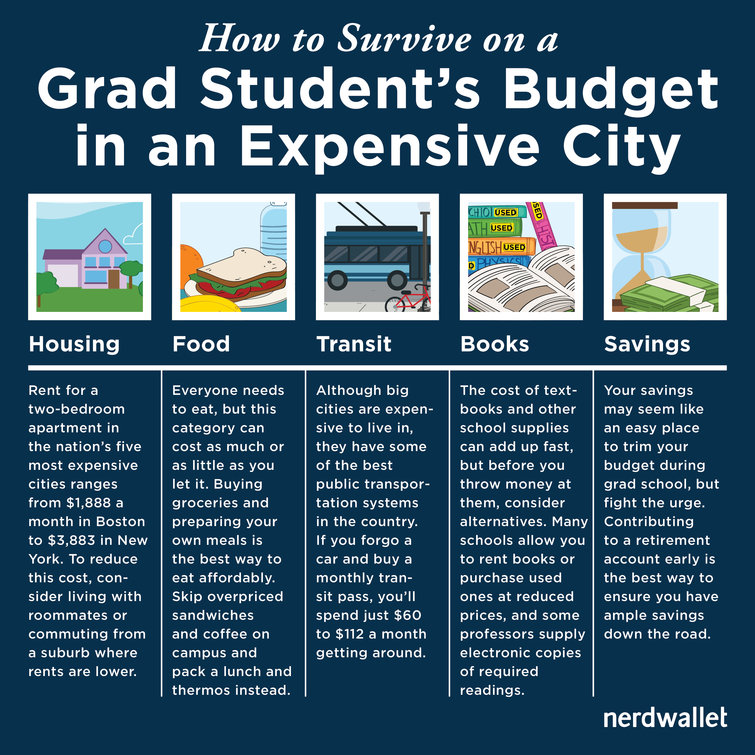 Check out this cost of living calculator to see average expenses for housing, food, transportation and more in your city.
The loans may seem to be piling up now, but going to grad school is an investment in your future. If you study hard and stick to your budget, you'll be well prepared to graduate and find a job making enough to pay it back and then some.
---
Infographic by Brian Yee and Dora Pintek.
Main image via iStock.