Think of your internship cover letter like a handshake: A firm one grabs the recipient's attention, while a limp grasp can leave something to be desired.
Similarly, your cover letter is a hiring manager's first impression of you, so it's important to do what you can to stand out from the crowd. If they like what they see, they'll move on to your resume, and before you know it, you could be interviewing for your dream job.
And, yes, hiring mangers still read resumes. While not every cover letter is read—and many only get 60 seconds of a reader's attention—they are still highly relevant to the job search process. According to a survey by the Society for Human Resource Management, 73% of HR professionals still consider the cover letter to be somewhat to very important. Additionally, 81% said it was somewhat to very important for cover letters to be tailored to each job.
To help you write an internship cover letter that amplifies your resume, NerdScholar asked the experts for advice.
Before you begin writing your internship cover letter…
1. Talk to someone at the company before you apply, then reference them.
Hiring managers don't usually see every submitted application, so to increase the chances that your resume is read, talk with a current employee at a networking event, career fair or even over LinkedIn. You are creating a connection with someone within the company who "can help the hiring manager with the decision," says Troy Hopkins, director of undergraduate and accountancy career counseling at the University of Houston. "It also shows that the applicant cared enough to take the extra step of finding out more about the position and company from someone on the inside before they applied."
2. Address the letter to a specific person.
The simple act of using a name instead of a generic greeting establishes a connection right off the bat. You also demonstrate that you did your research. "Try to find a contact — an actual person — that you can address at the top of the letter. 'Dear Sir or Madam / To Whom It May Concern' should be avoided if at all possible," Hopkins says.
3. List the job's required skills and match your skills to the list.
Before you write, review the required skills for the position and jot down a time when you used those skills, says Marilyn Santiesteban, assistant director of career services at Texas A&M University. If you can list the results you achieved while using that specific skill, your list will be even stronger. When you write, she adds, you may choose to use the two-column, or T-style cover letter (see image), which you can pull directly from your list.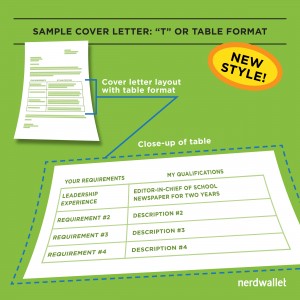 During the writing process…
4. Start with an attention-grabbing sentence.
Get the hiring manager's attention quickly by, for example, beginning your internship cover letter with company news, Santiesteban says. For example, say: "'Congratulations on being selected one of the best places to work. Your commitment to employees is just one of the many reasons I want to intern at Acme.'" Keep the rest of the paragraph short and avoid flowery language, Santiesteban advises. Avoid an opening such as, "'It is with great enthusiasm and excitement that I submit my application for the XX internship.' Unless you really speak that way, replace that with 'I'm applying for the XX internship,'" she says.
5. Tell a story with specific examples.
"Using academic and extracurricular experiences are key for internship cover letters, but it's necessary to pull specific examples and tell a story that really shows the potential employer how you have gained or developed skills," says Anna Young, assistant director of career services at the University of Richmond. For example, describe an event you planned from start to finish, she says. Make sure to illustrate your skills instead of just listing them. Avoid vague language such as, "My experiences as psychology major and student leader on campus have equipped me with the skills to communicate effectively, manage my time, and think critically," Young says.
If you're stumped on how to describe your skills and accomplishments, seek help. "All of your work history is developing professional skills and experience. As such, your institution's career center can help you to write descriptions of seemingly mundane tasks both professionally and accurately," adds Jennifer Williamson, director of the Academic and Career Advising Center at the University of Wisconsin-Platteville.
6. Don't undersell yourself.
Do not write: "While I may not have any relevant experience…". Instead, talk about your transferrable skills and how they will enable you to perform in the internship, Young says.
"Although you may have not worked in this industry before, be sure to highlight what you have done that may be transferrable," says Dave Tirpak, assistant director of career and employment counseling at Howard Community College. Consider all areas from where you may draw experience: academics, campus organizations, research projects, volunteer work, athletic involvement, hobbies, or even your social media expertise, he says.
7. Tell the employer how you can help them.
"The best thing a candidate can include in their cover letter to catch a potential employer's eye is a story about their employment experience that features ways the candidate will add value to the organization," says Kim Whiteside, manager of the career services center at Bellevue University. "All cover letters (and resumes as well) are not really about the candidate. They are about the employer, specifically the employer's business objectives and challenges. Moreover, cover letters (and resumes) demonstrate how the candidate's skills and experience will help an employer meet its objectives and overcome its challenges."
When you're ready to submit…
8. Include references to show your commitment, even if they don't ask.
"Even if not specifically sought in the position notice, continuing to include some references that can be contacted anyway upon initial submission can sometimes decrease processing time, as well as demonstrate commitment and responsibility," Erin Hornbeck, assistant to the chair at Binghamton University, says.
9. Upload everything into one document.
"If you are submitting multiple documents, such as a cover letter, resume and references, scan all three documents into one for submission so the employer only has one document to open, review, save and/or print," McNeese State University internship coordinator Mary Kaye Eason says. "The employer will appreciate your efficiency!" Lastly, it's best to submit your application as a PDF file with the file name as "your name–cover letter" to make it easy for the employer to save and locate your file.
---
Handshake photo via Shutterstock.