March Madness officially begins next week, and between all the excitement and suspense, victories and defeats, you can expect to see one thing: inspiring commercials, courtesy of the NCAA, celebrating the "student-athlete." Even if the tournament itself prevents players from attending their classes, the NCAA won't let you forget that they are "students first, athletes second." Amateurism, according to the NCAA, "is a bedrock principle of college athletics," and much of the tournament's appeal lies in the notion that it presents pure competition. Ask any ardent Madness follower why he loves this tournament and you'll probably hear some variation of this amateur theme: student-athletes play for championships, school pride, and the love of basketball, not for money or fame.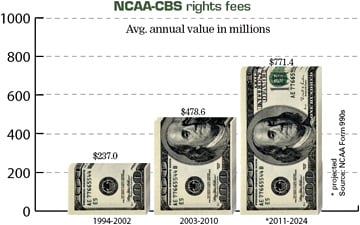 It's a quaint idea, considering the fact that in 2010 the NCAA sold broadcasting rights for March Madness to CBS and TurnerSports for nearly $11 billion — $771 million per year in a 14-year contract. You probably won't hear that statistic mentioned during a time-out. Nor are you likely to hear discussion during halftime of Ed O'Bannon's class action lawsuit against the NCAA for making money off of his image. In addition to broadcasting rights, the NCAA licenses their amateur sports to companies like EA Sports, which produced a video game series called NCAA March Madness and NCAA Basketball. That video game includes likenesses of all the student-athletes, including Ed O'Bannon, who played for UCLA in the mid-1990's and helped his team win a national championship in 1996. To play an NCAA sport, you have to sign a waiver giving up your rights to make money off of your likeness as a student-athlete. But O'Bannon is now a car salesman in Las Vegas, so when EA's 2008 edition of NCAA Basketball featured historic teams, including the 1996 UCLA team, O'Bannon wondered why he wasn't entitled to a share of the profits. Other student-athletes, including football players, have supported O'Bannon's case, and in January a federal judge ruled that his lawyers could proceed with their attempt to have the case certified as a class action lawsuit. The trial is currently set for July 2014, and the NCAA stands to lose billions of dollars.
Despite its talk of amateurism and student-athletes, the NCAA relies on those principles to generate lots of annual revenue. For that reason, many have argued that college athletes should be paid. They are, after all, the only reason the NCAA makes any money. Yet the idea of paying collegiate athletes is anathema to many, including former athletes. Basketball legend Bill Walton, for instance, wrote in The New York Times that it was "a bad idea" and that full scholarships are more than enough compensation: above all, he wrote, "these scholarships give students the opportunity to learn how to learn, think, analyze, and to gain some great life lessons – including humility and how to rebound from failure." That's all well and good in the long-term, but what about the immediate benefits of athletic scholarships?
Less than 2% of high school athletes go on to receive athletic scholarships to college. For Division I men's basketball, there are about 4,400 scholarships available. Each program gets 13 scholarships, all of which are full and must be awarded as such. (Division II programs, by contrast, get 10 scholarships and can split them up into partial scholarships among all players.) Officially, full scholarships cover tuition, room, board, required books for classes. In addition, earlier this year, the NCAA Board of Directors approved a proposal allowing athletes to receive up to $300 per year beyond normal expenses to attend non-scholastic events. They get a stipend, in other words, and it addresses the well-known fact that athletes could have a full scholarship but not enough money to get home for the holidays. (It also means that, like it or not, student-athletes are paid for their participation.) Athletes who receive full scholarships may also be eligible for funding from sources like the NCAA's Student-Athlete Opportunity Fund or the Federal Pell Grant program. Unofficially, they typically hold paid positions on campus that amount to a stipend: working in the athletic department, working at the university's summer camps, assisting with athletic classes, and so on.
Deciding how much that scholarship is really worth depends on what you take into account. According to the NCAA, the average scholarship at an in-state public school is worth $15,000/year. At an out-of-state public school, it's worth $25,000/year. And at a private school, it's worth $35,000/year or more. But none of those figures includes access to athletic facilities, coaching support, gear and equipment, medical facilities, travel, additional academic support, or future earning potential. In 2011, USA Today estimated that the actual value of a Division I basketball scholarship at schools like UConn and Kentucky was about $140,000/year.
What's the cost for the athlete? At the Division I level, playing a sport is less an extracurricular activity than a full-time job. You're committed to attending practices, team meetings, workouts, and so on. And that often means your academic schedule is severely restricted: you may really want to take a particular Economics course, but if it's at 3:00 in the afternoon, too bad. Because of those restrictions, you may have to graduate in five years, not four. And although universities insist in theory that academics must come first, in reality your schedule may not permit it. If you're on a team that contends for a national championship, for instance, you may miss a large portion of your classes during a given academic term. In these respects, what's the opportunity of a free education if you're unable to take advantage of it?