Facebook's Sheryl Sandberg shone a light on women MBA's with her top-selling book "Lean In." Published in 2013, the hit biography (and subsequent women-empowerment nonprofit) sparked a national conversation about women in business and how they need to sit at the table to start achieving levels of success equal to their male counterparts.
The catch phrase "lean in" took off and can now be heard in conferences, classrooms, and work settings round the world—but what is really going on with women who are pursuing business degrees?
According to the Association to Advance Collegiate Schools of Business, the share of MBA's earned in the U.S. by women has basically remained stagnant since 2002-03 at 35 percent.
Despite a lack of movement in the number of degrees earned, programs supporting women MBA students are proliferating. It's only a matter of time before the seats at the tables start to show it. NerdScholar spoke to some of the frontrunners behind this movement to hear about what they're doing to support female students in business. Read more about them below.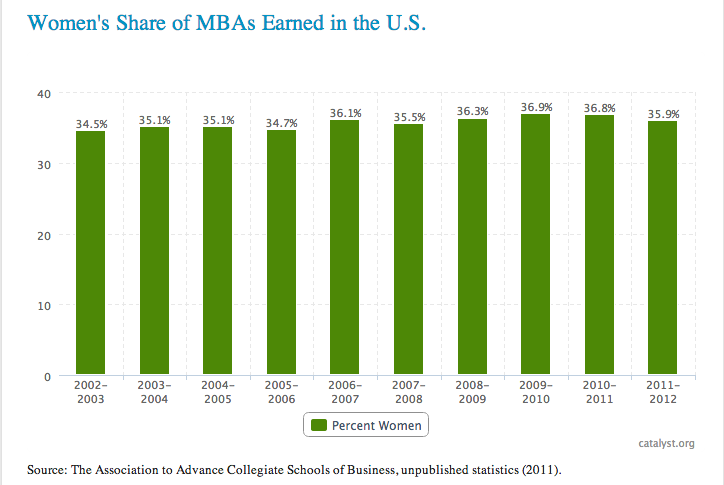 A relatively small program, the Kelley School of Business prides itself on its tight-knit community, especially among female students. The average class is made up of about 30 percent women who all get to know each other well, dean Idie Kesner says. Kesner is just one of many women who comprise the business school and administration, who all act as role models for the female students. The school, along with the Women MBA group, put on several programs throughout the year that specifically cater to female students (but men can certainly join in too). Some of these events include lunch-n-learns with guest speakers, holiday networking parties, conference prep sessions, and a popular faculty auction that donates all proceeds to charity.
Kesner points out that Indiana is just one of eight Big 10 schools with a first-time woman dean. Since the Big 10 is actually made up of 14 schools, that's more than half with women leaders. What's the reason for this? Kesner says, "In academia you have to rise through the tenure ranks, so deans have to be fully tenured and oftentimes have research chairs. So it took some time to get there. I think you're going to see more and more schools bringing on women deans and women leaders now."
The Darden School of Business facilitates conversations happening around the issues and challenges women face in their careers. Its Graduate Women in Business Club sponsors women leaders to act as speakers and mentors for the school's students. Additionally, the school hosts an initiative called Wednesday 10 where about ten female students and a few faculty gather one Wednesday a month to discuss a topic relevant to women in business. On the curriculum side, Darden offers an elective-style class focused on women in business. "Darden's faculty includes a cadre of women who have proven to be excellent role models for our students," Erika James, senior associate dean for executive education, says.
SMU is one of the only Top 30 Business Schools in the nation where women are commanding a higher starting salary than their male counterparts, according to assistant dean John Roeder. A mix of the school's location in Dallas, top leadership, and ample networking opportunities contribute to the success of the program's students, and particularly the women students. To that end, the last four Cox MBA student body presidents have been women. Some of the companies that recently hired Women from the Cox Full Time MBA program include 7-11, American Airlines, AT&T, Deloitte, Dr. Pepper Snapple Group, E&Y, ExxonMobil, HP, L'Oreal, PwC Consulting, Sabre, Travelocity, and Verizon.
The Leeds School of Business is home to many opportunities for women MBAs including the Women's Council, the WILD Summit, and the Women in Business club, which is associated with the nonprofit MBA Women International. At Leeds, the focus is on the "whole student," and various programs emphasize career advising, professional mentorship, and leadership opportunities. Female students hold leadership roles in some of the student organizations and student government. Women hold these spots while they are still in school, which helps develop confidence in their skills. The school also boasts an Evening MBA program designed for professionals working full-time that is made up of 47 percent women.
Chatham University's MBA program supports and nurtures future women leaders in a number of ways, program director Rachel Chung says. First, all Chatham MBA students can attend free networking and professional development events at Chatham's Center for Women's Entrepreneurship. Second, all incoming Chatham MBA students are eligible for a one-year free membership for the National Association of Women MBAs. Third, the program offers a unique concentration called Executive Leadership for Women, which is designed to cultivate strong leadership, negotiation, and risk-taking skills in female students. Lastly, in the MBA's capstone course, female students develop consulting skills and business acumen through client engagements with women entrepreneurs.
The Opus College of Business provides extensive and flexible opportunities for women in all stages of their careers, from young professionals to experienced executives. More than 45 percent of the university's current MBA students are women. Opus' biggest program for women is St. Thomas Women Connect, which is a group of women affiliated with the university who are committed to inspiring and advancing one another and giving back to their community. Through a variety of social events and service-oriented activities, members are able to network with each other and support one another personally and professionally.
Tell us about your favorite programs for women MBAs in the comments section below! 

Note: Superlatives, noted in blue banners, are inclusive of the group of schools listed in this article only.
---
Women in business meeting image courtesy of Shutterstock.