A new report from the National Low Income Housing Coalition reveals that, in order to avoid spending more than 30% of their income on housing (the amount recommended by experts), a full-time worker must earn $18.92 per hour to afford a two-bedroom apartment. That is nearly three times the federal minimum wage, and leaves many workers unable to afford a place to live without spending a disproportionately large percentage of their income on housing costs.
Meanwhile, rents are rising by an average of 3.9% per year, or around twice the inflation rate. Nationwide, average rent prices have passed $1,000 per month.
Indeed, with rising rents, it may be cheaper for some consumers to buy a home. While slightly higher today than in 2012, mortgage rates are still near all-time lows. Learn more about current mortgage rates and mortgage refinancing options in our mortgage guide, as well as whether it's best to rent or buy.
In a market where rents are rising and homeownership is at an 18-year low, it is increasingly important that consumers become informed about their financial options and economic trends.
NerdWallet has compiled a list of the cities with the fastest-growing rents. Rents listed are median rents for one unit. These rent increases indicate the cities are on the rise, attracting residents and businesses that drive up rents. However, these rental prices may be hurting residents as well. We included the largest 200 cities in our analysis.
Trends and takeaways:
Texas' growth is reflected in its rising rental prices—three of the top five cities are in the Lone Star State.
Burgeoning tech hubs populate the list. San Francisco, Austin, Pittsburgh and Denver all make the top 20.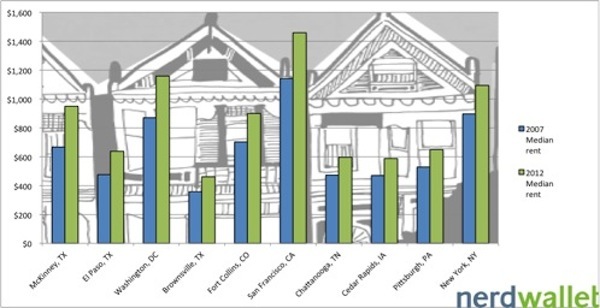 Embed this on your own site:
Cities With the Fastest-Growing Rents
1.    McKinney, Texas
The fastest-growing rents in the country can be found in McKinney, a rapidly growing city near Dallas. Between 2000 and 2010, McKinney's population more than doubled, and over a five-year period rents have increased by a whopping 42.6%. McKinney residents can commute to Dallas and still have access to nearby nature. Many residents work in the growing technology and energy industries, and the area's low taxes have lured business there as well. McKinney's Department of Housing and Community Development offers assistance and grants for low-income residents looking for help.
2.    El Paso, Texas
Located along the Rio Grande, El Paso's economy is built on a strong military presence and a thriving energy industry. Fort Bliss, a military installation, contributes heavily to the local economy, and the federal government has several regulatory agencies in town to regulate trade with Mexico. El Paso's strong economy has led to a 33.5% increase in rental costs over a five-year period. Renters looking to understand their rights and the rights of landlords can explore the El Paso Apartment Association, which provides resources for landlords and frequently asked questions for renters.
3.    Washington, D.C.
The heart of American politics, Washington has the second-most expensive rents on our list. Rent prices have increased by nearly a third over a five-year period. For residents looking to understand their rights, the Office of the Tenant Advocate offers rent control registration workshops, walk-in and phone appointments with tenant advocates and office hours. The D.C. Tenants Advocacy Coalition, a nonprofit and the only citywide advocacy program, assists tenants through lobbying and by providing educational resources to residents.
4.    Brownsville, Texas
Although Brownsville's median rent remains quite low, at $460 per month, that number has increased by 28.5% over a five-year period, reflecting the city's dramatic growth. Brownsville's economy is rooted in its growing manufacturing sector and trade with Mexico—the Port of Brownsville is a major shipping hub for the region. Brownsville has a rich history as well; several events of the Texas Revolution, Civil War and Mexican American War took place there.
5.    Fort Collins, Colo.
Home to Colorado State University, Fort Collins has rich research and manufacturing sectors. The technology industry here is growing as well. The Rocky Mountain Innovation Initiative, a tech incubator, has brought more startups to the city, and many tech companies, including Hewlett Packard and Intel, have offices in town. Fort Collins is known for its breweries, and the Colorado Brewer's Festival is held here each June. This growth is reflected in the demand for housing—rental prices in Fort Collins have climbed by almost 30% over a five-year period.
6.    San Francisco, Calif.
San Francisco has the most expensive rents on our list, and California has been deemed the second-least affordable state for renters (trailing only Hawaii). The recent tech boom and housing crisis have led to unrest over gentrification and the growing unaffordability of the city for long-term residents, many of whom are being priced out by skyrocketing rents. Luckily, San Francisco has better tenant protections than most big cities, and the local government offers a Down Payment Assistance Loan Program to first-time, low- to moderate-income homebuyers. Renters who need help and advocacy can consult the San Francisco Tenants Union for free educational resources, classes and consultations to help tenants understand their rights. The San Francisco Apartment Association also provides classes for landlords as well as resources that help explicate rental laws and policies.
7.    Chattanooga, Tenn.
Known as the "Scenic City," Chattanooga offers plenty of outdoor activities for residents, and the area has a strong economy as well. Chattanooga's economy is based on the manufacturing and service industries. Rich culture and resources (the area is abundant in natural resources and has a strong tourism industry) have drawn many people to the city, leading to rising rental costs. The Chattanooga Department of Healthy Homes offers resources to help renters understand their rights, and Legal Aid of East Tennessee fights to ensure equal justice by providing legal assistance and advocacy.
8.    Cedar Rapids, Iowa
The second-largest city in Iowa, Cedar Rapids is an arts-and-culture hub, and is also known for its grain processing industry. The area's tech industry has been growing, and the Cedar Rapids-Iowa City "technology corridor" employs many residents in the defense electronics industry. Rockwell Collins, an aviation technology company, is the largest employer in the area. For Iowans looking for help and advocacy, Iowa Legal Aid offers legal aid and solutions for low-income residents.
9.    Pittsburgh, Pa.
Pittsburgh's growth and success are rooted in its diverse economy, which includes higher education, health care, banking and a growing technology industry.  The area's growth, however, is mirrored by its rising rents. Resources exist to help renters survive in the tough economy. The Housing Authority of the City of Pittsburgh works to offer affordable housing options for residents, and Action Housing works to develop affordable housing as well as provide social services and programs to aid low-income tenants. The Carnegie Library of Pittsburgh is a great resource for tenants looking to further understand their rights.
10.  New York, N.Y.
Known for its sky-high rental prices, the Big Apple has the third-highest rents on our list, and certain boroughs have an even higher median rent. The increase in rents in Manhattan and Brooklyn has led to citywide concerns regarding gentrification and the pricing out of lower-income, long-term residents. There are plenty of resources in the city for tenants. Housing Court Answers offers a hotline for residents and fights for reform. Additionally, the NYC Affordable Housing Resource Center offers resources and guides to help tenants become more informed about their rights, and the Metropolitan Council on Housing is a nonprofit that runs a free tenants' rights telephone hotline.
| Rank | City | 2007 Median rent | 2012 Median rent | Percent increase in rent |
| --- | --- | --- | --- | --- |
| 1 | McKinney, Texas | $666 | $950 | 42.6% |
| 2 | El Paso, Texas | $477 | $637 | 33.5% |
| 3 | Washington, District of Columbia | $871 | $1,158 | 33.0% |
| 4 | Brownsville, Texas | $358 | $460 | 28.5% |
| 5 | Fort Collins, Colorado | $702 | $901 | 28.3% |
| 6 | San Francisco, California | $1,141 | $1,459 | 27.9% |
| 7 | Chattanooga, Tennessee | $474 | $595 | 25.5% |
| 8 | Cedar Rapids, Iowa | $470 | $587 | 24.9% |
| 9 | Pittsburgh, Pennsylvania | $529 | $649 | 22.7% |
| 10 | New York, New York | $898 | $1,094 | 21.8% |
| 11 | Aurora, Colorado | $674 | $821 | 21.8% |
| 12 | Buffalo, New York | $434 | $528 | 21.7% |
| 13 | East Los Angeles CDP, California | $760 | $923 | 21.4% |
| 14 | Tacoma, Washington | $664 | $805 | 21.2% |
| 15 | Clarksville, Tennessee | $546 | $659 | 20.7% |
| 16 | Plano, Texas | $792 | $954 | 20.5% |
| 17 | Denver, Colorado | $654 | $787 | 20.3% |
| 18 | Amarillo, Texas | $499 | $600 | 20.2% |
| 19 | Austin, Texas | $695 | $834 | 20.0% |
| 20 | Shreveport, Louisiana | $466 | $559 | 20.0% |
Where did we get our data?
Data was obtained from the U.S. Census. The 200 largest cities were included in this analysis. Median contract rent is the monthly rent agreed to or contracted for, regardless of any furnishings, utilities, fees, meals or services. For vacant units, it is the monthly rent asked for the rental unit. Hawaii was not included in this analysis due to lack of data.
House image from Shutterstock