Flyers vs. Penguins. Cheesesteaks vs. pierogies. When it comes to Pennsylvania's two largest cities, there's no shortage of comparisons in the Philadelphia vs. Pittsburgh debate.
In a state largely dominated by rural communities, Philadelphia and Pittsburgh both stand out as cultural and historic centers that are locally celebrated. But beyond that, they're widely different. Philadelphia, with 1.6 million residents, is five times more populous and sits in an area that's more than twice the size of Pittsburgh. Located on opposite sides of Pennsylvania, the contrasts in the cities are further highlighted in their nicknames, the City of Brotherly Love and Steel City.
With so much history and pride, residents of each city have many reasons to proclaim theirs as the best. But what do the data say? In comparing these two cities, NerdWallet examined five metrics: quality of public education, employment opportunities, sports fandom, commuting patterns and nightlife.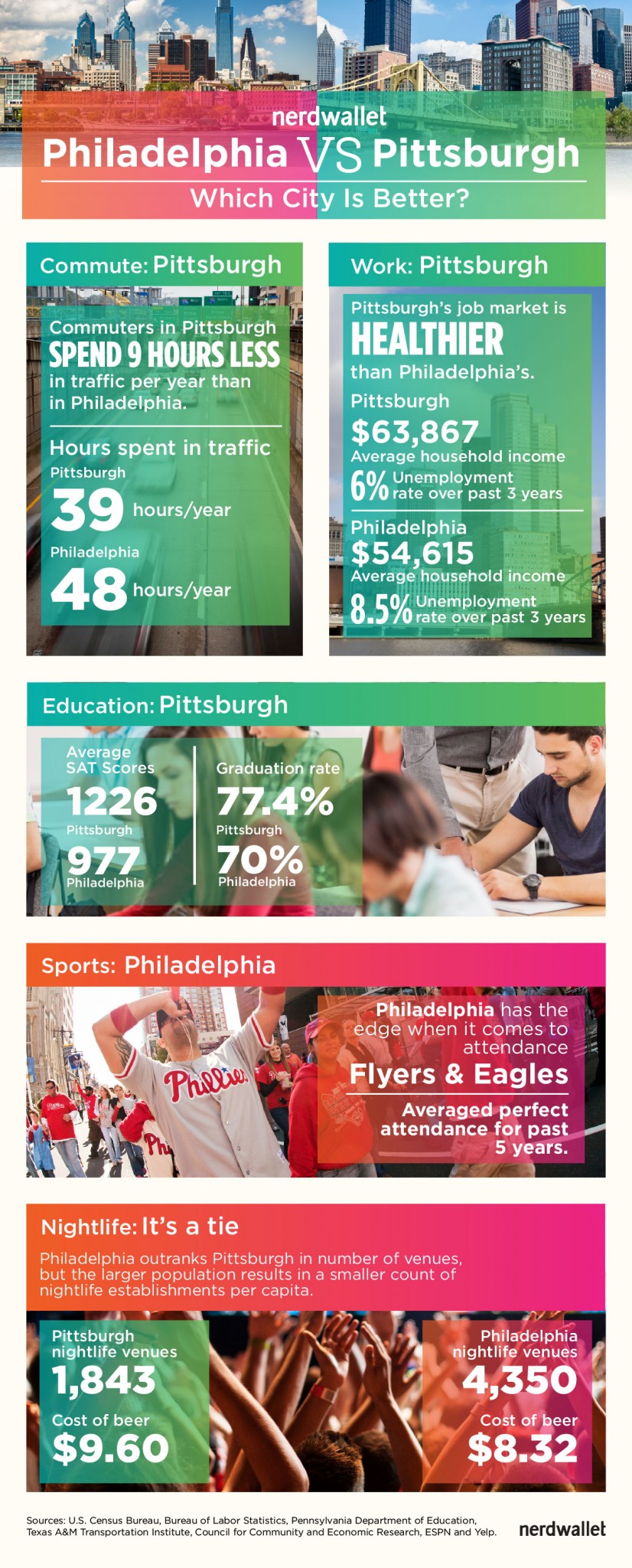 Did we reach the right conclusion? Scroll to the end to vote in our survey.
Education: Pittsburgh
When it comes to education, Pittsburgh is hands down the winner, beating Philadelphia in high school graduation rate, average SAT score and the percentage of students who score "advanced" on the Pennsylvania System of School Assessment standardized test. The margin wasn't slim, either: Pittsburgh's graduation rate is 7% higher than Philadelphia's and students scored an average of about 250 points more on the SAT. On the flip side, Philadelphia is home to three National Blue Ribbon Schools, while Pittsburgh has none. See more data in our list of Pennsylvania's best school districts for your buck.
Commuting: Pittsburgh
Commuters in Pittsburgh are again the winners, since they don't spend as much time in traffic — nine hours less each year — than drivers in Philadelphia. While Pittsburgh drivers pay 5 cents more for a gallon of gas, they have a much easier time parking, with 4.19 garages per 1,000 residents, compared with 0.56 in Philadelphia. Both saw 56% of their populations commute during peak hours. But for driving overall, Philadelphia is the loser, ranking as the seventh-worst place in the nation.
Sports fandom: Philadelphia
When it comes to championships, Pittsburgh is the winner. But when it comes to game attendance, Philadelphia comes out on top. The Philadelphia Flyers hockey team and Eagles football team have averaged perfect attendance for the past five years. The Pittsburgh Penguins also saw perfect attendance, but the Steelers had a 94.28% average. When it comes to baseball, the Phillies averaged 86.7% for attendance compared with 67.7% for the Pirates.
Employment opportunities: Pittsburgh
Pittsburgh's unemployment rate averaged 6.0% over the past three years, beating Philadelphia's rate of 8.5% over the same period. In addition to lower unemployment, Pittsburgh has a higher average household income — $63,867 compared with $54,615 — and a lower cost of living than Philadelphia. NerdWallet's cost of living calculator can tell you more about the differences between the cities.
Nightlife: Tie
When it comes to nightlife, it's hard to pick a winner. While Philadelphia outranks Pittsburgh in the number of bars, dance clubs and music venues, its bigger population means there's a smaller count of nightlife establishments per capita. Philadelphians were treated to a lower beer price of $8.32, compared with $9.60 in Pittsburgh. Yet for many, life in the big city can't be beat, and Philadelphia's 11,590 residents per square mile trumped Pittsburgh's 5,560. Philadelphia also has the distinction of ranking third on our list of best cities for singles.

Methodology
Education. We looked at 2013 high school graduation rates, 2013 average SAT scores and the number of students who scored "advanced" on the 2012 Pennsylvania System of School Assessment standardized test. Data are from the Pennsylvania Department of Education.
Employment opportunities. The average unemployment rate from 2013 to 2015 is from the Bureau of Labor Statistics. Average household income for 2013 is from the U.S. Census Bureau's American Community Survey.
Sports fandom. We looked at the average annual attendance rates from 2010 to 2015 for the NHL, NFL and MLB teams for each city. Data are from ESPN.
Commuting. Our data are from a previous NerdWallet study, the Worst Cities for Drivers. We looked at average annual hours of traffic delays per year, the percent of residents who commute during peak hours and the average gas and parking costs in each city.
Nightlife. For nightlife, we used Yelp data to calculate the number of bars, dance clubs and music venues in each city, as well as to determine nightlife venues per capita. The average prices for beer is from the ACCRA Cost of Living Index from the Council for Community and Economic Research. Population density is from the 2013 American Community Survey.
---
Infographic by Dora Pintek.
Pittsburgh, Pennsylvania, image via iStock.