Recommended for
✔ Confident bargain hunters
FreeTaxUSA is an ultra-low-priced option for filers who know what they're doing and don't need foofy, overly engineered tax software. Federal returns are free — even for the self-employed, investors and people with rental properties — but state returns are extra. Users can upgrade for more support.
Pros
One of the least expensive options on the market
Human tax support comes at a low cost compared with other companies
Cons
Despite the name, only federal returns are free; state returns cost extra
Barebones user interface
NerdWallet offers objective advice to help people understand their options and make the best possible decisions. The guidance we offer and info we provide are deeply researched, objective and independent.
Because major tax software providers often have several packages to fit varying complexities of returns, we spend hours reading the fine print and running each through a rubric that's weighted according to the most important aspects for most tax filers.
↓ Compare FreeTaxUSA with others
FreeTaxUSA's prices
This is the shining star of FreeTaxUSA: You don't have to pay anything to file a federal return, no matter your income, filing status or the kind of 1040 you're filling out. (Many providers limit their free versions to filers using the 1040EZ and 1040A, which are mostly for people with very simple tax situations and who don't itemize.) You'll pay $12.95 to file a state return, but that's still competitive with most other software packages — if not a full-on steal. You can file your federal return for free even if you want to take the Earned Income Tax Credit or run a small business.
Available packages and list prices
Free Edition

$0




This option allows you to file federal forms (1040A, 1040EZ and a regular 1040), but preparing and e-filing a state return runs $12.95.

Deluxe

$6.99


This version offers all the features of the free one, as well as priority customer support, live chat, audit assistance and unlimited amended returns. Filing a state return is $12.95.
One note about prices: Providers frequently change theirs, and we've found at least one serving up small variations to users in different locations. We'll keep updating this review, but you can verify the latest price by clicking through to the provider's site.
FreeTaxUSA offers only online software, which means your return is in the cloud. Some tax-prep providers also offer desktop versions for download, allowing you to keep your return on your computer while you work on it.
FreeTaxUSA's features and ease of use
FreeTaxUSA's interface is straightforward: There are no overengineered color palettes, slick animations or embedded videos. Some people might hate the plainness, but others might welcome it, especially those who already feel confident doing their taxes and just want to get them over with already. The software does allow users to upload PDFs of their last tax return from TurboTax, H&R Block or TaxAct.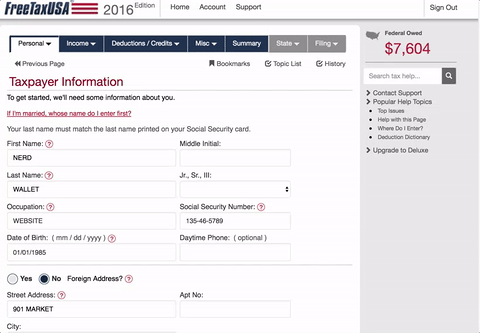 Pop-ups throughout the preparation process answer questions such as, "Do I enter my child's interest income on my tax return?" or "What if I repaid some of my unemployment benefits?" A banner running across the top of the screen keeps track of the steps you've completed, and you can bookmark pages for later. The software uses green checkmarks to indicate the tax areas you've finished.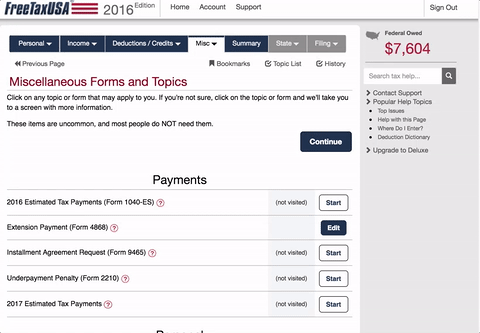 As you can see, the user interface is nothing fancy, but all the major components are there and the flow is intuitive. You can skip around the interview if you'd like, though you can't skip it altogether and go straight to the forms.
Support options with FreeTaxUSA
Ways to get help
Searchable knowledge base
Email support
Live chat (if you paid for it)
If you need a lot of handholding or are deathly afraid of being audited, FreeTaxUSA probably is not for you. The software has a searchable knowledge base and email support — and Deluxe users receive chat and priority support — but it might not be helpful if you have specific questions.
If you're using the free version and find you'd like more help, it's easy to upgrade to Deluxe in the middle of the process.
If you're audited
When shopping for tax software, know the difference between audit "support" and "defense." Audit support typically gets you guidance about what to expect and how to prepare if you receive that dreaded letter from the IRS. Audit defense, on the other hand, gets you full representation before the IRS from a tax professional.
FreeTaxUSA offers only audit support — called Audit Assist — and it's available only to Deluxe customers. State returns aren't covered. If your federal return is audited, company specialists will help you prepare, but they can't represent you or correspond directly with the IRS.
Refund options
No matter how you file, you can receive your refund via direct deposit to a bank account — the fastest option — an American Express Serve prepaid debit card or a paper check.
How does FreeTaxUSA compare?
TURBOTAX

Is it easy to use?



Pricing:
$60 to $120, plus state costs.

Free version?
Yes.
TAXACT

Is it easy to use?



Pricing:
$24.95 to $64.95, plus state costs.

Free version?
Yes.

Promotion
Get 25% off federal and state filing costs.
H&R BLOCK

Is it easy to use?



Pricing:
$49.99 to $109.99, plus state costs.

Free version?
Yes.
The bottom line
For people who know more than the average bear when it comes to taxes and would rather just get on with it, FreeTaxUSA's price can be a stunning value. Less confident filers might want to look at other options.
Tina Orem is a staff writer at NerdWallet, a personal finance website. Email: [email protected].