Competition is fierce among the biggest tax-prep software providers. Here's NerdWallet's point-by-point comparison to help you sort out which is better for you: H&R Block or TaxAct.
Price
H&R Block is, in almost every use, more expensive than TaxAct. However, there is one way H&R can be a better deal for some people: Its expanded free version works with the 1040 and Schedule A this year (as opposed to just the 1040EZ or 1040A for TaxAct). That could be huge for some filers, though people who have to file additional schedules may still need to upgrade to a paid version. Note that users of the free version of TaxAct will need to pay $10 to import last year's TaxAct return.
In any case, itemizers will probably find H&R Block Deluxe and TaxAct Plus good picks, while investors should head for H&R's Premium version. And remember, you'll pay extra to get your state return done.If you're self-employed, H&R Block's Premium version can handle the heavy lifting (you might get by with the Deluxe version if you've got simple business expenses — it can file a Schedule C-EZ). TaxAct's Premium version is a comparable product.
Both providers can handle your state taxes, but usually you have to pay extra. Again, TaxAct charges a few bucks less for that (and it's free if you're using its free version). E-filing, which allows you to send your return to the IRS and the state electronically, is free for both providers.
H&R Block's pricing
Federal forms in its free version: 1040EZ, 1040A and 1040 (including Schedule A for itemizers)
Paid versions (list price): Deluxe ($54.99) and Premium ($79.99)
State return prep (list price): $29.99 for free version; $39.99 for paid versions
TaxAct's pricing
Federal forms in its free version: 1040EZ, 1040A
Paid versions (list price): Plus ($30) and Premium ($45)
State return prep (list price): $0 for free version; $35 for paid versions
Winner: TaxAct
Hands down, TaxAct is cheaper. But note that H&R Block's free version works with the regular Form 1040 and Schedule A, which could mean big savings for many filers.
Features and ease of use
Only one entity determines how the math works on a tax return, and that's the IRS. So unless there's a programming error, you should get the same numerical "answer" no matter which tax software you use. But you still have to feed the software all of your information, and there are a million ways to do that. Which is why we look at features and ease of use — we want to know which offerings are least likely to make you want to pull your hair out.
TaxAct's interface isn't fancy, but it has all the basics, such as importing last year's returns, a W-2 import, a donation assistant and some planning tools and calculators. There's a free mobile app, but it's basic and meant only for users with the simplest of tax situations. For example, tell it you're married, filing jointly and have kids, and it tells you you'll need to move to an online product instead.
Like many other tax packages, help is available throughout the preparation process, though higher-priced competitors do seem to have more robust in-line help. There's a banner running across the top that keeps track of where you are in the process.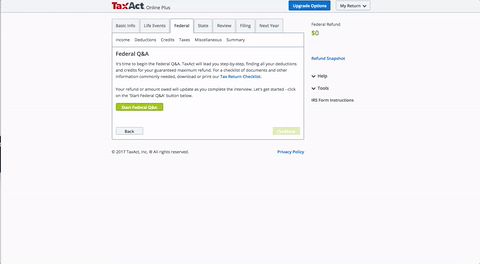 H&R Block's interface is also straightforward and easy to use, and decent help is available within the preparation process — many terms are hyperlinked so that you can read a definition or get more information, and the software is quick to send confused users to a searchable knowledge base.
Both providers offer import options for W-2s to speed things up, though H&R Block also has 1099 import capabilities. Both also offer tools to help calculate the deduction values of charitable donations, as well as step-by-step in-line guidance.
Winner: H&R Block
If you want more bells and whistles, H&R Block is probably the better choice. But fundamentally, H&R Block and TaxAct both are solid options with intuitive interfaces that will make sense of things, offer guidance where needed and keep the process moving in a logical manner so you get done quickly.
Support
H&R Block's more than 12,000 brick-and-mortar stores across the country may sound soothing to nervous filers, but the software doesn't automatically come with free in-person advice. Deluxe and Premium users do get free online chat with a tax professional. If you want someone to check your homework, you can purchase the Best of Both add-on feature, which starts at $40: The company says a live tax pro will remotely review your return.
TaxAct has a knowledge base to search for answers about specific tax issues. It's not as robust as some products on the market, but the free phone and email tech and tax support may compensate for that — especially at TaxAct's price point. During tax season it's available seven days a week, including into the evenings Monday through Friday.
Winner: H&R Block
Because of its brick-and-mortar locations, H&R Block may be better if you want more ways to access face-to-face support should you run into serious trouble. TaxAct has lots to offer filers who are comfortable getting advice online, though, and both providers give users access to actual tax pros, which is a good thing.
Refunds, audits and other considerations
If you're getting a refund, both providers can have the IRS directly deposit the money into your bank account or send you a paper check. But there are some other things to know about, too.
Both let you use your refund to pay for your tax-prep fees. But beware: There's a fee for that. With H&R Block, there's a $34.95 charge to do so out of your federal return and a $13 fee if you're paying out of your state refund. TaxAct offers a less expensive option — it's $20. And both let you have a refund loaded onto a prepaid debit card. But these cards come with fees, so be sure to factor that into your decision.
Audit protection is another feature many tax-prep companies tout. The level of service varies, though, so read the fine print. In general, there's guidance (which basically means helping you understand what's happening if you're audited) and representation (which means someone from the company will speak with the IRS on your behalf). Many preparers offer free guidance, but if you want representation you may have to pay.
TaxAct's audit support largely consists of a FAQ page on its website. However, customers can buy "audit and inquiry assistance services" from a partner company called Protection Plus. Coverage includes three years of audit services for this year's return, and TaxAct says it includes "comprehensive response and resolution strategy, IRS and state correspondence, help with denied credits and tax debt and tax fraud assistance." That service runs $50 for Premium users and $40 for Plus and Free filers.
H&R Block offers online users a sort of combo product called Worry-Free Audit Support, which gets you one-on-one contact with a tax professional to help guide you through an audit. It costs $19.99 and includes IRS correspondence management, audit preparation and in-person audit representation.
Winner: H&R Block, but only if you're worried about an audit
If you just want the cash from your refund, TaxAct and H&R Block can get it done, and fairly quickly if you e-file and choose direct deposit. If things ever get messy with the IRS, though, H&R Block has an edge because its audit defense add-on is more robust and cheaper.
Which one is right for you?
TaxAct is a good deal and a solid option if you feel comfortable with the support options. But take a hard look at H&R Block before you decide, because you might be able to get the job done for less than you think thanks to the expanded capabilities of its free version this year. And if you like lots of support and can pay up, H&R Block is a good choice for that.
Tina Orem is a staff writer at NerdWallet, a personal finance website. Email: [email protected].
Updated on April 6, 2017.