Competition is fierce among the biggest tax-prep software providers. Here's our point-by-point comparison to help sort out which is better for you: H&R Block or TurboTax.









PRICE

It's a tie.

FEATURES & EASE OF USE




SUPPORT

It depends.

(TurboTax for online; H&R Block for in-person options)
TurboTax vs. H&R Block: Price
H&R Block and TurboTax have similar list prices in general, but there are some notable differences. TurboTax's top-tier, throw-it-all-at-us version costs around $200; H&R Block's corresponding top-tier product is only a little cheaper when you add the human review to make it an apples-to-apples comparison at the high end.
Earlier in the tax season, H&R Block's expanded free version worked with the 1040 and Schedule A (as opposed to just the 1040EZ or 1040A for TurboTax's free version), which could be huge for some filers. Now, the free version only works with the 1040EZ and 1040A. Military members get a discount from TurboTax, depending on rank; H&R Block partners with Military One Source.
H&R Block

Free version supports 1040EZ, 1040A
Three paid versions, ranging from $49.99 to $94.99 (list prices)
State return prep is $29.99 for free version, $39.99 for paid versions (list prices)

TurboTax

Free version supports 1040EZ, 1040A
Four paid versions, ranging from $59.99 to $179.99 (list prices)
State return prep is $29.99 for free version, $39.99 for paid versions (list prices)
Both providers offer several versions of paid products that accommodate increasingly complex tax situations. Itemizers will probably find the Deluxe versions a good pick; the Premium/Premier versions are generally tailored more toward investors and people with rental property. (And remember, you'll pay extra to get your state return done.) If you're self-employed,the Self-Employed versions can handle the heavy lifting.
Winner: H&R Block
If you're an early starter, the free version works with the regular Form 1040 and Schedule A, which could mean big savings for many filers (now that it's closer to the filing deadline, the free version only works with the 1040EZ and 1040A). Nonetheless, its products are a little less expensive than its TurboTax counterparts.
» MORE: Try our federal tax calculator
TurboTax vs. H&R Block: Features and ease of use
Only one entity determines how the math works on a tax return, and that's the IRS. So unless there's a programming error, you should get the same numerical "answer" no matter which tax software you use. But you still have to feed the software all of your information, and there are a million ways to do that. Which is why we look at features and ease of use — we want to know which offerings are least likely to make you want to pull your hair out.
TurboTax
TurboTax is widely considered the most user-friendly tax software provider on the market. The interview-style Q&A interface keeps things in plain English, and you can skip around if you get sick of the interview process (or you can head straight to the forms if you're the confident type).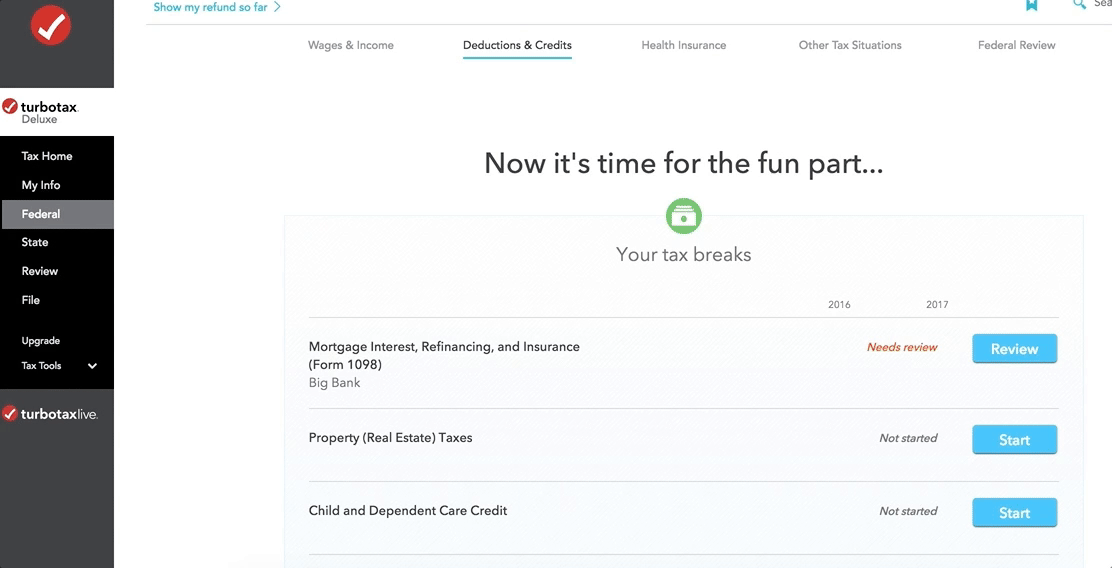 H&R Block
H&R Block's interface is also straightforward and easy to use, and help is available within the preparation process — many terms are hyperlinked so you can read a definition or get more information, and the software is quick to send confused users to a searchable knowledge base. As with most software packages, a banner keeps track of where you are in the return process.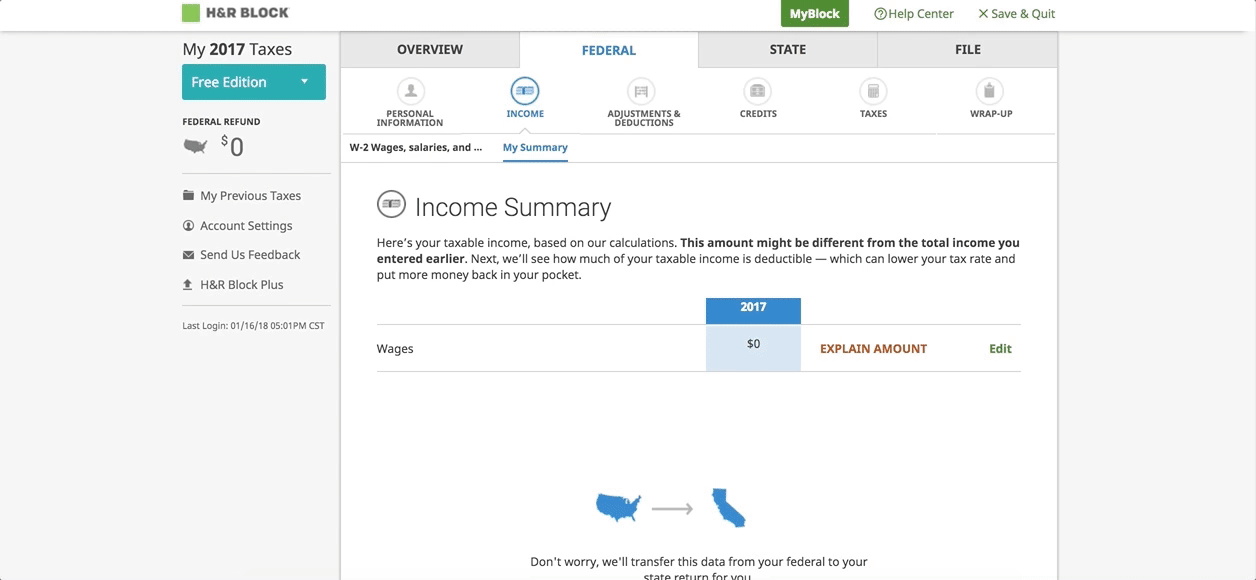 Both providers offer photo and other import options for W-2s to speed things up. TurboTax's paid users also get ItsDeductible, which is helpful for quickly finding the deduction value of donated clothes, household items or other objects. TurboTax's Self-Employed version offers a neat expense-tracking feature through QuickBooks, including the ability to store photos of your receipts and track mileage from your phone. New this year is a feature that calls attention to common deductions in your industry. And the paid versions come with SmartLook (see next section).
Winner: TurboTax
If you want every single cutting-edge bell and whistle on the market, TurboTax is probably the better choice. But H&R Block is nothing to sneeze at — especially this year. Both have solid options with intuitive interfaces that will help things make sense, offer guidance where needed and keep the process moving in a logical manner so you get done quickly.
TurboTax vs. H&R Block: Support
Here's where things get heavy.
TurboTax
TurboTax boasts a huge knowledge base and a large, active user community. Users with paid versions also get real-time help using SmartLook, which connects you to a tax specialist via one-way video (you see them, but they just see your screen) using the TurboTax mobile app or your computer. You can ask questions, and the specialist can see your screen and highlight areas you might need to address or show you where to enter more information.
New this year is TurboTax Live — a high-end package that gets a one-on-one review with a certified public accountant or Enrolled Agent before you file, as well as unlimited live tax advice from an on-screen CPA or EA. You can make an appointment or talk on the fly to the advisors via one-way video. Hours of operation are 5 a.m. to 9 p.m. local time in general, though that may widen during tax season. All of the agents are CPAs or EAs and are employees of TurboTax; they'll even sign and e-file your return if you want. Help is available via chat, too.
H&R Block
H&R Block's online tax packages have a second line of defense in the enormous band of human tax preparers at the company's 12,000 or so offices nationwide. Help at one of these locations isn't free, but it helps to know it's there. Users of all the paid packages do get free online chat with a tax expert.
If you want a human to check your homework, you can purchase the Tax Pro Review add-on feature, which costs between $49.99 and $89.99 depending on which software package you buy. This competes directly with TurboTax Live. H&R Block says the people who provide tax support and review tax returns submitted for Tax Pro Review are graduates of its 60-hour Income Tax Course and must complete at least 18 hours of continuing education and an average of 20 hours of skills training on policies and procedures every year. The tax pros handling Tax Pro Review returns are "certified at H&R Block's highest levels and are our most tenured and experienced tax professionals," according to the company.
Winner: It depends on what you prefer
TurboTax and H&R Block offer the best support options on the market. Because of its brick-and-mortar locations, H&R Block may be better if you want more ways to access face-to-face support in case you run into serious trouble. But TurboTax has a heck of a lot to offer filers who are comfortable getting advice online, and both providers give users access to actual tax pros, which is a good thing.
TurboTax vs. H&R Block: Refunds, audits and other considerations
If you're getting a refund, you can have the IRS directly deposit the money into your bank account or send you a paper check. This is the fastest way to get your refund, regardless of whose software you buy.
Both companies have an option where you can have your refund loaded onto a prepaid debit card. And both let you use your refund to pay for your tax-prep fees. But know that the cards come with fees and that paying for your software out of your refund will come with about a $40 charge at either company.
Audit protection is another feature many tax-prep companies tout. The level of service varies, though, so read the fine print. In general, there's guidance (which basically means helping you understand what's happening if you're audited) and representation (which means someone from the company will speak with the IRS on your behalf). Many preparers offer free guidance, but if you want representation you may have to pay.
TurboTax: If you get an audit notice, you'll get free guidance about what to expect and how to prepare. But if you want someone to actually represent you in front of the IRS, you'll need to buy TurboTax's "Audit Defense" product when you file. That runs $44.99.
H&R Block: Users can purchase a sort of combo product called Worry-Free Audit Support. This gets you one-on-one contact with a tax professional to help guide you through an audit. It costs $19.99 and includes IRS correspondence management, audit preparation and in-person audit representation.
Winner: H&R Block — but only if you're worried about an audit
If you just want the cash from your refund, both companies can get it done. If things ever get messy with the IRS, though, H&R Block has an edge because its audit defense add-on is less expensive than TurboTax's service.
TurboTax vs. H&R Block: Which one is right for you?
Despite its dominant market share in DIY tax prep, TurboTax may not be the clear choice for everyone. Our advice is to take a hard look at H&R Block before you decide. You might get the job done for less thanks to the expanded capabilities of its free version this year. But if you like lots of support at your fingertips and can pay up, TurboTax has all the bells and whistles and is a very attractive option.