Competition is fierce among the biggest tax-prep software providers. TurboTax is king, but it may not be the clear choice for everyone. Our advice: Take a hard look at H&R Block before you decide.
Here's our point-by-point comparison to help sort out which is better for you: H&R Block or TurboTax.


Read full review






Read full review



PRICE

FEATURES & EASE OF USE




SUPPORT

It depends.

(TurboTax for online; H&R Block has a slight edge for in-person options)
TurboTax vs. H&R Block: Price
H&R Block is generally less expensive, but TurboTax's top-tier, throw-it-all-at-us version costs well over $100 at list price when you add in a state return (that rises to over $200 if you go with its software-slash-human hybrid package called TurboTax Live); H&R Block's corresponding top-tier product is only a little cheaper when you add the human review to make it an apples-to-apples comparison at the high end.
H&R Block

Free version allows you to file a 1040 plus Schedules 1 through 6, which is better than some competitors' free software packages.
Three paid versions, ranging from $49.99 to $104.99 (list prices). Adding a human Tax Pro Review can cost $79.99 or $89.99 more, depending on the package. Users also can buy the service as a standalone product for $119.99 plus $39.99 for every state return filed.
State return prep is $29.99 for the free version and $39.99 for other paid versions (list prices).

TurboTax

Free version allows you to file a 1040 and a state return, but you can't itemize or file any of the new Schedules 1-6. It works for people who don't plan to claim any deductions or credits other than the standard deduction, the earned income tax credit or the child tax credit.
Four paid versions, ranging from $59.99 to $119.99. (list prices). Adding on-screen human help via TurboTax Live can cost $60 to $80 more, depending on the package.
State return prep is $0 for the free version, $34.99 for TurboTax Live Basic, and $44.99 for other paid versions (list prices)
Both providers offer several versions of paid products that accommodate increasingly complex tax situations. Itemizers will probably find the Deluxe versions a good pick; the Premium/Premier versions are generally tailored more toward investors and people with rental property. (And remember, you'll pay extra to get your state return done.) If you're self-employed, the Self-Employed versions can handle the heavy lifting.
Winner: H&R Block
If you're an early starter, the more robust free version could mean big savings for many filers. To boot, its products are a little less expensive than its TurboTax counterparts.
» MORE: Try our federal tax calculator
TurboTax vs. H&R Block: Features and ease of use
Only one entity determines how the math works on a tax return, and that's the IRS. So unless there's a programming error, you should get the same numerical "answer" no matter which tax software you use. But you still have to feed the software all of your information, and there are a million ways to do that. Which is why we look at features and ease of use — we want to know which offerings are least likely to make you want to pull your hair out.
TurboTax
TurboTax is widely considered the most user-friendly tax software provider on the market. The interview-style Q&A interface keeps things in plain English, and you can skip around.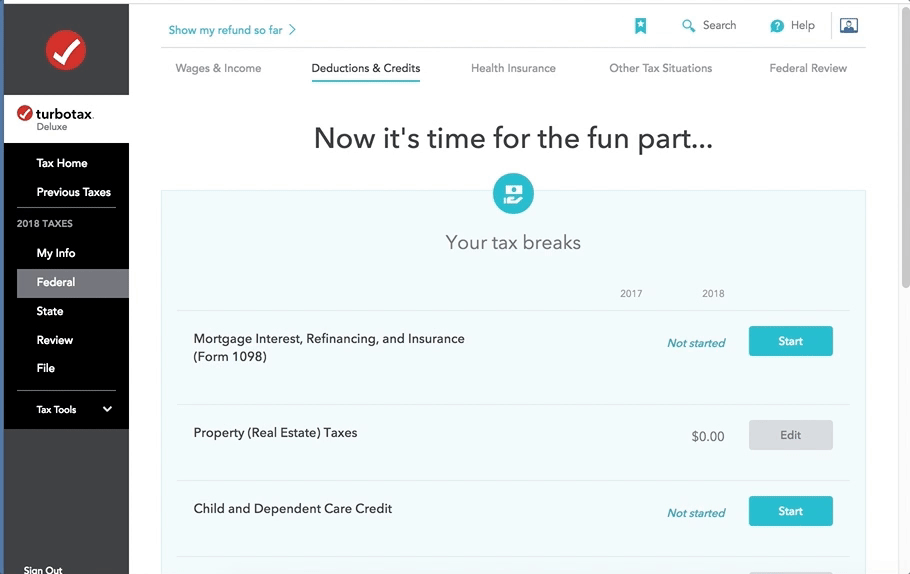 H&R Block
H&R Block's interface is also straightforward and easy to use, and help is available within the preparation process. As with most software packages, a banner keeps track of where you are in the return process. The process is a little more stubbornly linear than with TurboTax, which some users may find annoying if they want to skip around.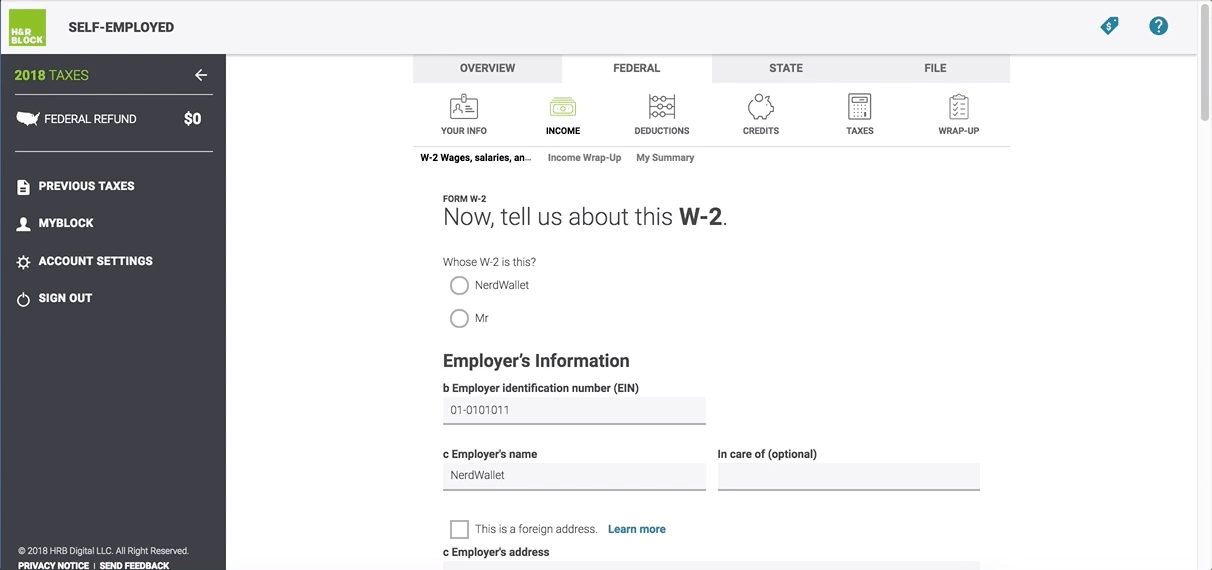 Both providers offer photo and other import options for W-2s to speed things up. TurboTax's Deluxe, Premier or Self-Employed packages also integrate ItsDeductible, which is helpful for quickly finding the deduction value of donated clothes, household items or other objects. TurboTax's Self-Employed version offers a neat expense-tracking feature through QuickBooks, including the ability to store photos of your receipts and track mileage from your phone.
H&R Block's Self-Employed version, on the other hand, imports Uber driver tax information and integrates with the expense-tracking app Stride Tax. All versions will import last year's return from TurboTax, Tax Act, Credit Karma or any other tax prep company, and you can import your 1099s, too. The free version doesn't import last year's return, though.
Winner: TurboTax
If you want every single cutting-edge bell and whistle on the market, TurboTax is probably the better choice. But H&R Block is nothing to sneeze at — especially this year. Both have solid options with intuitive interfaces that will help things make sense, offer guidance where needed and keep the process moving in a logical manner so you get done quickly.
TurboTax vs. H&R Block: Support
Here's where things get heavy.
TurboTax
If you need (or want) a lot of handholding, TurboTax could be a great choice. Its searchable knowledge base, video tutorials and online community are great for research on the fly, but one of TurboTax's most outstanding support features is TurboTax Live, which is in its second year. It offers a one-on-one review with a CPA or enrolled agent before you file, as well as unlimited live tax advice. They'll even sign and e-file your tax return if you want. You can make an appointment or talk on the fly to a tax pro via one-way video (you see them, but they don't see you — they just see your screen). Hours of operation are 8 a.m. to midnight Eastern, seven days a week.
New this year is an offline expert review option that lets you ask questions and get answers from a CPA, enrolled agent or tax attorney via email. To boot, you can get tax advice year-round with TurboTax Live (it doesn't close up shop on April 15). Having on-demand access to a tax pro all year is huge, although you can't ask to talk to the same tax expert each time.
H&R Block
H&R Block is competing hard against rival TurboTax with two offerings this year.
First is H&R Block's new "Ask a Tax Pro" service, which gets you unlimited, on-demand chat sessions with a tax expert. You can share your screen with the tax pro to discuss specific questions. It works on mobile and tablet, or you can talk using a phone instead if you like. Hours of operation for on-demand chat are 7 a.m. to 11 p.m. Central time Monday through Friday and 9 a.m. to 8 p.m. Eastern on weekends during tax season. The downside: it's not free — it costs $39.99 for Free and Deluxe users, and $49.99 for Premium and Self-Employed users.
Second is H&R Block's Tax Pro Review, which offers a one-on-one review of your entire return with a tax pro who will go over your documents and check for accuracy and possible missed deductions or credits within three days; the tax pro will even sign and e-file your return for you. You communicate with the tax pro on-demand via a secured message center or arrange for a phone call if you prefer. Free users can tack it on for $49.99, Deluxe users pay $79.99, and Premium and Self-Employed users pay $89.99. You can also buy the service as a standalone product for $119.99 plus $36.99 for every state return you file.
Not all of H&R Block's tax pros are CPAs or enrolled agents, but the company says they undergo more than 60 hours of training and complete additional 30-plus hours of annual training to get ready each year for tax season; it also says the tax pros who help its online filers have 15 years of experience on average and get additional training specifically around the company's online products.
But here's what gives H&R Block a tiny edge: its enormous band of human tax preparers at the company's roughly 12,000 offices around the world. Help at a brick-and-mortar stores isn't free, of course (in-office appointments start at $59), but it helps to know you can go there if you get hopelessly wrapped around the axle.
Winner: It depends on what you prefer
TurboTax and H&R Block offer the best support options on the market. Because of its brick-and-mortar locations, H&R Block may be better if you want more ways to in-person support if you run into serious trouble. But TurboTax has an impressive offering for filers who are comfortable getting advice online, and both providers give users access to actual tax pros, which is a good thing.
TurboTax vs. H&R Block: Refunds, audits and other considerations
No matter how you file, you can choose to receive your refund via direct deposit to a bank account (the fastest option) or in the form of a paper check. Other options include applying the refund to next year's taxes or directing the IRS to buy U.S. Savings Bonds with your refund. And both have a debit card option, which means you can have your refund loaded onto a prepaid card. (These cards come with fees, so be sure to factor that into your decision.) But there are some other things to know about, too.
Both let you use your refund to pay for your tax-prep fees. But there's a fee for that: TurboTax charges $39.99; H&R Block charges $39.95.
Getting audited is scary, so it's important to know what kind of support you're getting from your tax software. First, be sure you know the difference between "support" and "defense." With most providers, audit support (or "assistance") typically means guidance about what to expect and how to prepare — that's it. Audit defense, on the other hand, gets you full representation before the IRS from a tax professional.
TurboTax: TurboTax gives everyone free audit "guidance" from a tax pro to help you understand what's going on if you get that dreaded letter, but if you want someone to represent you in front of the IRS, you'll need TurboTax's audit defense product, called Max Defend & Restore. It costs $39.99.
H&R Block: H&R Block offers online users a product called Worry-Free Audit Support. This gets you contact with an Enrolled Agent to help guide you through an audit. It includes IRS correspondence management, audit preparation and in-person audit representation. That runs $19.99.
On top of that, you can buy something called Tax Identity Shield, which helps you apply for an Identity Protection PIN or Identity Theft Indicator if it turns out criminals have used your personal info to file a fake tax return. That runs $14.99. (If you buy Tax ID Care and Worry-Free Audit Support together, you'll pay $24.99, which saves ten bucks).
Winner: H&R Block — but only if you're worried about an audit
If you just want the cash from your refund, both companies can get it done. If things ever get messy with the IRS, though, H&R Block has an edge because its audit defense add-on is less expensive than TurboTax's service.
TurboTax vs. H&R Block: Which one is right for you?
Despite its dominant market share in DIY tax prep, TurboTax may not be the clear choice for everyone. Our advice is to take a hard look at H&R Block before you decide. You might get the job done for less thanks to the expanded capabilities of its free version this year. But if you like lots of support at your fingertips and can pay up, TurboTax has all the bells and whistles and is a very attractive option.


Read full review






Read full review



PRICE

FEATURES & EASE OF USE




SUPPORT

It depends.

(TurboTax for online; H&R Block has a slight edge for in-person options)