Competition is fierce between two of the biggest tax-prep software providers. Here's NerdWallet's point-by-point comparison to help you sort out which cloud-based software is better for you: TurboTax or TaxAct.
Price
Both providers offer several versions of paid products that accommodate increasingly complex tax situations. And both have a truly free "free" version, meaning there's no separate charge for filing a state return.
Itemizers probably will find TaxAct's Plus version and TurboTax's Deluxe version good picks. Higher-priced versions are tailored more toward investors, people with rental property and the self-employed. If you're self-employed, TaxAct's Premium version can handle the heavy lifting; for TurboTax it's the Self-Employed or the TurboTax Live versions.
TaxAct is cheaper across the board. Even at the high end. TurboTax's top-tier, throw-it-all-at-us version costs well over $100 at list price (and over $200 if you go with its new software-slash-human hybrid package called TurboTax Live); TaxAct's corresponding top-tier product is less than half that.
TaxAct

Free version supports 1040EZ
Four paid versions, ranging from $14.95 to $69.95 (list prices)
State return prep is $17 for free version, $17 for Basic and $39.99 for other paid versions (list prices)

TurboTax

Free version supports 1040EZ, 1040A
Four paid versions, ranging from $59.99 to $179.99 (list prices)
State return prep is $29.99 for free version, $39.99 for paid versions (list prices)
Winner: TaxAct
TaxAct will cost you less than the comparable TurboTax package. Both providers offer a free version, though only for people who have fairly simple tax returns.
Features and ease of use
Only one entity determines how the math works on a tax return, and that's the IRS. So unless there's a programming error, you should get the same numerical "answer" no matter which tax software you use. But you still have to feed the software all of your information, and there are a million ways to do that. Which is why we look at features and ease of use — we want to know which offerings are least likely to make you want to pull your hair out.
TurboTax
TurboTax is widely considered the most user-friendly tax software provider on the market. The interview-style Q&A interface keeps things in plain English, and you can skip around if you get sick of the interview process (or you can head straight to the forms if you're the confident type).
Both providers offer photo and other import options for W-2s to speed things up. TurboTax's paid users also get ItsDeductible, which is helpful for quickly finding the deduction value of donated clothes, household items or other objects. TurboTax's Self-Employed version offers a neat expense-tracking feature through QuickBooks, including the ability to store photos of your receipts and track mileage from your phone. New this year is a feature that uses machine learning to call attention to common deductions in your industry. And the paid versions come with SmartLook (see next section).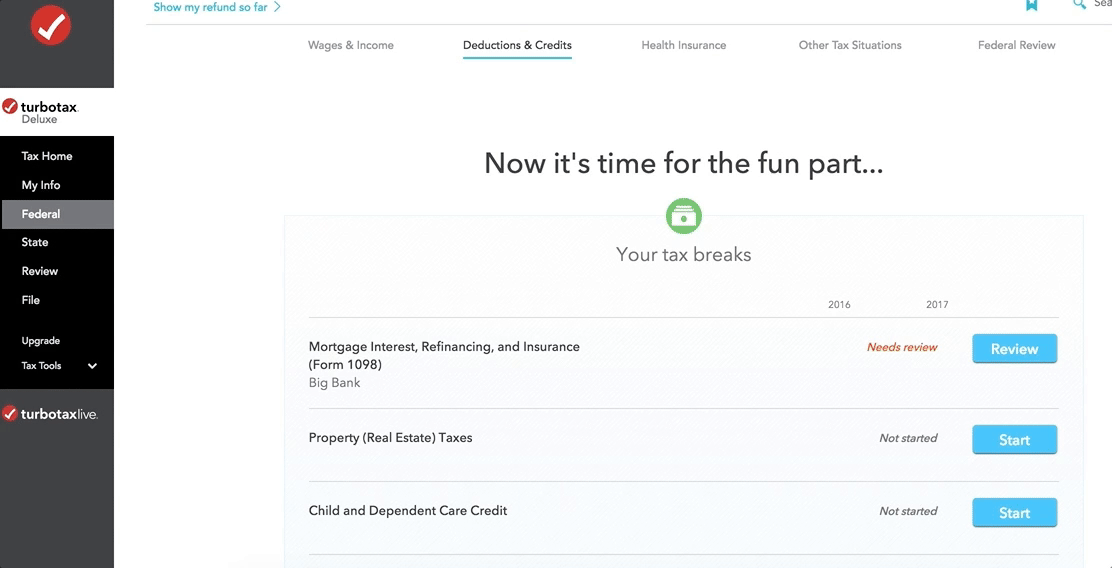 TaxAct
TaxAct's interface isn't fancy, but it works. It has all the basics, such as importing last year's returns ($15 for the free version), a W-2 import, a donation assistant and some planning tools and calculators.
TaxAct redesigned its mobile app, and new this year is the ability to start and file your return on any device. All of the company's products are available via mobile, and this year the app also has smart camera functionality so you can capture your W-2 instantly.
Like many other tax packages, help is available throughout the preparation process, but higher-priced competitors do seem to have more robust in-line help. As with most software packages, a banner running across the top keeps track of where you are in the process.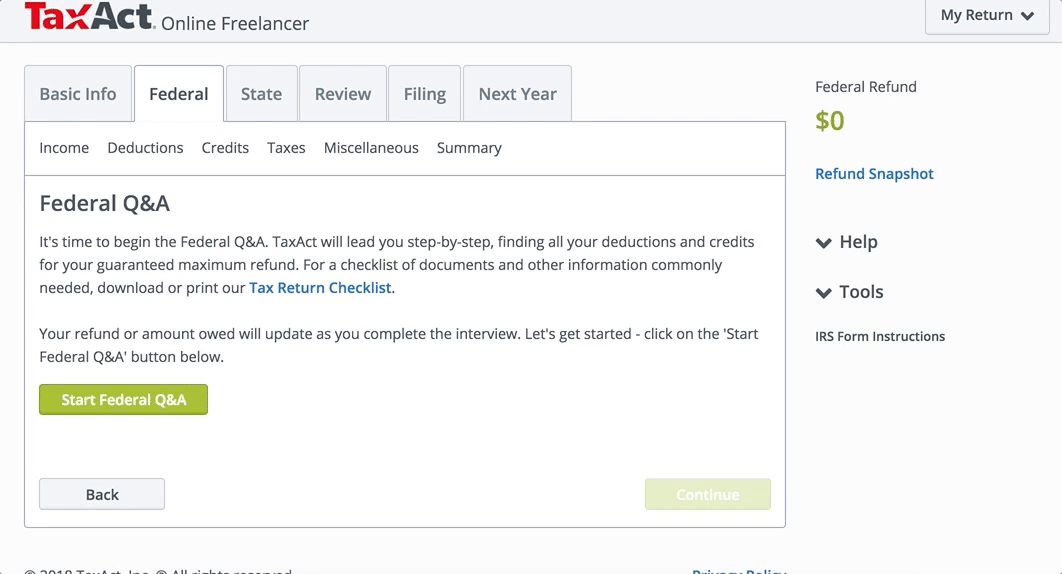 Winner: TurboTax
Both providers offer solid options with intuitive interfaces that keep the process moving in a logical manner so you get done quickly. But TurboTax is easier to use, and if you want every bell and whistle on the market it's probably the better choice.
Support
TurboTax
TurboTax boasts a huge knowledge base and a large, active user community. Users with paid versions also get real-time help using SmartLook, which connects you to a tax specialist via one-way video (you see them, but they just see your screen) using the TurboTax mobile app or your computer. You can ask questions, and the expert can see your screen and highlight areas you might need to address or show you where to enter more information.
New this year is TurboTax Live, a high-end package that gets a one-on-one review with a CPA or Enrolled Agent before you file, as well as unlimited live tax advice from an on-screen CPA or EA. You can make an appointment or talk on the fly to the advisors via one-way video. Hours of operation are 5 a.m. to 9 p.m. local time in general, though that may widen during tax season. All of the agents are CPAs or EAs and are employees of TurboTax; they'll even sign and e-file your return if you want. Help is available via chat, too.
TaxAct
TaxAct will hook you up with a CPA or Enrolled Agent over the phone or via live chat if you need help. Free tax help via phone is a rare find, especially for software at this price point.
The company says its tax specialists don't provide "tax advice" but do provide "tax support" in terms of helping users understand what forms they may need and where to put information on forms.
TaxAct also has an online knowledge base that users can search for answers about specific tax issues. It's not as robust as some competitors' offerings, but phone and chat support may compensate for that.
Winner: TurboTax
TurboTax has the better knowledge base, and it gives paying users access to actual tax pros via SmartLook. TaxAct offers access to tax pros through phone and chat support, though — even for people using the free version. The difference is largely whether you want to see the person you're talking to and whether you want actual advice — that's where TurboTax has an edge, but you'll have to pay more.
Refunds, audits and other considerations
If you're getting a refund, both providers can have the IRS directly deposit the money into your bank account or send you a paper check. And both have a debit card option, which means you can have your refund loaded onto a prepaid card. (These cards come with fees, so be sure to factor that into your decision.) But there are some other things to know about, too.
Both let you use your refund to pay for your tax-prep fees. But there's a fee for that: TurboTax charges $39.99; TaxAct charges $25.
Audit protection is another feature many tax-prep companies tout. The level of service varies, though, so read the fine print. In general, there's guidance (which basically means helping you understand what's happening if you're audited) and representation (which means someone from the company will speak with the IRS on your behalf). Many preparers offer free guidance, but if you want representation you may have to pay.
TurboTax
If you get an audit notice, you'll get free guidance from tax experts about what to expect and how to prepare. But if you want someone to actually represent you in front of the IRS, you'll need to buy TurboTax's "Audit Defense" product when you file. That runs $44.99.
TaxAct
TaxAct's audit assistance consists of a FAQ page on its website. But customers can buy a product called Audit Defense from a partner company called Protection Plus. Coverage includes three years of audit services for this year's return, and TaxAct says it includes comprehensive response and resolution strategy, IRS and state correspondence, help with denied credits, and tax debt and tax fraud assistance. That service is included in the Premium package and runs $39 for everyone else.
Which one is right for you?
TaxAct costs less and still does plenty, so really take a hard look at this option. But if you like face-to-face support and can pay a bit more, TurboTax has all the bells and whistles and is a very attractive choice.