Editorial Review
Ellevest Review 2020: Pros, Cons and How It Compares
Ellevest aims its service toward women, but with features and pricing that rival some of the bigger players in the robo-advisor space, the company will appeal to all investors.
Many or all of the products featured here are from our partners who compensate us. This may influence which products we write about and where and how the product appears on a page. However, this does not influence our evaluations. Our opinions are our own.
Our Take
The bottom line: Ellevest brings investors innovative goals-based tools and low costs, with a competitive 0.25% fee for its digital offering. Ellevest Premium charges 0.50% but pairs each client with a dedicated CFP.
Fees
Account Minimum
Promotion
1 month free
of Ellevest Digital
Pros & Cons
Pros
Low account minimum and fees.

Goal-focused investing approach.

Portfolio mix that factors women's needs.

A la cart sessions with coaches and CFPs.
Cons
Essential members can't open an IRA.

No tax-loss harvesting.
Compare to Other Advisors
Promotion

1 month free

of Ellevest Digital

Promotion

$5,000

amount of assets managed for free

Promotion

Up to 1 year

of free management with a qualifying deposit
Full Review
Ellevest — which charges a management fee that starts at 0.25% and requires no minimum investment — is like most other robo-advisors in every way except one: It's unabashedly pro-female.
Gender-based investing at Ellevest means factoring women's generally lower incomes, different lifetime earnings curve and longer lifespan into portfolio construction. (And, yes, men can be clients, too: They get recommendations that account for their salary curves and longevity data.)
The company offers two tiers of service: Ellevest Digital, which charges 0.25% per year and requires no minimum account requirement, and Ellevest Premium, which charges 0.50% and requires a $50,000 minimum. Ellevest Premium offers clients a dedicated certified financial planner and access to executive career coaching services.
Access to dedicated CFPs with Premium.
Ellevest at a glance
| | |
| --- | --- |
| | Ellevest Digital: $0 Ellevest Premium: $50,000 |
| | Ellevest Digital: 0.25% Ellevest Premium: 0.50% |
| Investment expense ratios | Core portfolio: 0.05% - 0.10%. Impact Portfolios: 0.13% - 0.19%. |
| | $100 for full account transfer out; $5 per security for partial transfer out ($25 minimum/$75 maximum). |
| | 21 asset classes covered. Core Portfolios draw from 20 ETFs; Impact Portfolios draw from 27 ETFs and mutual funds. Some customization allowed. |
| | Individual nonretirement accounts (not joint), traditional, Roth and SEP IRAs. Ellevest also provides asset allocation advice on 401(k) accounts, but does not directly manage them. |
| | Tax-optimized asset location, rebalancing and withdrawal sequencing. |
| | Free on an as-needed basis. |
| | Ellevest Digital: Clients can speak to the company's concierge team for high-level financial guidance. Ellevest Premium: Clients have unlimited access to a dedicated CFP and executive career coach. |
| | Tools to show trade-offs between investment choices. Mobile app offers same functionality as web. |
| Bank account/cash management account option | Basic account with 0.01% interest rate designed for emergency fund. Management fee does not apply to balance. |
| Customer support options (includes website transparency) | Phone, text and Facebook Messenger support Monday-Friday 9 a.m.-6 p.m. Eastern. Email support, including for urgent matters on weekends. |
| | Up to $750 cash bonus with qualifying deposit. |
Addressing women's needs: As the list of automated investment advisories continues to grow, Ellevest's full-on female-focused approach is certainly an eye-catching differentiator. But is it just a marketing hook?
While a lot of it has to do with approach and tone (which aren't necessarily gender-specific), one practice is worth highlighting. The advisor says that while the gender pay gap is well-known, less appreciated is the fact that women's incomes top out and decline sooner than men's. Combine the earnings gap with a longer lifespan, and women have to surmount a tougher set of obstacles than men to reach their financial goals.
Ellevest addresses this in two ways:
While other robo-advisors might treat men and women equally when considering their future earnings, Ellevest might recommend a higher savings rate for a female client than it would for a similar male client because of that lower future earnings potential.

Ellevest Premium, with a $50,000 minimum, comes with access to one-on-one executive coaching from the company's career team, which can help women with financial issues like salary negotiations and career transitions. Premium members also get unlimited access to a dedicated CFP with whom they can schedule appointments.
Supports multiple financial goals: Like large robo-advisors such as Betterment and Wealthfront, Ellevest's primary focus is helping investors attain their longer-term goals, e.g., retirement. The more unique feature is Ellevest's additional planning layer that helps clients invest appropriately for short-term, nonretirement goals, too.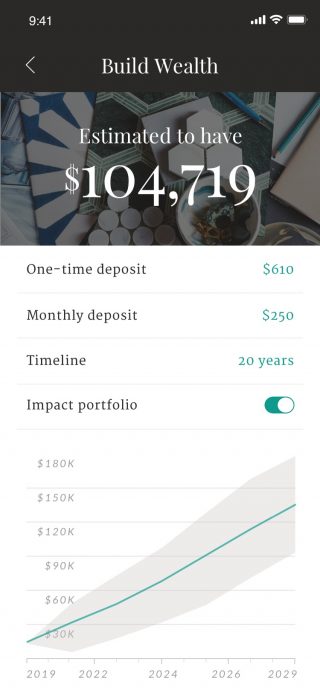 Investors can select any number of savings goals — including saving for a car, building a home down payment, putting away funds for child-related expenses or starting a business. Based on your time horizon and capacity for risk (as elicited via a questionnaire), Ellevest produces a customized investment plan that, according to simulations, gives you a 70% likelihood of reaching your goal. It also provides a dose of reality in terms of trade-offs that may be necessary to achieve multiple goals — for example, how buying a new car this year might delay buying a house and retiring. Or how a lower savings rate and less aggressive investments now might affect paying for college in a few years.
Another feature that increases the likelihood that you'll achieve your goals is auto-deposit, the ability to have a portion of your paycheck deposited directly into your Ellevest account. After all, it's harder to spend it if the money doesn't even make a pit stop in your checking account.
Dedicated CFPs: Clients who opt into Ellevest Premium receive a dedicated CFP, meaning they'll be able to speak to the same advisor each time they make an appointment. It's not uncommon for similar services to offer only access to a team of CFPs, which makes Ellevest stand out for investors who want to build a relationship with a financial advisor. Note that Ellevest says other advisors may step in to assist with urgent questions if a client's assigned advisor isn't available.
Portfolio customization: Like its peer robos, each Ellevest portfolio has specific target allocations: more aggressive funds for long-term goals and more conservative ones for the short term. Customers are, however, given some measure of control over how aggressively their money is invested and can toggle their exposure to stocks up or down within reason (between 5% or 10%, depending on the goal). Whenever the portfolio veers too much from the target allocation, Ellevest rebalances the investments.
Large number of ETF classes: Like other robo-advisors, Ellevest portfolios are composed of a mix of exchange-traded funds that cover more than 20 asset classes, which is more than what most of the leading players offer. For its standard portfolios, Ellevest chooses from 20 ETFs; Impact Portfolios draw from 27 ETFs and mutual funds. Impact Portfolios give clients the opportunity to allocate up to half of their portfolios into funds made up of companies that promote the advancement of women.
Many of the funds Ellevest uses are managed by Vanguard, a leader in low-cost ETFs. That's important because in addition to the advisory fee, investors pay for the management fees (aka expense ratios) on the ETFs in their portfolio.
Where Ellevest falls short
Low interest rate on short-term savings: Part of Ellevest's holistic approach to money management is to help clients establish an emergency fund of three months of take-home pay. The advisor charges no management fee for this money (meaning if that was the only goal you had, you'd pay no management fees at all) and keeps the cash safe in an FDIC-insured bank account. The downside: That account earns only a trickle of interest — 0.01% — which is significantly less than clients could earn with an online savings account. Other robo-advisors offer savings account or cash management account options paying upward of 2%.
Accounts supported: Currently, Ellevest offers only individual taxable accounts, IRAs (Roth, traditional and SEP IRAs) and 401(k) rollover IRAs. Joint taxable accounts or trusts, which are commonly found at robo-advisors, aren't available here.
No tax-loss harvesting: In contrast to its larger rivals, Ellevest doesn't offer automated tax-loss harvesting. That could be a turnoff for the wealthiest investors with high balances in taxable accounts. But the company says that there are too many "ifs" in each investor's situation to automate the process across its client base. And doing so could do its customers more harm than good, a risk the company is not willing to take in its role as a fiduciary.
That said, you can't completely ignore the role of taxes in retirement planning, and Ellevest doesn't. Like most robos, Ellevest takes pains to put any securities that might generate taxes into tax-deferred retirement accounts and puts investments that tend to have low tax burdens into taxable accounts. And when it comes time for clients to make withdrawals, clients are advised in the ways of tax-smart withdrawal sequencing to minimize the IRS' cut.
Is Ellevest right for you?
Being able to meet your goals — all of them — is the point of investing, and Ellevest is all about helping clients find the right balance between shorter- and longer-term goals. Quantifying the trade-offs across all goals provides a more accurate and realistic picture of your financial wellbeing, as well.
It's not the only robo-advisor that takes a goals-based approach: Betterment does too, and for a lower advisory fee — 0.25% to 0.40% versus Ellevest's 0.25% to 0.50%. Betterment Premium requires a $100,000 minimum balance versus Ellevest Premium's $50,000 minimum. Both offer unlimited human advice from CFPs through their premium offerings, but Betterment does not pair each client with a dedicated advisor.
What sets Ellevest apart is that it isn't gender-neutral: Its investing algorithm takes into account the salary curve and lifespan of whatever gender profile the client chooses. It also offers investment options that allow its mostly female clientele to invest their dollars in companies that have policies and practices that advance women. Offering career coaching to premium clients (on top of a dedicated CFP) is another way this robo-advisor aims to better its target customer's financial well-being.
Dayana Yochim contributed to this review.