Facet Wealth Review 2020: Pros, Cons and How It Compares
Facet Wealth offers virtual, full-service financial planning from dedicated certified financial planners. The company charges a flat annual fee based on the complexity of a client's planning needs.
Many or all of the products featured here are from our partners who compensate us. This may influence which products we write about and where and how the product appears on a page. However, this does not influence our evaluations. Our opinions are our own.
Our Take
The bottom line: Facet's financial planning services start at $1,200 per year and include customized financial guidance and investment management from a dedicated CFP. The service is a considerable value, particularly for those with high portfolio balances and modest financial planning needs.
Best Online Financial Planning Service
Fees
Account Minimum
Promotion
15% off
one year of financial planning
Pros & Cons
Pros
Comprehensive, full-service financial planning.

No additional fee for investment management.

Fee-only advice from a fiduciary.

Each client gets a designated certified financial planner.

No upfront setup fee.

Manages investments directly through four brokerage firms.
Cons
Wide fee range makes it difficult for potential customers to estimate costs.

No in-person meeting option.
Compare to Other Advisors
Fees

$1,200 and up

per year

Fees

0.49% - 0.89%

management fee

Promotion

15% off

one year of financial planning

Promotion

None

no promotion available at this time
Get more smart money moves — straight to your inbox
Become a NerdWallet member, and we'll send you tailored articles we think you'll love.
Full Review
Facet Wealth was built to serve people who want more than the automated portfolio management available from robo-advisors, but can't afford (or don't have enough in investable assets to qualify for) the goals-based, holistic planning services offered by traditional full-service wealth management firms.
To do that, Facet eschews the typical financial advisor fee — which is based on a percentage of assets under management — and instead charges customers a flat fee that starts at $1,200 a year and increases based on the level of service a customer requires.
Like the traditional financial-planning relationship, customers work one on one with a dedicated certified financial planner. The CFP hashes out the client's needs, establishes goals, develops a financial plan with action items and conducts regular plan reviews. In between formal check-ins, the advisor is available to answer questions and make plan modifications. The major difference between working with a Facet advisor and working with a traditional firm is that all meetings are done remotely (via video or phone), and the plan — Facet calls it the customer's "blueprint" — is assembled, tracked and managed online.
Portfolio management is included in Facet's financial-planning fee, which makes it an attractive option for those with larger portfolio balances because the price is based on the advice they need and not the assets they've amassed.
Facet Wealth is best for:
People juggling multiple financial goals.

Investors who want to avoid AUM fees.

Financial guidance for life transitions.

Couples and families, who pay a single per-household fee.
Facet Wealth at a glance
Account management, planning or subscription fee

$1,200 - $6,000 annually based on the complexity of the plan. Payable monthly, quarterly or annually.

Account fees (annual, transfer, closing)

None. (Facet covers any brokerage-related fees.)

Advisor access and credentials

Membership includes unlimited access to a dedicated CFP via phone, email, video. Clients receive a minimum of two advisor-scheduled planning meetings annually.

Financial planning services

Can advise on majority of situations covered by full-service financial planning firms. Able to refer to vetted specialists for other needs.

Investment expense ratios

ETF expense ratios average 0.06%.

Manages accounts at four custodial brokerages (Charles Schwab, Fidelity, TD Ameritrade, Pershing).

Personalized portfolios at four custodians built from ETFs covering 13 asset classes.

Non-retirement brokerage accounts.

Roth, traditional, SEP, rollover and SIMPLE IRAs.

Investment account recommendations provided for workplace retirement plans and stock option plans.

Free tax-loss harvesting on all taxable accounts.

Customer support options (includes website transparency)

Email, video, phone support available from 8 a.m. - 9 p.m. client local time daily. Meetings can be scheduled with CFP at customer's convenience.
Where Facet Wealth shines
Flat fee based on planning needs: Facet uses a "pay for what you use" pricing model based on the complexity of advice a client requires. Fees start at $1,200 a year for basic financial planning and go up for situations that require a lot of moving parts and complex wealth-management strategies.
Potential customers must have a brief meeting with a Facet advisor for an estimate of the financial planning rate you'll pay. The meeting is free, and we suggest scheduling a get-to-know-each-other chat with any financial advisor you're considering before you hire them.
To compare the cost of Facet with similar services and traditional financial advisors, it helps to translate Facet's flat fee into a percentage of assets under management based on how much you plan to invest with the service. For example, Facet's $1,200 base fee would translate to 1.2% on a $100,000 portfolio.
Similar options for online financial planning and portfolio management include:
Personal Capital is a combination portfolio management and financial planning service with phone, email and video chat access to a team of CFPs and chartered financial analysts. It charges a 0.89% management fee on accounts of less than $1 million. The minimum balance requirement is $100,000.

Betterment Premium offers unlimited phone access to a team of CFPs and portfolio management for 0.40% annually and also has a $100,000 minimum.

Schwab Intelligent Portfolios Premium has a $25,000 account minimum and provides unlimited phone and video access to the company's CFPs, a written financial plan and portfolio management for $30 a month, plus a one-time planning fee of $300. That comes to $660 the first year and $360 annually thereafter. But Schwab doesn't offer a dedicated CFP to each client.
Keep in mind that with Personal Capital and Betterment Premium, you'll pay more as your portfolio balance increases. That makes the flat-fee pricing at Facet and Schwab particularly attractive at higher balances.
Direct investment management at multiple brokerages: One thing that sets Facet apart from the online-advisor competition is that it directly manages accounts at four custodians: Charles Schwab, Fidelity, TD Ameritrade and Pershing (owned by BNY Mellon). That's convenient — and potentially a money saver — if you already have accounts at these firms. (Typically, if you want a robo-advisor to manage money from an existing account, you have to sell your investments before transferring money to their custodian.)
Facet also provides specific investment recommendations on accounts it doesn't manage directly, such as 401(k)s, 403(b)s and other workplace retirement plans and stock option plans. And it can even directly manage those accounts if you are willing to provide Facet with log-in credentials for them.
Customized portfolios: Like robo-advisors, the mix of investments in client portfolios are based on the customer's timeline and risk tolerance. But while robo-advisors automate portfolio management and draw from pre-built portfolios, Facet advisors customize portfolios for each client.
Facet's investment committee meets quarterly to review investment models. Portfolios are built from a select list of low-cost ETFs with a focus on minimizing fees (investment expense ratios that can eat away at your returns) and maximizing diversification (providing exposure to different types of asset classes to balance potential risks and rewards).
Dedicated CFPs: The gold standard of financial advice is the CFP designation. It requires in-depth training and testing, as well as continued education and ongoing certification. In addition to being full-time Facet employees, all of Facet's CFPs are fiduciaries, which means they are required to make recommendations that place the client's interests above the firm's.
The first 90 days of service is the high-touch part of the relationship: You'll meet with your planner several times via video conference call to discuss your needs and establish goals. The planner will coach you through the steps to start executing on your action items. Every six months, your Facet planner will schedule a video call to check in, but they are available for questions along the way.
Comprehensive financial planning: Facet's bespoke approach to financial planning allows it to serve as a resource for nearly any financial decision you face, from employee benefits and the tax impact of stock option plans to retirement investments and evaluating insurance needs.
Your financial plan lives on Facet's web portal, which is an aggregation tool to track your assets, liabilities and action items, as well as a place to upload important documents like beneficiary paperwork. Facet tracks progress toward achieving goals. And whenever you update information on Facet's portal, your advisor is notified and ensures the financial plan reflects any changes.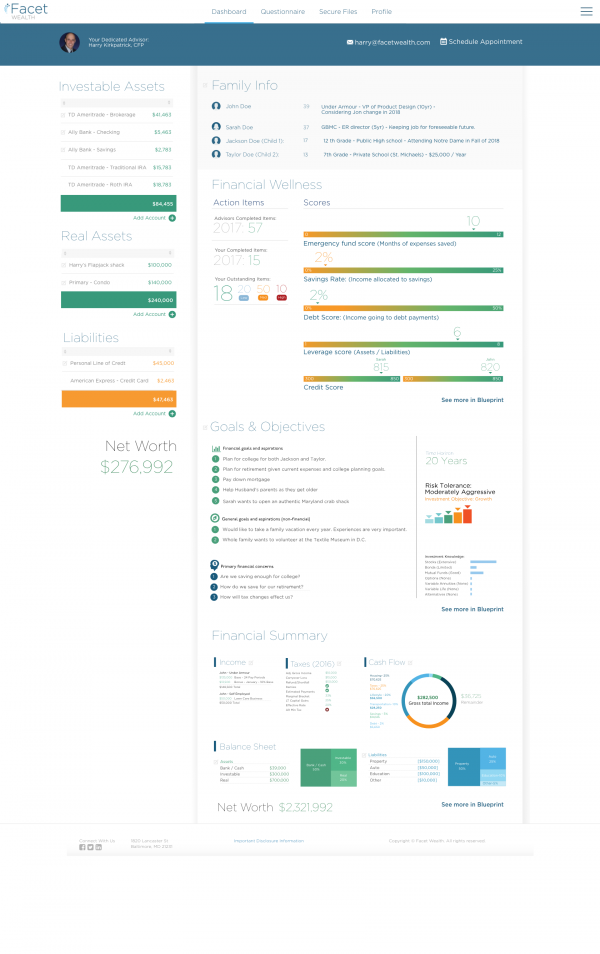 Where Facet Wealth falls short
Fees may be high in some situations: Depending on your balance, Facet's fee may be comparable to what some traditional brick-and-mortar financial planners charge (see our breakdown of financial planning fees). Those with complex financial situations may choose to go that route instead, especially if meeting with a financial planner in person is preferred.
On the other end of the spectrum, if all you need is portfolio management and you don't want planning guidance, robo-advisors like Wealthfront and SoFi Automated Investing are less expensive options, especially at lower balances.
Facet Wealth offers close to what you would get from a traditional brick-and-mortar wealth management firm. Every client works with a dedicated Facet CFP — the main difference is that Facet delivers financial plans and advice virtually. Facet is well-suited to help clients navigate complex financial issues.
Facet's "pay for what you use" fee scale means you'll pay less in years where your planning needs are minimal, and more when you face additional complexity (getting married, job change, retirement). The setup is particularly attractive if you have a large investment portfolio and fairly simple financial-planning needs. In those cases, you'll pay less out of pocket for comprehensive financial planning and portfolio management at Facet than you would at a traditional financial planning firm that charges a percentage of assets under management.
On the other hand, it isn't a good choice if you're seeking only portfolio management, which you could get from a robo-advisor for much less.
on Facet Wealth's website