Fidelity Go Review 2020: Pros, Cons and How It Compares
Fidelity Go's fees and $0 account minimum are appealing, but investors with taxable accounts won't get tax-loss harvesting.
Many or all of the products featured here are from our partners who compensate us. This may influence which products we write about and where and how the product appears on a page. However, this does not influence our evaluations. Our opinions are our own.
Our Take
The bottom line: Fidelity Go is a strong, low-cost choice for investors who want an all-digital robo-advisor. The service is free for balances below $10,000.
Fees
Up to 0.35%
management fee
Account Minimum
Promotion
None
no promotion available at this time
Pros & Cons
Pros
Integration with other Fidelity accounts.

Human portfolio oversight.

Free management on balances under $10,000.

No investment expense ratios.
Cons
No tax-optimization assistance.
Compare to Similar Brokers
Promotion

Up to 1 year

of free management with a qualifying deposit

Promotion

$5,000

amount of assets managed for free

Promotion

2 months free

with promo code "nerdwallet"
Get more smart money moves — straight to your inbox
Become a NerdWallet member, and we'll send you tailored articles we think you'll love.
Full Review
Fidelity Go, the robo-advisor from online broker Fidelity Investments, brings a different pricing model to the market. As of August 2020, the broker charges no management fee for accounts with balances of less than $10,000, and a flat $3 monthly fee for accounts with balances between $10,000 and $49,999. Users with higher account balances are charged the original all-in fee of just 0.35% with no added investment expenses.
Fidelity Go uses index funds, primarily its own, to build portfolios that a human investment management team monitors and rebalances. Investors are not charged expense ratios by those funds. The service has a $0 minimum for opening an account, but requires $10 to begin investing.
Current Fidelity customers.

Low-cost investment management.
Fidelity Go at a glance
$0 to open, $10 to start investing

Fidelity Go offers a tiered system based on account balance:

Below $10,000: No advisory fee.

$10,000-$49,999: $3 per month.

$50,000 and up: 0.35% per year.

Investment expense ratios

Included in management fee

Account fees (annual, transfer, closing)

Portfolios are built from more than 10 funds that cover six asset classes, primarily Fidelity Flex index funds.

• Individual and joint non-retirement accounts • Roth, traditional and rollover IRAs

Free on all accounts; rebalancing is done by investment managers as needed rather than automatically

Clients have access to Fidelity's full suite of investment and retirement planning tools.

Bank account/cash management account option

Fidelity Investments offers a cash management account that currently pays less than 1% for balances under $100,000.

Customer support options (includes website transparency)

Phone support 24/7; live chat Monday - Friday, 8 a.m. to 6 p.m. Eastern
Low cost: As noted above, Fidelity Go now charges no fees for accounts below $10,000, and a flat monthly fee of $3 for account balances between $10,000 and $49,999.  Fidelity charges a 0.35% management fee, with no additional investment expenses, for accounts $50,000 and higher. Portfolios primarily use Fidelity Flex funds.
This means you know exactly what you're paying when you sign up for this service — and in many cases, the cost is lower than you'd pay at other robo-advisors when you consider both management fees and fund expenses.
Fidelity integration: Fidelity Go customers are integrated in the company's existing retail managed business. Customers who already have an IRA or taxable account with Fidelity can easily take advantage of the company's robo offering. Fidelity Go is not available for 401(k)s held at the company, though you can roll over your old 401(k) into a Fidelity Go account.
Online advisory clients also get access to Fidelity's financial planning tools and apps, as well as the company's customer support and educational resources, both of which are strong. And investors can fund their accounts with the 2% cash-back rewards earned from the Fidelity Rewards Visa Signature card.
Human management: It's common among broker-launched online advisors to pair computer algorithms with dedicated financial advisors. Fidelity Go takes a different approach: The day‐to‐day investment and trading decisions for portfolios are handled by a team of humans from Strategic Advisors, a registered investment advisor and Fidelity company. The advisors also rebalance portfolios when a customer's portfolio moves outside of the asset allocation or risk tolerance preferences they specified.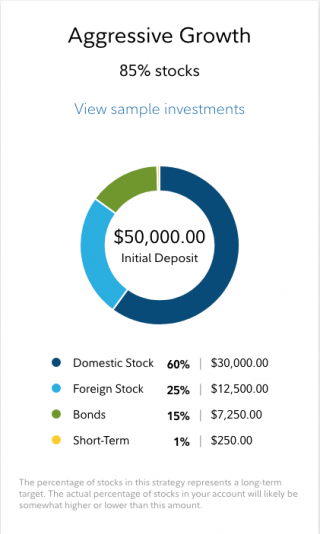 That oversight makes Fidelity Go a good choice for those who are reluctant to hand off all of the control to a robot — though it's worth noting that those advisors aren't there to answer your phone calls. Fidelity Go has live chat and phone support staffed by customer service representatives, but they are there to answer account questions, not offer financial planning guidance.
Like other advisors, Fidelity Go uses a questionnaire — designed to gauge your risk tolerance and financial goals — and computer algorithms to match investors to a portfolio. We especially like that without signing up or sharing any personal information, users can take that questionnaire and view a portfolio recommendation and sample investments.
Account minimum: Fidelity requires no minimum deposit to open an account, though you must have at least $10 in your account to begin investing.
High interest rate on cash: Idle cash in Fidelity Go portfolios is automatically swept into the Fidelity Government Cash Reserves fund, which pays an interest rate upward of 1%.
Where Fidelity Go falls short
Tax strategy: The company does not offer tax-loss harvesting, one of the features that makes robo-advisors stand out for taxable accounts. Fidelity does use tax-advantaged municipal bond funds in taxable accounts, which can help minimize your taxes.
Cash funding only: The company doesn't allow transfers of securities in kind, even by existing Fidelity customers who already hold the funds used in Fidelity Go's portfolios. You must sell all securities before enrolling in the service.
Is Fidelity Go right for you?
If you've been wanting to test the robo-advisor waters but you feel more comfortable with an established broker, Fidelity Go has a lot to offer. The fees are competitive, and the portfolios are well-diversified and closely monitored by real live humans. There's also a low account minimum to help you get in the door, especially compared with other broker-owned online advisors.
Investors with taxable accounts, however, will miss the tax-loss harvesting offered by other robo-advisors. Also, we wish Fidelity Go would make it easier to transfer securities — or at least facilitate the sale of them before transfer, as E-Trade Core Portfolios does — from existing Fidelity accounts.
Anna-Louise Jackson contributed to this review.