Grove Financial Planning Review 2019: Pros, Cons & How It Compares
(Ed. note: Grove has been acquired by Wealthfront as of August 2019 and is no longer accepting new clients.)
Many or all of the products featured here are from our partners who compensate us. This may influence which products we write about and where and how the product appears on a page. However, this does not influence our evaluations. Our opinions are our own. Here is a list of
our partners
and
here's how we make money
.
Our Take
The bottom line: Grove's $65 monthly subscription fee is less than you might pay a traditional financial planner, and includes a comprehensive plan and a dedicated CFP, available by phone or email. Grove charges a $560 one-time setup fee, and those who want portfolio management must sign up for Grove Invest, which costs 0.25% on balances over $100,000.

Fees
$65
monthly fee + $560 onboarding fee
Account Minimum
Promotion
None
no promotion available at this time
Pros & Cons
Pros
Comprehensive financial plan.

Couples pay a single subscription fee.

Each client gets a dedicated CFP.

Fee-only advice from a fiduciary.

Free customized portfolio management on balances of $100,000 or below.
Cons
No in-person meeting option.

Added cost for portfolio management on balances above $100,000.

High all-in fees.

Doesn't handle complex financial issues.

$560 one-time setup fee.
Compare to Other Advisors
Fees

0.49% - 0.89%

management fee

Fees

$100 and up

per month (free initial consultation)

Promotion

None

no promotion available at this time

Promotion

15% off

one year of financial planning (requires annual payment upfront)
Get more smart money moves — straight to your inbox
Become a NerdWallet member, and we'll send you tailored articles we think you'll love.
Full Review
Editor's note: Wealthfront acquired Grove in August 2019. Per Grove's announcement, its existing clients will be offered an option to move their assets to Facet Wealth, but Grove itself has ceased accepting new accounts.
Robo-advisors — automated portfolio management services — helped democratize investing by offering an affordable alternative to high-cost, hands-on investment management. In recent years, many have expanded into financial planning: Some deliver advice via interactive planning tools; others provide access to human advisors for an extra fee or to clients who meet certain investment account minimums.
Grove flips that model: The San Francisco-based company's primary focus is financial planning, with portfolio management sold as an add-on service.
For a one-time $560 setup fee and a monthly $65 subscription, you're assigned one of Grove's staff certified financial planners who delivers a comprehensive financial plan two to four weeks after going over your goals and advice needs during a deep-dive phone session.
Investment advice, but not portfolio management, is included with your Grove financial plan. That means advisors provide investment recommendations for IRAs and workplace retirement accounts, and guidance on employee stock option plans. But if you want Grove to actually place trades and manage your investments directly, you'll need to upgrade to Grove Invest. That service charges an additional annual management fee of 0.25% based on the assets under its care and requires opening a new investment account. Grove Invest manages the first $100,000 for free.
Although Grove uses technology to deliver advice, track progress and allow you and your planner to monitor your linked accounts via its website, the financial planning service is not a robo-advisor. Meetings with your CFP are done over the phone and via email. Your advisor checks in quarterly to keep you engaged and accountable, and all the recommendations and action items are highly tailored to your situation.
Young professionals with little to no high-interest debt.

Financial guidance for life transitions.

DIY investors seeking financial planning guidance.
Grove at a glance
Account management, planning or subscription fee

$65/month subscription fee. (Discounted to $650/year if paid upfront annually.)

Grove Invest*: 0.25% of assets under management. First $100,000 managed for free.

*Optional add-on service. Membership to Grove's core planning service is required.

Account fees (annual, transfer, closing)

Grove charges no annual or closing fees; TD Ameritrade (Grove Invest's custodian) charges a $50 full account outbound transfer fee.

$560 one-time onboarding fee.

Advisor access and credentials

Membership includes annual planning session, quarterly check-ins with a dedicated CFP and unlimited access to advisors via email, phone and chat.

Financial planning services

Can advise on a range of situations (retirement and education savings, home buying, couples finances).

Investment expense ratios

Grove Invest: ETF expense ratios average 0.10%.

Grove Invest: Direct management requires moving accounts to Grove's custodian, TD Ameritrade.

Grove Invest: Portfolios are personalized and use six to nine ETFs from eight asset classes.

Grove Invest: Directly manages non-retirement brokerage accounts; Roth, traditional and SEP IRAs; custodial accounts.

A Grove planning subscription provides investment recommendations for client retirement accounts, brokerage accounts, workplace retirement plans and employee stock plans (not direct account management).

Grove Invest: Free tax-loss harvesting. Portfolios rebalanced as needed (not automated) to maintain target allocations.

Customer support options (includes website transparency)

Email and chat support. Phone calls can be scheduled with your CFP Monday - Friday.
Grove features you should know
Fee-only financial planning: Grove is a fee-only financial-planning service, meaning the company earns money only from the advisory fees you pay — the subscription fee for Grove's planning service, and the optional 0.25% of assets under management with Grove Invest. We prefer the fee-only model because it removes conflicts of interest that can arise from advisors who are paid sales commissions on products they recommend.
Customers are assigned a dedicated Grove CFP: Anyone can call themselves a "financial planner," but there are degrees of expertise. Earning the CFP designation involves some of the industry's most rigorous training and testing, as well as continued education and ongoing certification requirements. In addition to being full-time, salaried Grove employees, Grove's stable of CFPs are also fiduciaries, which makes them legally bound to place the client's interests above their own.
An added bonus is that your advisor is your point person for your entire financial journey with Grove. Membership includes an in-depth meeting to discuss your goals and another to go over the financial plan, as well as quarterly check-ins with your advisor, who is also available at any point to answer questions or discuss any necessary adjustments to your plan.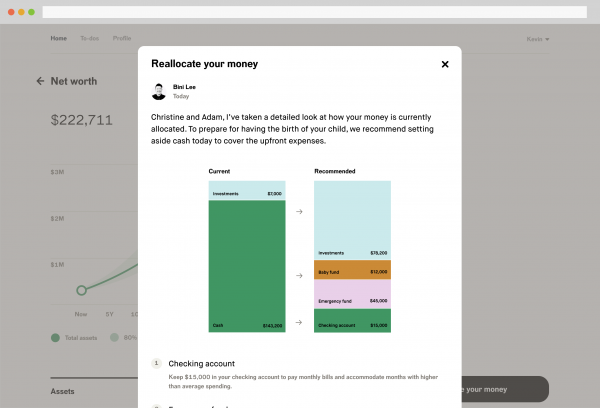 Because a human advisor is asking the questions, the advice is more customized and nuanced than what's possible with just an online calculator or quiz. But keep in mind that while Grove can help you with a myriad of financial planning tasks, such as prioritizing savings and debt or ensuring that you have the appropriate amount of insurance, it is not equipped to advise on more complex issues like debt consolidation or retirement plan distributions.
One-time and subscription fees: At Grove, customers pay a $560 one-time onboarding fee and a $65 monthly subscription fee, which comes to $1,340 for the first year of service and $780 annually thereafter. Couples are treated as a single household and pay only one planning fee. The company offers a 16% discount on the subscription fee if you pay upfront each year ($650 vs. $780 if paid in monthly installments).
Portfolio management costs extra: Grove Invest, the firm's portfolio management service, is an add-on feature: You must have a Grove planning subscription to sign up for Grove Invest. While there is a $0 minimum to set up an account, at least $1,000 in investable assets is recommended to begin investing.
Grove Invest charges a 0.25% portfolio management fee, and manages clients' first $100,000 for free, so you pay only on amounts that exceed that. The management fee for couples that use Grove Invest is based on the household's aggregate assets under management.
Although the advisory fee is at the lower end of the robo-advisor competition and Grove portfolios are managed by a human and are not automated, the annual subscription and initial setup fees make having Grove manage your portfolio a pricey prospect if that's the sole service you're seeking.
Here's the percentage of assets under management you'll pay for Grove Invest at sample portfolio balances:
Those looking only for portfolio management will pay less for it at a robo-advisor like Wealthfront or SoFi Automated Investing. But if you want financial planning and portfolio management, you can get that all under one roof with Grove.
That said, there are other options that are worth considering that may cost less than Grove:
Personal Capital, which offers financial planning services and phone, email and video chat access with a team of CFPs and Chartered Financial Analysts, charges a 0.89% management fee on accounts of less than $1 million. Personal Capital's fee includes both financial planning and portfolio management.

Schwab Intelligent Portfolios Premium, which offers unlimited access to the company's CFPs, a written financial plan and portfolio management for $30 a month (plus a one-time planning fee of $300)

Betterment Premium, which offers unlimited access to CFPs and portfolio management for 0.40% annually.
Just keep in mind that Grove's planning service is more robust: Neither Schwab nor Betterment offers a dedicated CFP to each client, and all three of the above services come with higher minimum balance requirements than Grove: $25,000 for Schwab and $100,000 for Betterment Premium and Personal Capital.
Finally, there is a traditional financial planner. The cost of this relationship will vary by planner, but for those who don't need ongoing advice or portfolio management, a planner who charges by the hour may be a less expensive option than Grove.
Grove is not a robo-advisor: For Grove Invest, Grove investment analysts — not an algorithm — manually allocate, assemble and rebalance client portfolios. However, like robo-advisors, Grove Invest uses an index-based investment strategy that draws from a curated list of low-cost exchange-traded funds. Client accounts for Grove Invest are set up at TD Ameritrade (you'll have to either move funds from an existing account or fund a new account for Grove to manage your money), which also handles sending customers trade confirmations and regular investment account statements.
Grove's fee-only, subscription-based financial planning service is aimed at young, internet-savvy professionals. Its guidance is well-suited for those going through the financial events that typically arise in your 30s and 40s — such as buying a home, starting a family, or juggling multiple priorities — and couples who want a handle on their combined household finances.
But Grove is not the answer if you're struggling to manage high-interest-rate debt. And if you're dealing with more complex issues (e.g., navigating tax issues as a small business owner or strategizing Social Security and retirement account distributions), Facet Wealth or a traditional financial planner who specializes in these areas is worth the extra cost. (Here's how to find one.)
On the investing side, Grove enables you to be as hands-on or hands-off as you want to be. Investment advice is included in your financial plan. Grove's CFPs provide recommendations on asset allocation and specific mutual funds or ETFs (not individual stocks) for workplace retirement plans, IRAs and taxable accounts. Grove will also manage your portfolio (Roth, traditional, SEP IRAs and taxable brokerage accounts) — via Grove Invest — for an additional 0.25% annual management fee.
Because Grove has decoupled its core financial planning offering from its portfolio management service, those who want planning guidance but are comfortable deploying investment recommendations on their own can easily avoid the additional 0.25% portfolio management fee. Likewise, if you're looking only for portfolio management, a lower-cost robo-advisor is a better option because you don't need the ongoing subscription for financial planning.