Crypto Debit Cards: 5 Things to Know
A crypto debit card lets you spend your cryptocurrency on everyday expenses, but there are key points you should understand before getting one.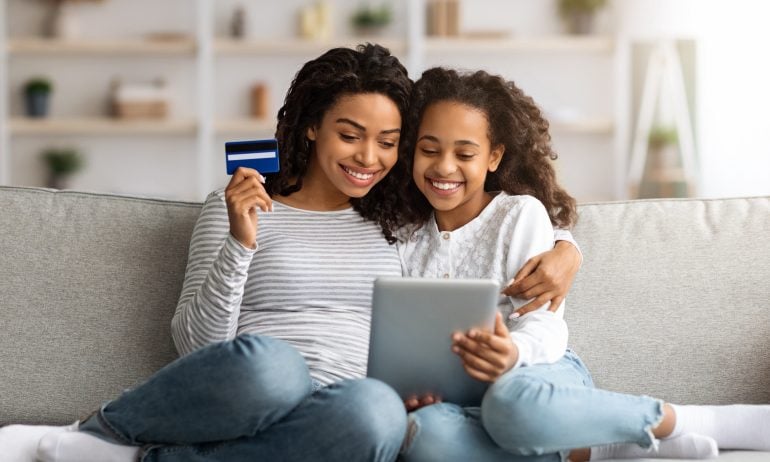 Many or all of the products featured here are from our partners who compensate us. This influences which products we write about and where and how the product appears on a page. However, this does not influence our evaluations. Our opinions are our own. Here is a list of our partners and here's how we make money.
Discover the bank accounts that fit your financial goals
Just answer a few questions to compare bank accounts that meet your needs.
Key takeaways about crypto debit cards
A crypto debit card is a payment card from a crypto firm that lets you spend your cryptocurrency on everyday expenses.

Instead of paying with dollars, you pay with cryptocurrency that's sold and exchanged into dollars.

Paying with a crypto debit card is a taxable event.
If you find yourself wishing more retailers accepted cryptocurrency so you could pay with it directly, a crypto debit card might be what you want. And you wouldn't be alone.
While cryptocurrency and crypto banking are still relatively new, Visa reported that over a billion dollars were spent on crypto-linked Visa cards in the first half of 2021. Here's what you need to know about using a crypto debit card.
Crypto debit card: What you need to know
A crypto debit card is a payment card provided by a crypto firm such as BitPay, Crypto.com and Coinbase (which has a waitlist). Generally, you fund the card with your digital assets before spending, unlike a crypto credit card. Then you can tap, swipe or insert a crypto debit card as you would with a traditional debit or credit card anywhere the card issuer (Visa or Mastercard, for example) is accepted. The difference is that instead of paying with dollars, you're paying with cryptocurrency that's sold and exchanged into dollars.
SoFi Checking and Savings

APY
4.60%SoFi members with Direct Deposit or $5,000 or more in Qualifying Deposits during the 30-Day Evaluation Period can earn 4.60% annual percentage yield (APY) on savings balances (including Vaults) and 0.50% APY on checking balances. There is no minimum Direct Deposit amount required to qualify for the stated interest rate. Members without either Direct Deposit or Qualifying Deposits, during the 30-Day Evaluation Period will earn 1.20% APY on savings balances (including Vaults) and 0.50% APY on checking balances. Interest rates are variable and subject to change at any time. These rates are current as of 10/24/2023. There is no minimum balance requirement. Additional information can be found at http://www.sofi.com/legal/banking-rate-sheet.
1. Crypto debit card types vary
Crypto debit cards vary, much like traditional debit cards, so the right one for you depends on what you're seeking.
For example, if you prefer to limit your crypto spending, you might choose to use a prepaid crypto debit card that you load with a specified amount of your coins.
Some crypto debit cards also offer rewards such as cash back (sometimes in cryptocurrency), points, or other benefits. Cash-back rewards programs in particular offer an opportunity to create wealth, says Stephen Ehrlich, founder and CEO of cryptocurrency platform Voyager Digital. Since you're earning cryptocurrency as a reward, you're effectively making a potentially fruitful investment. Look for a crypto debit card that offers rewards you can use.
Just remember, thousands of cryptocurrencies exist, but debit cards work with only a few types. So make sure that the kind of crypto you own or want to earn is compatible with the debit card you're considering.
2. You order or apply for crypto debit cards
You can get a crypto debit card from the cryptocurrency exchange platform you use, if it offers them, or from a crypto payment service provider. You'll need to order or apply for the card, and you may have to meet some requirements, such as having your identification verified.
3. Crypto debit cards are as secure as regular debit cards
Cryptocurrency-linked debit cards are subject to the same security issues as traditional debit cards and credit cards. Keep your card and its details safe and as private as possible, just as you would with any other payment card.
4. There are tax implications to using a crypto debit card
When you pay with your crypto debit card, that's a taxable event: When you use your card, you're selling some cryptocurrency and exchanging it for dollars, and you might be selling at a higher or lower price than you bought the digital currency for, meaning that you've created a capital gain or loss.
Some card issuers will automatically generate the 1099s you'll need for tax purposes, but they'll only report your total income from selling cryptocurrency. They won't keep track of individual transactions for you. You'll have to do that yourself to be able to file your taxes properly. (Read more about cryptocurrency and taxes.)
5. Your crypto debit card might have fees
Some crypto-linked debit cards charge fees. In addition to the usual fees you'd find with a traditional debit card, such as ATM and monthly fees, there could be crypto-related fees like an exchange fee for converting from cryptocurrency to dollars.
Once you're set up to spend your cryptocurrency with a debit card, you can use it to buy your next couch or your next cappuccino. Whether you choose to use it and for what is up to you.
Crypto debit cards vs. crypto credit cards
Get more smart money moves – straight to your inbox
Sign up and we'll send you Nerdy articles about the money topics that matter most to you along with other ways to help you get more from your money.