What Is an Overdraft Fee? The Basics
Overdraft fees can be expensive, but there are options for inexpensive or free overdraft protection.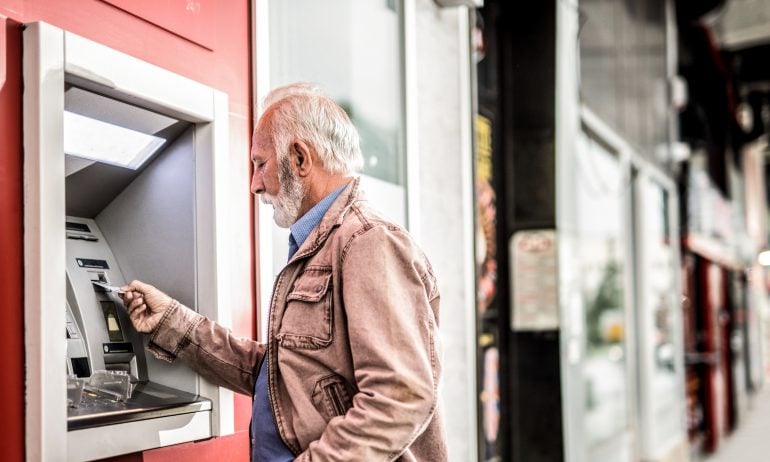 Many or all of the products featured here are from our partners who compensate us. This influences which products we write about and where and how the product appears on a page. However, this does not influence our evaluations. Our opinions are our own. Here is a list of our partners and here's how we make money.
An overdraft occurs when you make a transaction that brings your bank account into a negative balance.
What is an overdraft fee?
An overdraft fee is a charge you incur from your bank when you spend more money than you have available in your bank account, usually your checking account.
To help customers prevent an overdraft fee, banks typically offer some form of overdraft protection or overdraft coverage, which is broadly defined as any service that helps customers cover an overdraft, usually for a fee.
Are fees charged for every overdraft I make?
It's possible that you'll be charged a fee for every overdraft you make, depending on your bank's policy. When an overdraft occurs, banks can choose to cover the cost of customer overdrafts that come from checks, debit card transactions, automatic bill payments or any recurring transactions as part of their standard overdraft practices without needing your consent, but they can also charge a fee for that courtesy.
Ways to deal with overdrafts
At most financial institutions, you have four choices when it comes to dealing with an overdraft:
Sometimes called "courtesy pay" or "overdraft privilege," overdraft coverage is the most expensive option. You give your bank permission to pay all ATM and one-time debit card transactions that drop your checking account balance below zero. This typically results in a fixed overdraft fee — which can cost $30 or more — and multiple overdraft fees can arise from one transaction. Many banks charge an "extended overdraft fee" if you leave a negative checking account balance unattended for several days. Worse still, if you aren't aware that anything's wrong, you might keep making purchases or withdrawals — and every new one could mean a new overdraft fee. Most banks put limits on how many overdraft fees you can get in one day, but even one fee can be expensive.
Your bank is legally required to ask if you want ATM and one-time debit card transactions covered as part of an overdraft program.
You can decide not to participate in an overdraft program. In that case, all ATM and one-time debit card transactions that exceed the funds in your account will be rejected, and you won't pay an overdraft fee. For other types of transactions — such as when a restaurant runs the tip you added to the bill after your meal — you will still typically face a nonsufficient funds fee, also called a returned item fee. This generally costs the same amount as an overdraft fee, but you'll avoid getting hit with multiple bank fees from one transaction.
Overdraft protection transfer and overdraft line of credit
Offered by some banks, this alternative, also called "overdraft protection," lets you link your checking account to another account at the same bank, such as a savings account or a second checking account, to cover the funds you need for a transaction. Banks might charge a fee, such as $10 or $12, for such transfers, but that's much cheaper than what overdraft coverage can cost you. Plus, many banks charge this fee per day instead of per instance, so you'd pay only once a day even for several transactions. Some banks don't charge for overdraft protection transfers.
An overdraft line of credit or linked credit card will pull funds from your credit line to cover an overdraft, but you will typically be charged interest for using this method. Your ability to get a line of credit will also likely depend on your credit score.
Some banks offer grace periods to customers in the event of an overdraft, where a customer can overdraft their account without a fee as long as they bring their account balance back to a positive amount within a certain time frame. Some financial institutions allow overdrafts up to hundreds of dollars within these grace periods.
What's the best overdraft option for me?
Check your bank's overdraft policies to understand what choices are available. You can opt out of overdraft coverage for ATM or one-time debit card transactions, or you can keep it if you don't expect to overdraw that often. A better option might be to choose an alternative such as an overdraft protection transfer or a line of credit. You'll usually end up paying something — either a low fee for a transfer or interest on what's drawn from the line of credit — but you'll avoid steep overdraft coverage fees.
How to avoid overdraft fees
If you regularly get hit with overdraft fees, you may want to change your approach to your banking. Here are some ways to avoid overdrafting your account and being charged a fee:
Opt out of overdraft coverage. Opting out of overdraft coverage means that the bank will simply decline any transaction that would overdraft your account.

Keep an eye on your account balances. Many banks allow their customers to set low-balance alerts on their accounts so that they'll know when they're at risk of overdrafting.

Set up overdraft protection transfers. If your bank offers free overdraft protection transfers, make sure you have another account that the bank can draw from in case your main account overdrafts.

Use a prepaid debit card. Prepaid debit cards give customers a set amount of money that they can draw from, so if you don't have the funds for a transaction, it'll be declined.

Call your bank to see if it'll reverse the overdraft fee. If you've been charged an overdraft fee and don't have a history of lots of overdrafts, there's a chance your bank might reverse the overdraft fee if you call the bank's customer service team.

Switch to a bank that doesn't charge overdraft fees. Some banks don't charge overdraft fees; they either decline a transaction that would lead to an overdraft, or they have strong overdraft coverage programs. If overdrafts are an ongoing problem, consider shopping around for an account that works better for your needs.
Glossary of overdraft terms
ChexSystems. ChexSystems tracks and provides reports on consumer deposit accounts. Someone might be reported to ChexSystems if they've failed to repay an overdraft fee, which means that other banks might not let that person open an account until that negative mark falls off their record after five years.
Continuous negative balance fee. If a customer doesn't bring their bank account back to a positive balance after overdrafting, their bank might charge a continuous negative balance fee until the customer funds their account.
Nonsufficient funds (NSF) fee. A bank will charge a nonsufficient funds fee if a transaction is attempted that can't be covered by the funds in an account. NSF fees are also known as bounced check fees.
Overdraft. An overdraft occurs when a bank customer makes a transaction for a higher amount of money than the available balance in their account.
Overdraft coverage. Overdraft coverage can take different forms, including overdraft protection transfers and overdraft lines of credit. Customers are allowed by law to opt out of overdraft coverage by contacting their bank and making the request, and then their bank will simply decline any transaction that would result in an overdraft.
Overdraft fee. When bank customers overdraft, their bank might charge a fee — with some ranging from $30 to $35 — to discourage overdraft activity. Sometimes a bank might charge this fee multiple times per day if a customer keeps making transactions that overdraft their account.
Overdraft line of credit. An overdraft line of credit is similar to a credit card in that it's a set amount of money that a customer can borrow from if they overdraft their account. Like a credit card, there's typically a high-interest charge for using an overdraft line of credit, and that interest rate is usually dependent on your credit score.
Overdraft protection transfer. Some banks allow customers to link another account to their checking account. That way, if they make a transaction that would result in an overdraft, the difference would be taken from their linked account instead.
Overdraft protection transfer fee. Some banks charge a fee for allowing customers to transfer funds from a linked account to cover a transaction that would overdraft their primary account.
Prepaid debit card. Prepaid debit cards allow people to load a debit card with a set amount of money, which can help prevent overdrafts because any transaction beyond the available card funds will be declined.
Second chance checking account. Second chance checking accounts are designed to help people who have been blocked from opening a traditional bank account because of flawed banking history, such as having unpaid overdraft fees and being put in ChexSystems. These accounts allow people to rebuild their banking history until the negative marks fall off their records.
APY
0.50%
With $0 min. balance for APY
Bonus
$300
Earn up to $300 with direct deposit. Terms apply.
Get more smart money moves – straight to your inbox
Sign up and we'll send you Nerdy articles about the money topics that matter most to you along with other ways to help you get more from your money.