How Bank Employees Can Pose a Security Risk to Your Money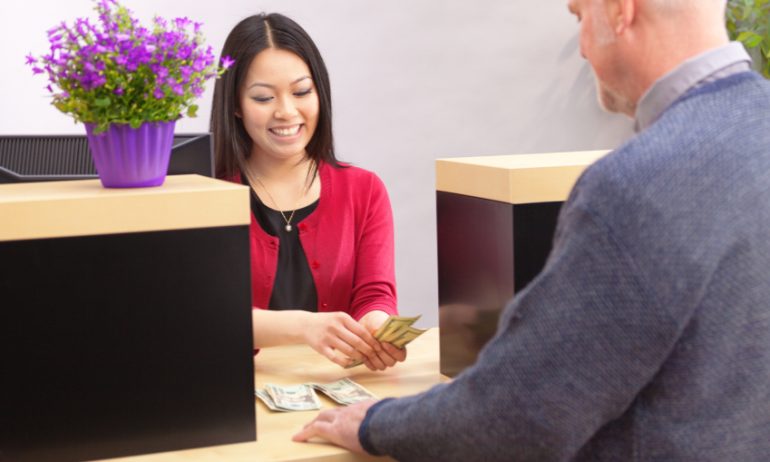 Many or all of the products featured here are from our partners who compensate us. This influences which products we write about and where and how the product appears on a page. However, this does not influence our evaluations. Our opinions are our own. Here is a list of our partners and here's how we make money.
Encryption, biometrics, bulletproof windows, armored cars and thick-walled safes are all ways that banks and credit unions protect your money and personal information online and at your branch. But sometimes the threat comes from the inside.
In Lynchburg, Virginia, the manager of a credit union embezzled funds from and defrauded her institution over 14 years. She and the head teller took out loans in members' names, transferred money and wrote checks on members' accounts, covering up their actions by changing bank statements or just not sending them out. All told, the two caused $12 million in losses, according to authorities, and are now serving time in prison.
The frequency of crimes like this is unclear, as they're often lumped together with others under the label of "identity theft" in crime data. However, the Federal Deposit Insurance Corp. reports that in past years, insiders accounted for more than half of all bank fraud and embezzlement cases.
Bank employees work around and have easy access to a lot of money. Insider threats can result when they experience financial difficulties, says Doug Johnson, senior vice president at the American Bankers Association. With a median annual wage of $26,410, nearly one-third of all bank tellers in the U.S. receive public assistance of some kind.
How banks try to prevent in-house crime
Banks conduct background checks and pull credit reports when considering a new hire, Johnson says. They also have their own systems in place to safeguard against these types of schemes.
"As an industry, we share information with each other when employees are let go or fired because of activity. We have the authority to do that under the Patriot Act," he says.
Still, an investigation by the New York attorney general's Criminal Enforcement and Financial Crimes Bureau found flaws in processes at some of New York's big banks. Among them: tellers who were granted unlimited access to customer account information, banks that did not conduct regular employee audits and a lack of communication regarding tellers who fell under suspicion.
How insider theft still happens
Weaknesses or breakdowns in the system can give bank tellers access to personally identifiable information — dates of birth, account numbers, driver's license numbers and Social Security numbers.
"What we've seen is they tend to sell that information to rings involved in obtaining fake, personally identifiable information documents, like driver's licenses with a conspirator's photo," says Thomas Reitz, a senior FBI agent with the Complex Fraud Squad in Orange County, California. The rings use these details to create the fraudulent documents needed to impersonate customers and withdraw money directly, with fake IDs or through fraudulently obtained debit cards.
In 2015, a New Rochelle, New York, man pleaded guilty to conspiracy and bank fraud that resulted in $481,856 in losses. The scheme recruited bank employees and other individuals, allegedly homeless people and drug addicts, who posed as account holders with forged New York driver's licenses and withdrawal slips.
Reitz says that requiring debit cards to have a photo could significantly deter such schemes.
How to protect your bank accounts
You can't control whom your bank or credit union hires, but you can take steps to make it harder for criminals to discover your personal and financial information. Protect yourself and your accounts by changing your privacy settings on social media. Thieves can go there to study everything from your date of birth to the names of your spouse, your kids and your pets in an effort to figure out passwords and gain access.
Dormant or low-activity accounts are easy targets for insiders because of the outdated contact information, Reitz says. Monitor and update your information, or you'll be hard to reach when there's a questionable transaction.
What to do if you're a victim
If you believe you've been a victim of such a scheme, notify your bank and submit a complaint to the FBI. Save all paperwork relating to the alleged scheme: canceled checks, cash receipts, bank statements — anything that may be helpful to the case.
The amount of time it takes to get your lost money back will vary depending on the bank, customer history and the case.
And the next time you call your bank with a general question, avoid giving your personal details unless it's necessary. Most bank employees are trustworthy, but you don't want to hand an all-access pass to someone who's not.
Get more smart money moves – straight to your inbox
Sign up and we'll send you Nerdy articles about the money topics that matter most to you along with other ways to help you get more from your money.