Is Your Bank a Socially Responsible Superhero?
If you're socially and environmentally minded, you may want to bank at B Corp and Global Alliance for Banking on Values member banks.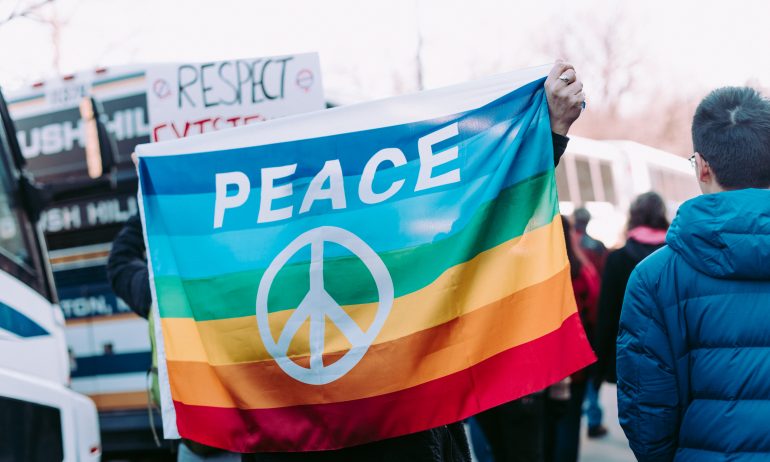 Many or all of the products featured here are from our partners who compensate us. This may influence which products we write about and where and how the product appears on a page. However, this does not influence our evaluations. Our opinions are our own. Here is a list of our partners and here's how we make money.
"A champion for good causes" may be the last way you would characterize a bank. But some do fit that profile.
Part of how banks make a profit is by using the money in your checking, savings and other accounts to make loans to small businesses, home buyers and other customers. But you don't have a say if your bank funds activities that you don't support, such as projects that lead to deforestation or help build oil pipelines.
A financial institution serves as a "guardian of its customers' dollars" and it should live out clients' personal values, says Andrei Cherny, CEO of Aspiration, an online investment firm that also offers checking accounts.
At least a handful of U.S. banks ensure that their customers' money in deposit accounts, such as checking and savings, avoids helping industries that harm people or the environment. Here's how and why they might appeal to you.
What is a socially responsible bank?
A values-based, or socially responsible, bank uses "finance to be a force for good as opposed to just a force for profit," says Keith Mestrich, president and CEO of Amalgamated Bank.
The banks most committed to supporting social and environmental missions generally prove themselves by becoming one or both of the following:
Certified B Corporations. These for-profit businesses, including at least nine U.S. banks, pledge to uphold certain standards when it comes to their social and environmental practices and the way they run their businesses. As the B Corp website states, certification is to business what fair trade is to coffee. Several practices that help a business meet certification include providing equal pay and a living wage to its workers, having a diverse board of directors and using sustainable energy in the company's buildings.
To be certified, B Corp companies must score an 80 or higher on a 200-point test.
"You have to show policy, practice, procedure, everything," says Kat Taylor, co-founder and co-CEO of the B Corp-certified and California-based Beneficial State Bank. "It's very extensive."
In addition, there are background checks and on-site reviews by B Lab, the nonprofit that runs certification. One-tenth of B Corps are randomly chosen for an on-site check annually, and all of the at least 2,300 B Corps worldwide must renew certification every two years. Companies that undergo changes in ownership or go public with a profit-based focus can lose B Corp status.
"

"To find a bank committed to social and environmental values, look for those that are certified as a B Corp business or participate in the Global Alliance for Banking on Values or both."

"
Member of the Global Alliance for Banking on Values. This independent network of almost 50 banks worldwide, including a few in the U.S., says it seeks to drive positive change through banking. Member banks follow six principles: a triple bottom line (supporting the planet, people and profit), community investments, transparency in business practices, sustainability, long-term relationships with clients and formal internal policies to uphold the previous five.
Becoming a Global Alliance for Banking on Values, or GABV, member bank shows that the bank is value-aligned, or "the real deal," says Ken LaRoe, founder and former CEO of First Green Bank and current CEO of the bank's holding company.
A Global Alliance for Banking on Values spokesman told NerdWallet that each member undergoes an annual assessment and receives a scorecard. As a member, LaRoe's Florida-based bank is measured by its economic, social and environmental impact through factors such as its return on assets, the gender breakdown of its management team and sustainable energy use in its buildings.
Other mission-driven options
Although B Corps and Global Alliance for Banking on Values members only amount to a little more than a dozen in the U.S., you can find other banks and credit unions committed to some social and economic values.
Community development financial institutions. These provide affordable banking and credit services to minorities and people in economically troubled areas. The Community Development Financial Institutions Fund, or CDFI Fund, is part of the U.S. Treasury. It supports a network of nearly 1,100 banks, credit unions and venture capital funds nationwide that share this goal.
"We love the CDFI Fund; we are strong supporters of it," Taylor says. "[But] we know there could be refinements and reforms to make it even better." She notes that there isn't an environmentally responsible component to being a CDFI.
Minority-owned banks. Both within and outside the CDFI network, minority-owned banks also support specific communities. Black-owned banks, in particular, have entered the spotlight recently with the rise of the Black Lives Matter and Bank Black movements.
Big banks don't limit funding to good causes
Although some of the biggest U.S. banks have given millions to charity and financed billions in renewable energy initiatives, they still have a hand in industries environmentalists object to, such as the oil and coal industries.
Several banks funded the Dakota Access Pipeline beneath North Dakota's Lake Oahe, which is now complete despite protests last year by environmentalists and Native Americans. And six big U.S. banks funded over $60 billion in fossil fuel activities from 2014 to 2016, according to a report by nonprofits including the Sierra Club and Rainforest Action Network.
"In many cases, these very same banks have policies acknowledging the urgency of climate change," Diana Best, senior climate and energy campaigner at Greenpeace USA, said in a news release about the fossil fuel report. "Their words are only as strong as their actions and their actions are simply not enough."
Socially responsible banks
If you're interested in finding a values-based financial institution, this list includes banks and credit unions with B Corp certification or membership in the Global Alliance of Banking on Values.
If none is near you and you prefer not to use an online option, there are more values-based banks, especially in the CDFI network (see link below).
Financial institution (click each bank link to go its website)

New York, Washington, D.C.

California, Oregon, Washington
Get more smart money moves – straight to your inbox
Sign up and we'll send you Nerdy articles about the money topics that matter most to you along with other ways to help you get more from your money.