Safe Deposit Boxes: What to Know
Learn the definition of a safe deposit box, where to find one and how to use it.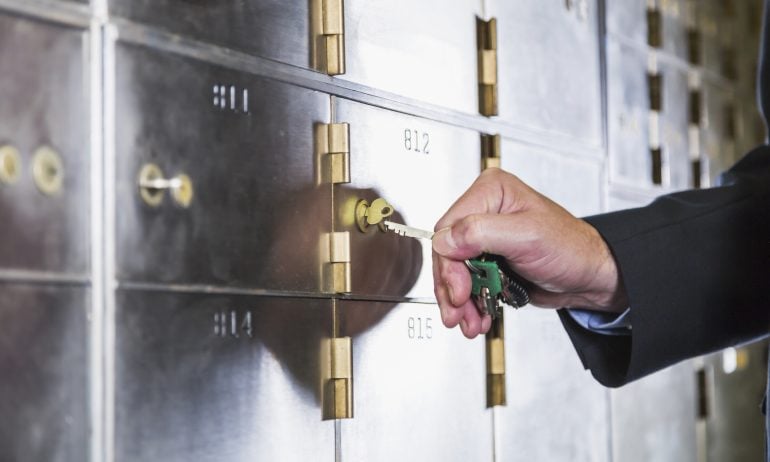 Many or all of the products featured here are from our partners who compensate us. This influences which products we write about and where and how the product appears on a page. However, this does not influence our evaluations. Our opinions are our own. Here is a list of our partners and here's how we make money.
What is a safe deposit box?
A safe deposit box is a miniature vault you can use to store jewelry, family heirlooms, important documents and other valuables. It is also called a safety deposit box. Some safe deposit boxes are a long, metal box, like a drawer.
Read on to learn more about safe deposit boxes: where to find them, how safe they are, how much they cost and how to use them.
Where can you rent a safe deposit box?
Traditionally, brick-and-mortar banks and credit unions have rented out safe deposit boxes kept at branches, but fewer and fewer financial institutions offer them now. Some private vault facilities offer safe deposit boxes.
How safe are safe deposit boxes?
Bank safe deposit boxes are individual containers with locks that are kept secure within a bigger bank vault. Safe deposit boxes are generally in a bank vault that is fire- and water-resistant. But the boxes themselves are still susceptible to damage or loss from fire, flooding or theft.
Safe deposit boxes can sit in vaults protected by steel-lined or concrete walls and alarm systems with heat, motion and vibration detectors and secured with clock-controlled vault doors that weigh more than 2 tons, David McGuinn, president of Safe Deposit Specialists, a safe deposit training and consulting firm in Houston, said in an email.
Banks aren't immune from all incidents, though; they can make mistakes (such as wrongfully removing the contents or losing the box) or be affected by fires, floods or break-ins. But a 2015 report — the most recent available — by Safe Deposit Box Insurance Coverage, a specialty insurance company, found that of the more than 25 million safe deposit boxes used in the U.S., only 33,000 were affected by such incidents in 2015, a little more than 0.10%.
Compare that with the safety of your home: Crimes at residences accounted for about 63% of all burglaries and about 16% of robberies in 2019, according to the FBI. Bank robberies accounted for 1.4% of the total robberies that occurred.
SoFi Checking and Savings

APY
4.20%SoFi members with direct deposit can earn up to 4.20% annual percentage yield (APY) on savings balances (including Vaults) and 1.20% APY on checking balances. There is no minimum direct deposit amount required to qualify for the 4.20% APY for savings. Members without direct deposit will earn 1.20% APY on all account balances in checking and savings (including Vaults). Interest rates are variable and subject to change at any time. These rates are current as of 04/24/2023. Additional information can be found at http://www.sofi.com/legal/banking-rate-sheet
Bask Interest Savings Account

APY
4.75%Annual Percentage Yield (APY) is accurate as of 05/09/2023. APY is variable and subject to change at any time without notice. No monthly service charge. No minimum balance requirement. Must fund with 15 days of opening account.
How much does a safe deposit box cost?
Safe deposit box sizes largely determine their cost, which can range from $25 to $800 to rent per year. Bank safe deposit boxes may also vary in price depending on the institution; safe deposit boxes at a traditional brick-and-mortar bank may be significantly more expensive than those at a local credit union, for example. Boxes that measure 3 inches high by 5 inches wide can cost $25 to $75 per year. Bigger boxes are more expensive. Safe deposit boxes at financial institutions generally top out at about 10 inches by 10 inches; these can cost a couple of hundred dollars to as much as nearly $300 each year.
Payments are generally made yearly. At some banks, safe deposit boxes are available at a discount to account holders who use their deposit accounts to make automatic payments for the boxes or to premium account holders.
Insuring the objects you keep in the box costs extra (remember, safe deposit boxes aren't insured by the FDIC or the NCUA). You might be able to insure a box through your homeowners insurance policy, or you could take out an independent policy. Costs may vary depending on the value of the items in the box.
How to use a safe deposit box: What you should and shouldn't store
To access a safe deposit box, you need two keys: one you keep and one the bank holds. This system ensures that neither party can access the box without the other. You can access a box only if you're authorized to do so, and you must typically produce identification and the key to the box before entering the vault.
Banks don't know the contents of these boxes, so you'll be able to open and sort through yours in private.
You can't keep just anything in a safe deposit box; most rental agreements forbid storing items such as firearms, drugs and hazardous materials.
Here are more guidelines for using a safe deposit box:
Things to do with a safe deposit box:
Tell your family that you have a box, and document how you intend to pass on the contents.

Decide whether you need insurance.

Store your items in sealed containers to prevent water damage.

Check your box once per year, and keep a photograph of its contents.
Things not to do with a safe deposit box:
Store cash. Instead, keep extra money in a savings account or certificate of deposit where it will be insured and collect interest.

Store items you might need in an emergency. You'll have access only during business hours.

Forget to pay your rental fees. You can expect your bank to send a notice about a renewal or late payment, but setting up automatic payments can minimize confusion and prevent the loss of your valuables.
Bank safe deposit box alternatives
The following options are alternatives to safe deposit boxes, but they're often more expensive and/or less secure.
Home safes or strong boxes are available, often for between $30 and $500, depending on size and strength. But again, your home is likely more vulnerable than a bank. Rather than having to crack the safe there, a robber could take it and open it later.
Private vault facilities are a viable, albeit pricier, option; rental fees for a safe deposit box that measures about 3 inches by 5 inches can start at around $300 annually (to compare, this could cost $25 or more at a credit union or upward of $65 at a bank).
Whatever you decide, research the bank or credit union and its policies on safe deposit boxes before committing your items. Read and fully understand your rental agreement so you're aware of your rights and responsibilities. And don't forget about your safe deposit box after storing your items: Check on it regularly, and let your family know it exists in case they need to access it for you.
Take advantage of the highest interest rates since 2007 with the best high-yield savings accounts.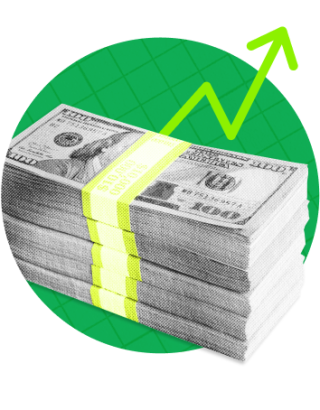 Get more smart money moves – straight to your inbox
Sign up and we'll send you Nerdy articles about the money topics that matter most to you along with other ways to help you get more from your money.