Safe Deposit Boxes: What to Know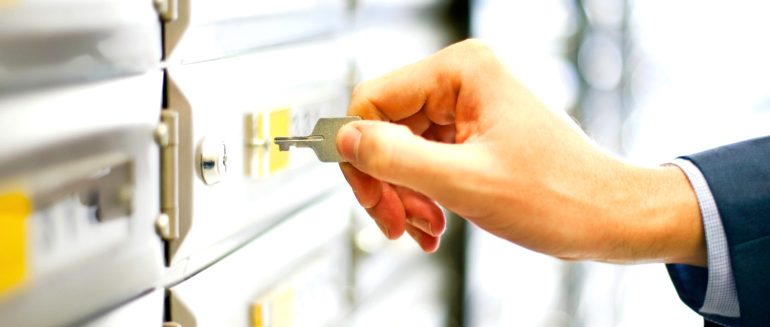 Many or all of the products featured here are from our partners who compensate us. This may influence which products we write about and where and how the product appears on a page. However, this does not influence our evaluations. Our opinions are our own. Here is a list of our partners and here's how we make money.
Jason Bourne finds fake passports, cash and a pistol in his. "Harry Potter" villain Dolores Umbridge uses hers to hide an object that holds Lord Voldemort's soul. And many a heist movie hinges on these bank features.
They're safe deposit boxes: miniature vaults you can rent to store jewelry, family heirlooms, documents and other things you care about. And despite what Hollywood suggests, they're a good way to keep your valuables protected from robbers and boy wizards.
Read on to learn more about safe deposit boxes: how safe they are, how much they cost and how to use them.
How safe are safe deposit boxes?
Before matters of cost or convenience, you probably want to know just how safe your items will be in a safe deposit box. Specifically, are they more secure than if you kept them locked up at home?
Many safe deposit boxes sit in vaults protected by steel-barred concrete walls; equipped with heat, motion and vibration detectors; and sealed with doors that weigh more than 3 tons, according to David McGuinn, president of Safe Deposit Specialists, a financial consulting firm in Houston.
Of course, even banks aren't immune from all incidents; they can make mistakes or be affected by fires, floods and break-ins. But a report by Safe Deposit Box Insurance Coverage, a specialty insurance company, found that of the more than 25 million safe deposit boxes in use across the U.S., only 33,000 were affected by such incidents in 2015, a little more than 0.1% of the total.
Compare that to the safety of your home: Crimes at residences accounted for about 73% of all burglaries and about 17% of robberies in 2014, according to the FBI. Bank robberies accounted for 1.8% of the total.
How much does a safe deposit box cost?
The price of a safe deposit box depends largely on its size. Smaller boxes that measure 3 inches tall, 3 inches wide and 12 inches long often cost around $30 to $60 per year. Bigger boxes are more expensive. They generally top out at a couple of feet all around; these tend to cost a few hundred dollars each year.
Insuring the objects you keep in the box costs extra. Unlike checking and savings accounts, safe deposit boxes aren't insured by the Federal Deposit Insurance Corp. or the National Credit Union Administration. You might be able to insure a box through your homeowners insurance policy, or you could take out an independent policy. Costs vary depending on the value of the items in the box.
How to use a safe deposit box
To access a safe deposit box, you need two keys: one that you keep and one that the bank holds. This system ensures that neither party can access the box without the other. You can access a box only if you're the registered owner, and you must typically produce identification and the key to the box before entering the vault.
Banks aren't permitted to know the contents of these boxes, so you'll be able to open and sort through yours in private.
You can't keep just anything inside a safe deposit box; most rental agreements forbid storing items such as firearms (sorry, Mr. Bourne), drugs and hazardous materials.
Here are some more do's and don'ts:
There are alternatives to safe deposit boxes, but they're often either more expensive or less secure.
Home safes or strong boxes are available, often for between $30 and $500, depending on size and strength. But again, your home is likely more vulnerable than a bank. Rather than having to crack the safe right there, a robber could just take it and open it later.
Private vault facilities are a viable, albeit pricier, option; rental fees for a 5-by-5-inch box typically start at around $400 annually.
Whatever you decide, be smart. Know the bank or credit union before committing your items. Read and fully understand your rental agreement, so you're aware of your rights and responsibilities. And don't forget about your safe deposit box after storing your items: Check in regularly and let your family know it exists.
Get more smart money moves – straight to your inbox
Sign up and we'll send you Nerdy articles about the money topics that matter most to you along with other ways to help you get more from your money.