Your Bank's Website Is Down and Bills Are Due. Now What?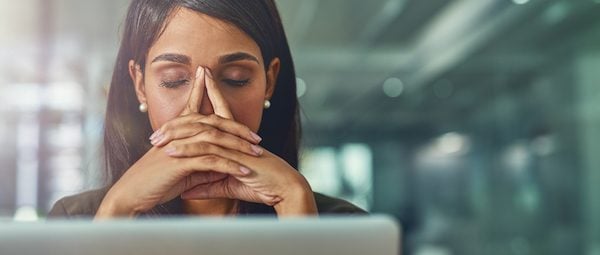 Many or all of the products featured here are from our partners who compensate us. This influences which products we write about and where and how the product appears on a page. However, this does not influence our evaluations. Our opinions are our own. Here is a list of our partners and here's how we make money.
Discover the bank accounts that fit your financial goals
Just answer a few questions to compare bank accounts that meet your needs.
When Court Harrington, a small-business owner in North Carolina, found himself unable to log in to his bank account one day because the website was down, he was not happy about it.
When you can't access your money, he says, "the safety net we feel we have is not really there."
Eventually he was able to log in, but he says the snafu cost him hours of wasted time and stress.
Harrington is among the millions of banking customers affected by website outages every year. While a blip in access may just be an inconvenience to some, for customers racing to pay bills on time or requiring emergency cash, an outage can wreak financial havoc. Delayed payments due to a website outage can result in late fees, interest on a missed credit card payment, or a lack of cash to pay for everyday expenses like food or rent.
And bank website outages are likely to become a bigger problem as banks increase their digital offerings, says Joe Fielding, a partner and banking expert at Bain, a management consulting firm. "As they make those changes, the systems sometimes go down," he says.
These six steps will help consumers protect themselves from the occasional outage.
1. Make sure it's the bank and not you
If your bank's website isn't loading properly, it's possible you have landed on the incorrect URL. It might even be one intended to spoof the real website and capture your personal information.
Warren Taylor, co-founder and head of customer service for BankMobile, a branchless bank that operates online and through its mobile app, recommends bookmarking your bank's URL on your computer so you don't accidentally type in the wrong address. And if you do land on a page that doesn't look quite right, close the window and try again, double-checking that you have the correct address.
2. Use the mobile app instead
Banks' mobile apps and websites generally run on different sets of servers, so if one is down, the other should still work, says Paul Benda, senior vice president for risk management and cybersecurity policy at the American Bankers Association, an industry group.
"If you have the mobile app, it's like having a bank branch in your pocket," he says. "You can make sure everything is there," as well as take care of paying bills or transferring funds. If your bank has a physical branch, you could also make an in-person visit.
3. Check your bank's social media posts
Julie Conroy, research director for retail banking and payments at Aite, a financial services industry research company, recommends checking the bank's official Twitter handle. If you don't see a message already posted, you can tweet at the bank to ask for an update.
Conroy also suggests calling the bank; the number should be on the back of your debit card. With widespread outages, though, the wait time might be long. Third-party sites such as downdetector.com can also offer information, but the accuracy can vary by region.
4. Be on guard against fraudsters
High-profile website outages are often followed by phishing attacks, where con artists email or call bank customers and elicit personal information from them.
"They leverage the chaos to trick [consumers] into giving up their credentials," says Conroy.
If you receive any unsolicited emails from your bank, take a close look at them before you click or respond. Accessing your bank through your bookmarked URL rather than a link embedded in an email will ensure you arrive at the right place.
Given the inevitability of the occasional bank website outage, Fielding says consumers should make sure they have an alternative way to pay their bills, such as an emergency savings account with another financial institution, a prepaid debit card, or a credit card from a different bank.
"While most consumers can't keep multiple active primary checking accounts, you might at least have a contingency plan," he says.
6. Don't panic — your money is safe
Even if you can't access your bank account online, your money is still there, and it's safe and insured by the Federal Deposit Insurance Corp., says Benda. "Your bank has spent a lot of effort to make sure everything you have is extremely well-protected. Any interruption is temporary and likely to be fixed quickly," he says.
While that might be cold comfort to a frustrated consumer facing a down website and a landlord who wants to be paid immediately, it should help to know that the hiccup will pass quickly.
Get more smart money moves – straight to your inbox
Sign up and we'll send you Nerdy articles about the money topics that matter most to you along with other ways to help you get more from your money.