9 Credit Card Tips to Take With You Overseas
You usually don't have to carry wads of cash when traveling in other countries, especially the top destinations.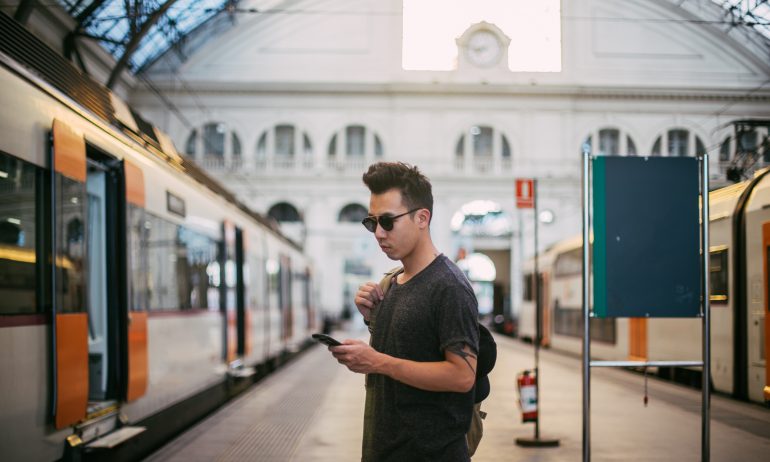 Many or all of the products featured here are from our partners who compensate us. This may influence which products we write about and where and how the product appears on a page. However, this does not influence our evaluations. Our opinions are our own. Here is a list of our partners and here's how we make money.
The days of relying solely on cash or travelers checks when traveling outside the U.S. are long gone. In the 21st century, the same credit cards you use at home will work for you abroad, but there are still a few things you need to know.
If you're headed somewhere that gets a lot of U.S. travelers, it's likely that you'll be able to use credit cards for day-to-day expenses. Travel website Hipmunk ranked the 100 most searched international destinations, and the top sites on the list — places like London, Tokyo and Cancun, Mexico — are pretty well set up to handle credit card purchases. If you're headed out into the countryside, though, you may need to bring cash. Then there are places like Havana, Cuba (No. 82 on the list), where U.S.-issued plastic might not get you very far.
Here are nine tips for getting maximum utility from your credit cards while traveling abroad.
1. Bring a widely accepted credit card
Visa and Mastercard are widely accepted worldwide. If an establishment takes credit cards, it's a good bet that your Visa or Mastercard will work. American Express has an international presence, too, but it is accepted by fewer merchants. If your primary card is an AmEx, bring a Visa or Mastercard as a backup.
Discover is the least internationally accepted card network, so you may want to think twice about bringing one overseas. There are exceptions, though. In China, for example, the state-controlled network Union Pay dominates card acceptance, and a reciprocal agreement allows cardholders to use Discover wherever Union Pay is accepted. Keep that in mind if you're traveling to Shanghai (No. 40) or Beijing (No. 42). And in Japan — Tokyo is No. 2 on the list — Discover has a similar agreement with major card network JCB.
2. Bring more than one card
If your card is declined, you'll be glad you have a backup. Consider bringing cards that offer extra rewards for travel spending categories, such as restaurants, hotels and transportation costs. Make sure those bonus rewards apply outside the U.S.
Just as in the U.S., some places overseas don't take credit cards. Or your cards might get compromised and become unusable. In such cases, having some local currency can be a lifesaver. Whether you carry some euros in Paris (No. 4), soles in Lima (No. 20) or rupees in Mumbai (No. 13), cash can keep your trip moving forward. Keep your cash, as well as a photocopy of your passport, separate from your cards in case your wallet is stolen.
4. Tell your issuer you're going
If your credit card account suddenly shows purchases thousands of miles from your home, your card issuer might decline them as suspicious. To avoid confusion, let your issuer know your travel itinerary in advance so it doesn't freeze your account.
5. Avoid foreign transaction fees
Most credit cards charge a fee on every purchase you make outside the U.S.; 3% is a typical rate. That's an extra $30 on a $1,000 trip. Bring a credit card with no foreign transaction fees, and save yourself the expense.
6. Understand chip-and-PIN
Most U.S. credit cards now have EMV chips, but you still verify the transaction with a signature. Chip-and-PIN cards, in which you enter a code to verify your identity, are more common outside the U.S. You can still use chip-and-signature cards many places, but self-serve kiosks in Europe and elsewhere commonly require chip-and-PIN. See if your issuer offers chip-and-PIN, or at least keep this fact in mind when planning.
7. Say no to dynamic currency conversion
Dynamic currency conversion allows you to have a transaction conducted in U.S. dollars rather than the local currency, so you have a better idea what it's costing you. This may seem convenient, but it's expensive. The exchange rates for dynamic currency conversion are typically much worse than what your card issuer will use when it converts the purchase for your statement. So when offered the chance to "see your total in dollars," take a pass.
8. Research your card's travel protections
Some credit cards — especially those designed for travel — offer protections for delayed flights, lost luggage, trip cancellation, accident insurance and more. Book with the right card and enjoy peace of mind.
9. Use your card to access airport lounges
If you have a luxury travel credit card, there's a good chance you have access to some airport lounges. Many cards include access to the Priority Pass network. Priority Pass lounges are plentiful overseas and can be a welcome respite during a long international journey. Many offer complimentary drinks, refreshments and food, and some even offer preflight spa treatments.
Whether you're jetting off to London, Tokyo, or anywhere in between, use these tips to smooth the way.