Do You Need a Credit Card to Call an Uber? Can You Use a Card in a Cab?
You can use credit cards to pay for rideshares and taxis — but you don't necessarily have to. Here's what to know about using plastic when you commute.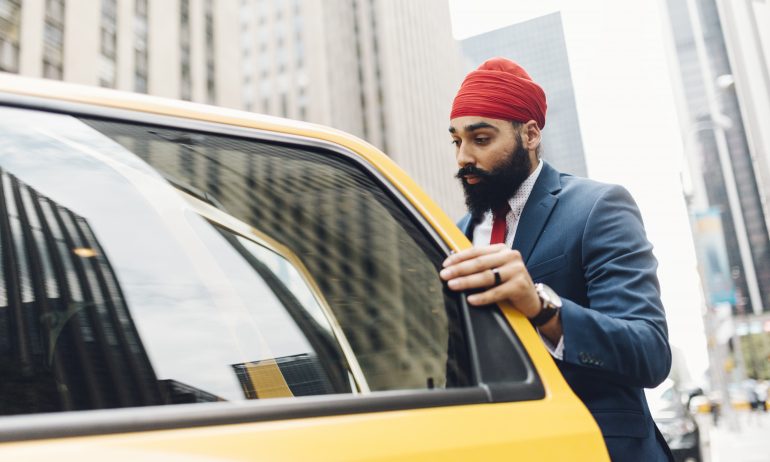 Many or all of the products featured here are from our partners who compensate us. This influences which products we write about and where and how the product appears on a page. However, this does not influence our evaluations. Our opinions are our own. Here is a list of our partners and here's how we make money.
Depending on your preferred method of ground transportation, you have a lot of options when it comes to paying for your rides. And while you don't necessarily need a credit card, you can almost always use one if you want to — and it'll usually be more convenient.
What's less universally accepted, though, is cold hard cash. In that case, you'll probably want to call a cab instead.
Here's what to know about paying for your wheeled rides around town.
With Uber, you have the option of making payments with:
Vouchers and other promotions.
All of these methods may not be available everywhere; to check what is available to you, open up the Uber app and look under the "Wallet" section.
In order to request an Uber, one of these payment methods must be connected to your account. If the selected method is expired, you won't be able to make the ride request.
You do have the flexibility to change payment methods, even in the middle of the ride: You just need to open the app and select the method that you want to use for the charges.
Lyft offers similar options. Under the "Payment" tab, you can select your preferred method, including:
Digital wallets like Apple Pay, Google Pay, PayPal and Venmo (To use these methods, you must also have a credit or debit card connected to the app.)
When you're taking a taxi, you also have many ways to pay. And — unlike the options above — cash is one of them.
But cash is no longer king with cabs. It once was preferred, but digital or card payments are the new normal, given tech advances and the proliferation of ridesharing companies. For example:
Taxis generally offer payment terminals to customers, which allow you to swipe a credit or debit card when your ride is over. You can opt to add a tip and request a printed receipt.

Cabs in dozens of big cities use an app called Curb that makes it easy to pay digitally: Once the app is downloaded, you just enter the code for your ride, and then you can pay by credit card, PayPal, Apple Pay or cash.

Some cab drivers also accept payments via the Square app, which accepts digital payments as well as credit and debit cards.
The risk of using credit cards in cabs
In general, there's no reason using a credit card in a cab should be less secure than other types of transactions. Although the type of card reader cabbies are required to use varies by city, most are just mobile versions of the terminals that brick-and-mortar retailers use. As with other transactions, using a credit card instead of a debit card offers greater protections, since it's not directly connected to your bank account and since most credit cards offer zero-liability policies.
There are, however, a few considerations unique to cabs that might make transactions slightly riskier. Many payment terminals are located in the back seat. This means the driver has relatively little ability to see what's going on back there, so it's possible for an unscrupulous customer to install a credit card skimmer on the machine.
But as long as you're using a credit card to make your payments, you're fairly well-protected. Still, it's a good idea to review your credit card statements each month so you can immediately report any transactions that look suspicious.
How to keep your cards safe
To keep your credit card safe while using it to pay for rideshares or cabs:
Review your charges carefully. If you're using a rideshare app, take a moment to confirm the final price that you were charged via the app to make sure it's correct. If you're in a cab, monitor the meter and ask if it suddenly jumps when you're about to run your card. In most cases, it's illegal to be charged extra for using a credit card.

Keep your receipt (whether it's digital or printed) and check it against your credit card statement. If the charges don't match, contact your credit card company immediately.
For cab rides specifically:
Look at the credit card terminal carefully before you use your card. If anything seems suspicious, use cash instead.

Read the sticker on the inside window of the cab to be sure you fully understand how your fare is calculated. If the fare chart isn't posted in the cab, ask the driver for a copy.

If you have any concerns about the driver, write down the taxi's medallion number. This way, it will be easier to report the cabbie if a questionable charge shows up on your statement.
Find the right credit card for you.
Whether you want to pay less interest or earn more rewards, the right card's out there. Just answer a few questions and we'll narrow the search for you.
Get Started
Get more smart money moves – straight to your inbox
Sign up and we'll send you Nerdy articles about the money topics that matter most to you along with other ways to help you get more from your money.