How to Read the Fine Print of Credit Card Offers
Reading legal jargon is no fun, but it's easier if you know what to look for.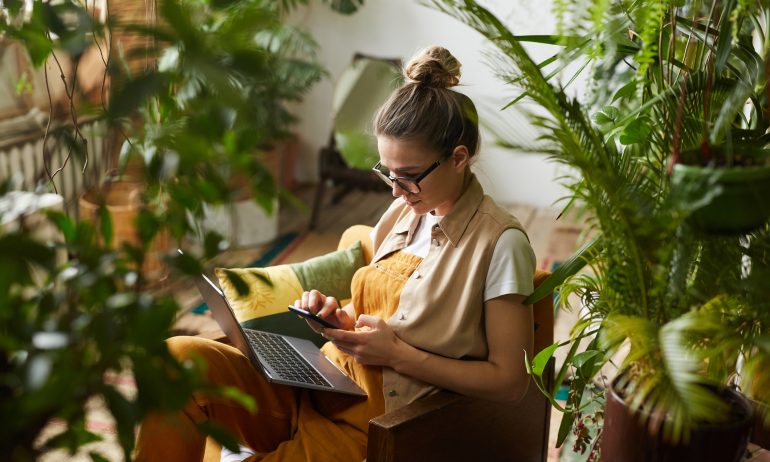 Many or all of the products featured here are from our partners who compensate us. This influences which products we write about and where and how the product appears on a page. However, this does not influence our evaluations. Our opinions are our own. Here is a list of our partners and here's how we make money.
After narrowing your credit card choices, by using a NerdWallet tool or any other method, it's time to wade into the fine print of the deal. That's where you'll find important information that could confirm your choice or unearth a deal breaker.
Reading mouse print and legal jargon may not be your idea of fun. But it's worth the effort to examine terms and conditions of a card offer. And it's easier if you know what to look for among those few thousand words. Better to know the details upfront than incur surprise fees or not qualify for the perks and rewards you expect.
Card claim: Sign-up bonus worth $750!
Fine print: If you spend $3,000 on the card in the first three months and use accumulated points to buy travel through the issuer's online travel agency.
Card claim: Balance transfer at 0% for 18 months!
Fine print: If you pay a 3% balance transfer fee, which means tacking on $150 to a $5,000 debt transfer.
Card claim: 5% cash back on grocery spending!
Fine print: Capped at $1,500 in spending per quarter and excludes groceries at Target, Walmart or a warehouse club.
Here's how to read the fine print for your next credit card (or your current ones).
Where to find the fine print
As you research cards online, perhaps after clicking through an "Apply Now" button, look for a link saying something like "terms and conditions," "important rates and disclosures," "interest rates and fees," "pricing and terms" or "offer details." That's where you'll find the legalese for the card's costs and benefits.
With a printed offer, terms and conditions are likely to be on the last page, displayed in, you guessed it, fine print.
In marketing text, the asterisk (*) and dagger (†) symbols signify footnotes often found in small type.
The Consumer Financial Protection Bureau aggregates hundreds of credit card member agreements, which are more thorough than the terms and conditions. You can also find them on the card issuer's website. Cardholder agreements are essentially the contracts you agree to when you open an account. It's a good idea to read the agreements before you apply.
How to read the fine print
Tiny type repeats some of the card's positive aspects featured in marketing materials. Just as important, it includes the exclusions, qualifications, justifications and enunciations. You'll note in some cases the old adage is true: "The large print giveth, and the small print taketh away."
The basic strategy is to seek out fine print on features you care about most. Some credit card reviews, like those found on NerdWallet, will mention fine-print gotchas. But ultimately, it's up to you to know the details.
Expect to find lengthy fine print for premium travel cards because of all the perks they offer and their sometimes complex rewards. Cash-back cards tend to have shorter and simpler fine print.
We're no computer tech site, but we'll offer a tip for zooming fine print on the web: To make type bigger on a PC browser, hit CTRL and tap the plus (+) sign a few times. On a Mac, it's command-plus. On a smartphone, tablet or trackpad, try a two-finger spread gesture.
Issuers display some of the most important information atop the terms and conditions in a relatively easy-to-read table called the Schumer box, named for Sen. Chuck Schumer of New York, who as a House member in 1988 sponsored the legislation requiring the disclosure. By law, print in the table is relatively easy to see. The box has information on two topics: interest rates and fees, some of which — annual fees, penalty fees, etc. — will be self-explanatory.
What to look for in the box
APR. This stands for "annual percentage rate" and is the range of finance charge interest rates for carrying a balance month to month. Note that most cards have variable rates, meaning the issuer can change them, usually in lockstep with the prime rate. The rates are expressed as a range; you'll get the lower rates if you have excellent credit. If you pay off your balance every month, this number is irrelevant. The box will also explain how credit card interest is calculated. Just beware of deferred interest deals.

0% period. Note whether a 0% period is for transferred balances or new purchases.

Balance transfer fees. Often 3% or 5%, this fee can mean hundreds of dollars added to a big balance transfer.

Foreign transaction fees. Percentage-based fee you'll pay on every transaction made with your credit card in foreign currency. A good travel credit card should have no such fee.
The juicy part of a sign-up bonus is the dollars or points you earn as a new customer. But details are important. Look for:
Required spending. Most cards require you to charge a certain dollar amount to the card within a few months to qualify for the bonus. It might say you must spend $3,000 in the first three months of account opening, for example.

Eligibility. The fine print may limit eligibility for a bonus. American Express, for example, sometimes limits consumers to one bonus for a particular card — forever.
The fine print will detail how the rewards program works — how you earn points or dollars and how you redeem them. Here's a sampling of details to look out for.
Caps. With some cards — often cash-back cards — spending rewards will be capped. For example, you might earn 5% on the first $1,500 spent in a category, such as gas or restaurants, and then the rewards rate drops to 1%.

Eligible purchases. For cards that dole out rewards per dollar spent, what counts as a purchase? Taking a cash advance often doesn't rack up rewards; the same for buying gift cards, prepaid cards or other "cash equivalents." Fees, interest charges and balance transfers usually don't earn rewards, either.

Merchant category definitions. For cards that give accelerated rewards for purchases at certain types of merchants, such as restaurants and gas stations, look for exceptions. For example, often superstores (Target, Walmart) and warehouse clubs don't count as supermarkets, and gasoline bought at supermarkets and warehouse clubs may not count as a gas purchase. It's based on where you make the purchase, not what you buy.

Travel. Travel cards vary in how they define travel expenditures that earn rewards. With some cards, taxis, parking garages, and bridge and road tolls count, for example.
Minimum redemptions. For example, you might have to claim your cash back in increments of $25. It can take low spenders a while to accumulate that much.

Travel portals. To get the full advertised value for points, you might have to redeem for flights and hotel stays through the issuer's own travel-booking service.

Forfeiting. Note ways you might lose your accumulated rewards — often related to your account not being in good standing.
Are you eligible to apply? For example, a Capital One disclosure says you won't be approved if you applied for a Capital One credit card a certain number of times recently or if you already have a certain number of open accounts there. For Barclaycards, you might find you're not eligible if you're a resident of Iowa or Puerto Rico. It, too, may reject your application if you already have an account. Some card offers are exclusive to current account holders at the bank or credit union.
Besides terms and conditions, look for other fine print.
Cardholder agreements. The fine print doesn't contain all bad news. Many of the unsung goodies lie within. You might find details on such card benefits as purchase protection, extended warranty coverage and car rental insurance. However, it also probably includes details about binding arbitration — your promise not to sue the card issuer in court. Consumer advocates say arbitration favors issuers.

Related loyalty program. If your card earns points in a separate loyalty program, such as an airline frequent-flyer program, you should get familiar with its own rules and fine print.

Change of terms. Card issuers can change terms — although they'll notify you first. When you get a notice, that's another time to dive into the fine print to see what's different.
Some credit cards rules and practices are unwritten. They're more like common practices of credit card issuers, many seemingly aimed at churners, people who apply for cards to get the sign-up bonuses and then often cancel the cards or don't use them. An example is the "5/24 rule" by Chase, which limits approvals if you have opened five bank cards in the past 24 months.
Credit cards can be valuable personal finance tools. But details can be tricky, with the marketing hype not always seeming to match the fine print. Before submitting an application, heed the old advice to "trust but verify," or the journalistic quip: "If your mother says she loves you, check it out."
With credit cards, you do that in the fine print.
Find the right credit card for you.
Whether you want to pay less interest or earn more rewards, the right card's out there. Just answer a few questions and we'll narrow the search for you.
Get Started
Get more smart money moves – straight to your inbox
Sign up and we'll send you Nerdy articles about the money topics that matter most to you along with other ways to help you get more from your money.