Is a Credit Card the Best Way to Consolidate Debt?
The answer depends on how much debt you have, how long you'll need to pay it off and your credit score.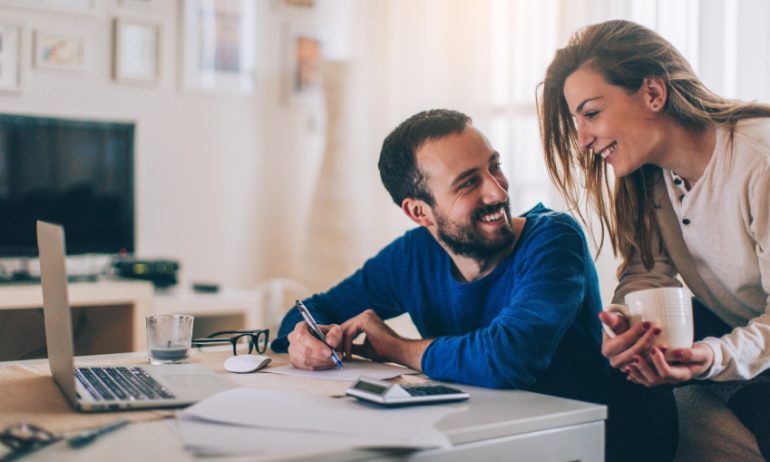 Many or all of the products featured here are from our partners who compensate us. This influences which products we write about and where and how the product appears on a page. However, this does not influence our evaluations. Our opinions are our own. Here is a list of our partners and here's how we make money.
Whether a credit card is the best way to consolidate debt depends on how much debt you have, your credit score and even your personality.
If you can pay off your debt relatively quickly, and your credit is good enough, then a balance transfer credit card may be your best choice. If you might need help staying on track or if you'll require more time, then a personal loan with fixed payments may be a better approach.
With a balance-transfer credit card, you move high-interest debt to a card with a 0% introductory interest rate. Once that 0% period ends, interest rates can be quite high, so it's best to use the card only if you can pay off the balance within the introductory time.
With a personal loan, you borrow a sum of money to pay off debts. The interest rate you qualify for is determined by your credit score, credit history and the ratio of your debts to your income. Ideally, the rate should be lower than the one for your existing debt.
Balance transfer credit cards and debt consolidations loans are designed for people who are looking to save money while paying off their debt. If your debt is so severe that you're just treading water and can't realistically expect to pay it off, you may need to look into other options for debt relief.
Which approach is right for you? Start with our brief quiz:
If you want a balance-transfer credit card
A balance-transfer credit card can be a powerful weapon against high-interest debt. Look for a card with no balance transfer fee, or an introductory period long enough that the money you save on interest makes up for the fee. The introductory period should also be long enough to cover your debt-elimination timeline.
The balance-transfer card you choose should have no annual fee. Not only will that free up more money to put toward eliminating debt, but it will also allow you to keep the card open at no cost after the balance is paid off. Keeping an older credit card account open can help your credit score.
Here are a couple of our favorite balance transfer cards. Neither has an annual fee, and both have 0% balance transfer APR periods of longer than a year.
The Citi Simplicity® Card charges a $5 or 3% balance transfer fee (whichever is greater) for four months after account opening. After that, it bumps up to 5% or $5 (whichever is greater). But it gives you a longer 0% interest rate period than most cards: 0% Intro APR for 21 months on Balance Transfers and 12 months on Purchases, and then the ongoing APR of 19.24%-29.99% Variable APR. There is no fee or penalty APR for late payments, but you'll want to pay on time to avoid damaging your credit.
The Discover it® Balance Transfer is a good choice if you want a card that provides value beyond balance transfers. It charges an introductory balance transfer fee of 3%, rising to 5% for future balance transfers (see terms), but it's also an excellent rewards credit card. It pays 5% cash back in quarterly bonus categories that you activate, on up to $1,500 in spending per quarter. Other purchases earn 1% cash back. It offers a 0% intro APR on Purchases for 6 months and 0% intro APR on Balance Transfers for 18 months, and then the ongoing APR of 17.24%-28.24% Variable APR.
If you want a personal loan
Personal loans come in many shapes and sizes, depending on the lender you choose. Interest rates for personal loans are typically lower than those for credit cards (unless you're able to snag a 0% introductory offer).
Your local credit union is a good first stop for a personal loan, as credit unions typically offer some of the lowest rates available. The maximum APR at a federal credit union is 18% and most are willing to lend to those with low credit scores.
Online lenders may have slightly higher rates depending on your credit score, but they have their own advantages: You can easily check your estimated rate and monthly payment with a soft credit check, which not all credit unions allow. Some lenders offer features that help you stay disciplined as you try to pay off debt.
Most lenders charge an upfront fee — known as an origination fee — that can range from 1% to 6% of the amount you borrow, so factor that into your loan request.
Here are a few online lenders we particularly like:
Discover and FreedomPlus both give you the option to pay off your creditors directly; not all lenders do. Discover doesn't charge an origination fee, and FreedomPlus gives you a rate discount for using the direct-pay feature.

Payoff, a good-credit lender, gives you personalized advice and periodic nudges to help you stay on track.
Each lender has its own approval procedure, and that means rates can vary quite a bit even for the same borrower. NerdWallet's personal loan marketplace allows you to compare actual offers from multiple lenders without affecting your credit score.
Your choices in a nutshell
Generally, you will need good to excellent credit to snare a no-annual-fee credit card with a 0% interest offer for balance transfers. This route is most viable if you need $15,000 or less to consolidate your debts and if you will be able to repay the balance in 21 months or less. Keep in mind that using a high portion of the available credit on a card could hurt your credit.
Personal loans offer longer repayment terms, higher borrowing amounts and typically have lower rates than credit cards, unless you qualify for a 0% balance transfer offer. If you use a personal loan to consolidate credit card debt, it may improve your credit by reducing your card balances. Personal loans are treated as installment loans on your credit report, rather than revolving credit, as credit cards are.
Find the right credit card for you.
Whether you want to pay less interest or earn more rewards, the right card's out there. Just answer a few questions and we'll narrow the search for you.
Get Started
Get more smart money moves – straight to your inbox
Sign up and we'll send you Nerdy articles about the money topics that matter most to you along with other ways to help you get more from your money.