For the X1 Card, Credit Scores Take a Back Seat to Income
The metal starter card, set to launch in winter 2020, will not impact your credit if you're rejected for it.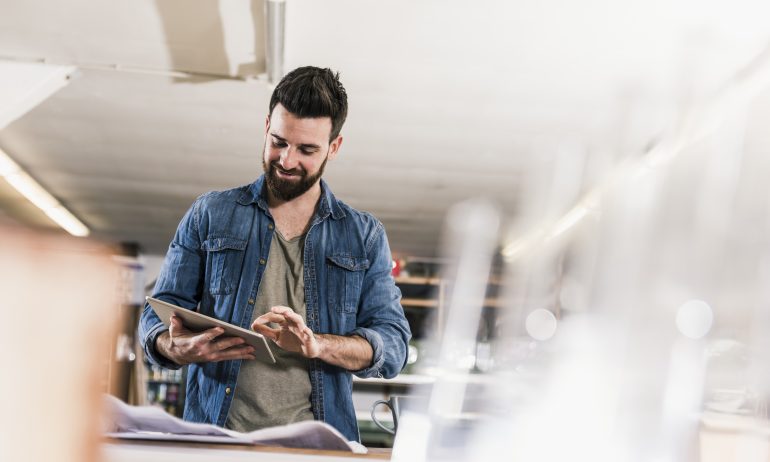 Many or all of the products featured here are from our partners who compensate us. This may influence which products we write about and where and how the product appears on a page. However, this does not influence our evaluations. Our opinions are our own. Here is a list of our partners and here's how we make money.
» UPDATE: Some of the information below may be out of date. As of Sept. 15, 2022, the X1 Card is available to all qualified U.S. residents.
A new alternative credit card is expected to hit the market this winter, and as with many of those nontraditional products, it's not planning to fuss much over your credit history.
Instead, the X1 Card vows to place more value on your income when evaluating creditworthiness, which is rare. It promises a "soft pull" of your credit report, not a hard inquiry, if you're rejected for the card. (Typically when you apply for a credit card or other loan, you can expect a hard pull on your credit report, which allows the lender to determine your creditworthiness — and also knocks a few points off your credit scores temporarily.) It will also earn rewards, and if plunk factor is important to you, it's made of metal, which is not unique but certainly atypical for cards in its class.
These features, among others, seem to have found an audience. Around 200,000 people have joined the X1 Card waitlist since it opened Sept. 17. Applications are expected to open later this year.
Here's what to know about the card.
X1 Card: Basics and features
The X1 Card is a new product from Thrive, a San Francisco company that also offers the ThriveCash personal loan for students.
The card is partnering with the Visa network (on the "Signature" tier), and an issuing bank will be announced when the card officially launches, according to company representatives. Notable features will include:
Credit limit: X1 doesn't specify a minimum or maximum, but it does say the limit can be up to five times higher than "traditional" credit cards.
2 points on every $1 spent.

3 points on every $1 spent for the year if you spend $15,000+ on the card in that year.

4 points on every $1 spent for a month for every successful referral. (If you bring in 10 friends, for example, you'll earn 4 points per dollar spent on all purchases for 10 months.)
Points will be worth at least 1 cent each, but they will be redeemable only for purchases with select merchants. The list includes popular companies like Airbnb, Apple, Delta, Ikea, JetBlue, Nike, Wayfair and dozens more. Cardholders will be able to use points partially or in full toward redemptions.
Interest rate: 12.9%-19.9% Variable APR (as of October 2020).
Balance transfer fee: 2%.
No late fees or penalty APR.

No foreign transaction fees.

No "hard pull" of your credit if rejected for the card.
How income be will evaluated
Income will hold the most weight in determining eligibility. Applicants will be allowed to provide proof of income by linking a bank account, submitting a pay stub or sending an employment offer letter.
Applications for traditional credit cards also will ask that you report your income so they can evaluate your ability to pay, but it's usually just a matter of you filling in those fields. You're typically not asked to supply documentation.
"Instead of asking you and trying to figure it out ourselves, we can literally see how much it is," says Deepak Rao, who co-founded Thrive and is also co-founder and CEO of X1.
The X1 Card will also be able to evaluate predicted and projected income based on an offer letter, the type of job and an applicant's career trajectory. Applicants will need a Social Security number to qualify.
Heavy on 'smart' technology
The X1 Card is backed by big-name investors including PayPal co-founder Max Levchin and founding COO David Sacks; former Twitter COO Adam Bain; Libra co-creator and Instagram's former head of product Kevin Weil; and more.
Among the product's goals, beyond facilitating a path to credit, is to use proprietary "smart" technology to help save cardholders time and money while shopping online, particularly when it comes to subscriptions and free trials.
To that end, the card will feature:
Virtual cards for one-time use.

The ability to end free trials automatically with virtual cards.

A one-click solution to end subscription payments.

An option to spend anonymously without disclosing your personal information to merchants.

Instant notifications on refunds.

A way to attach receipts to purchases.
"Almost everything has become smarter and has used technology in a much nicer format to be able to make our lives a lot better, but somehow credit cards were just left behind," Rao says. "We wanted to change that."
If it delivers on the above features, then yes, the X1 Card could be an ideal starter product, because it will lower many of the traditional barriers to credit access.
Your credit scores won't be dinged if you apply and get rejected — and for the evaluation, your credit history won't be as important as your income. There'll be no annual fee or security deposit, so it will be inexpensive as long as you don't carry a balance. There'll be no foreign transaction fee, so if you're a student aiming to study abroad, it can be a good travel buddy. It will report to all three major U.S. credit bureaus, which is exactly what you want as you're building credit. And unlike a lot of starter credit cards, it will even earn relatively rich rewards.
But as of now, of course, the X1 Card is not yet on the market, and we don't know who the issuing bank will be. And as with any credit card, its credit limits and APRs can vary widely and will be subject to various factors including underwriting and your own creditworthiness. The reward rates are generous, but redemption choices are limited and cash back is not an option.
Find the right credit card for you.
Whether you want to pay less interest or earn more rewards, the right card's out there. Just answer a few questions and we'll narrow the search for you.
Get Started
Get more smart money moves – straight to your inbox
Sign up and we'll send you Nerdy articles about the money topics that matter most to you along with other ways to help you get more from your money.