Credit Card Payoff Calculator: Get Your Debt-Free Date
This credit card payoff calculator can help you figure out your payment strategy.
Many or all of the products featured here are from our partners who compensate us. This may influence which products we write about and where and how the product appears on a page. However, this does not influence our evaluations. Our opinions are our own. Here is a list of our partners and here's how we make money.
This credit card payoff calculator shows you when you'll be debt-free. Put in your debts, interest rates and monthly payments. Then, see how much sooner you can be out of debt by making extra payments or by using different payment strategies.
Credit card debt payoff calculator
Enter the account name and balance for your various debts. You can use this for only credit card debt, or add other debts like student loans and medical bills for a complete picture.
Put in interest rates and minimum monthly payments. You can find your credit card interest rates and minimum payments on your statements.
Understanding your debt calculator results
You can adjust your monthly payments and pick different payment strategies to see the difference in your debt-free date, your interest and total costs.
Could you find extra money to put toward your debt payments?
Make a budget to determine whether you have extra money to add to the minimum payments. That money will accelerate your debt payoff. Use the sliding scale to adjust how much extra money you'll put toward your debt.
You'll see your current minimum monthly payments and your new monthly payments with the extra money.
This is how much interest you'd pay over the course of your debt payoff. Look at the difference in interest between your current plan and the new plan.
You'll see a list of your accounts with principal, total interest and a debt-free date under your current minimum payments and new plan with the extra money toward your debt. This could change depending on the payoff method of debt avalanche or debt snowball.
Sign up to link and track everything from cards to mortgages in one place.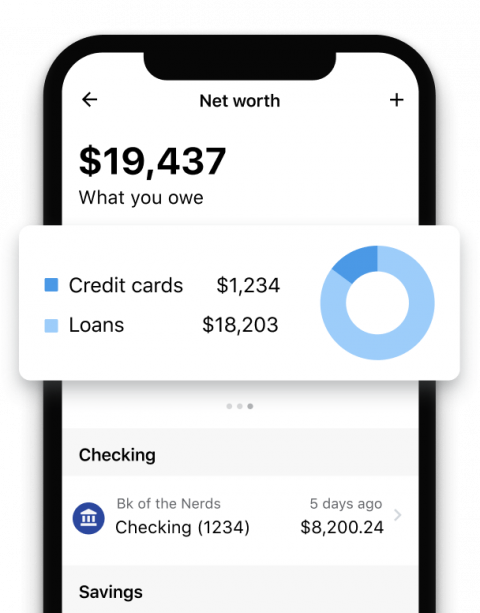 How to handle credit card debt
The best way to manage your credit card debt depends on how much you have, and how your overall debt stacks up to your income.
Credit card debt is just one factor in your overall debt-to-income ratio. The following guidelines can help you determine how to best handle your credit card debt:
If your credit card DTI is less than 15%
If your credit card DTI is between 15% to 39%
If your credit card DTI is more than 40%