Why Employers Check Credit — and What They See
A credit check for employment doesn't show your score, just a modified credit report with debt and payment history.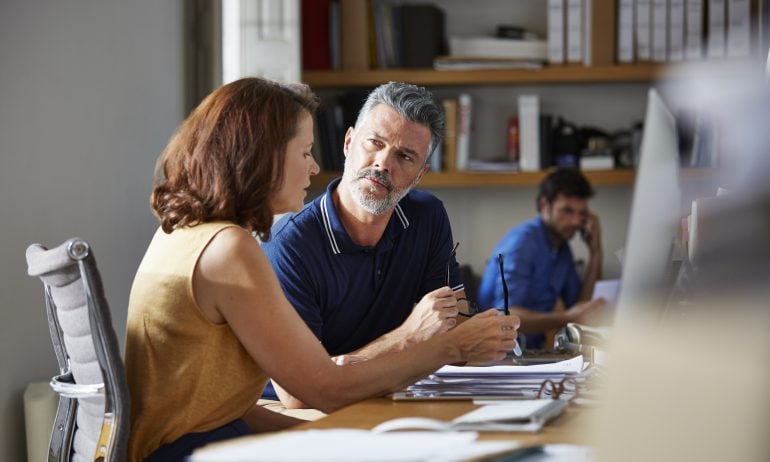 Many or all of the products featured here are from our partners who compensate us. This influences which products we write about and where and how the product appears on a page. However, this does not influence our evaluations. Our opinions are our own. Here is a list of our partners and here's how we make money.
Employers sometimes check credit to get insight into a potential hire, including signs of financial distress that might indicate risk of theft or fraud. They don't get your credit score, but instead see a modified version of your credit report.
Employer credit checks are more likely for jobs that involve a security clearance or access to money, sensitive consumer data or confidential company information. Such checks may also be done by your current employer before a promotion.
Get score change notifications
See your free score anytime, get notified when it changes, and build it with personalized insights.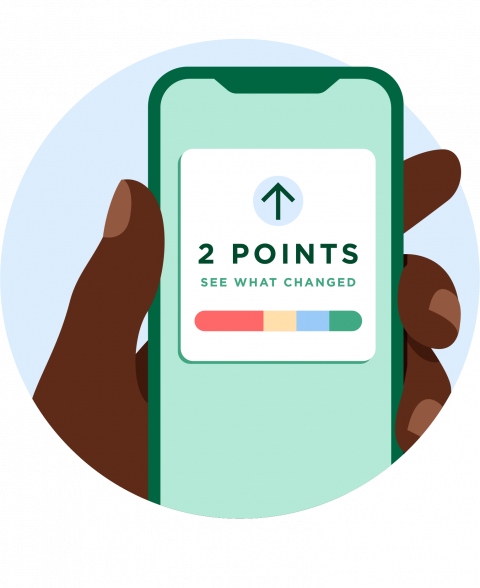 Here's what you need to know about employer credit checks, including what information prospective employers can see, your rights, why the practice is controversial and how to present the best possible face.
Why would an employer look at your credit?
An applicant's credit history can flag potential problems an employer would want to avoid:
Lots of late payments could indicate you're not very organized and responsible, or don't live up to agreements.

Using lots of available credit or having excessive debt are markers of financial distress, which may be viewed as increasing the likelihood of theft or fraud.

Any evidence of mishandling your own finances could indicate a poor fit for a job that involves being responsible for company money or consumer information.
The Professional Background Screeners and HR.com's survey of human resources professionals in 2021 found that credit or financial checks are included in 51% of employer background screenings in the U.S.
What do employers see when checking your credit?
Potential employers see a modified version of your credit report, says Rod Griffin, senior director of public education and advocacy for Experian.
Here's what employers will see:
Identifying information like your full name and address.

Your credit accounts and your available credit.

The parts of your employment or work history that you have self-reported on credit applications.
Here's what employers won't see:
Account numbers on your credit accounts.

Any identifying information that could be used to discriminate, including your birth year, marital status, or race and ethnicity.
Does an employer credit check hurt your score?
Businesses may get an employer credit report from one of the three major credit reporting bureaus — Equifax, Experian and TransUnion — or may use a specialty screening company.
The credit check counts as a soft inquiry on your credit, so it won't take points off your credit score, the way a credit card application might.
The credit report also won't show other soft inquiries on your credit, so potential employers won't be able to see if other employers have checked on you. But you will be able to see the soft inquiries if you request your own credit report.
What are your legal rights?
Notification and permission: An employer must notify you if it intends to check your credit and must get your written permission. The Fair Credit Reporting Act requires the notice to be "clear and conspicuous" and not mixed in with other language.
Warning before rejection: If an employer might reject you based somewhat or totally on your credit report, it must tell you before the decision is made. It has to send you a "pre-adverse action notice," including a copy of the report used and a summary of your rights.
Time to respond: The employer must wait a reasonable period — usually three to five business days — before it proceeds. The goal is to let you explain the red flags on the report, or, if the negative information is incorrect, let you fix the mistakes with the reporting company.
Final notice, right to free copy: After it acts, the employer must follow up with a post-adverse action notice, giving the name of the credit report agency, its contact information and explaining your right to get a free copy of the report within 60 days.
Controversy around employer credit checks
Some states have limited the use of employer credit checks, including California, Colorado, Connecticut, Delaware, Hawaii, Illinois, Maryland, Nevada, Oregon, Vermont and Washington.
Those who object to employer credit checks say that a worker's credit report has no bearing on their ability to perform most jobs. Moreover, critics say the practice harms workers — especially minority job seekers — because it can be an obstacle on the path toward economic stability.
"There are some significant racial disparities in credit history and credit scores," says Chi Chi Wu, a staff attorney at the National Consumer Law Center. "Studies show that Black and Latino consumers have lower credit scores as a group," she notes, citing reasons like the racial wealth gap and other forms of discrimination that make debt harder to pay off and easier to accrue.
"So, when you use credit history in employment [background checks], you are sort of baking that racial disparity into your decision process for job seekers," Wu says.
Those in favor say that credit checks offer employers information into a potential job candidate's judgment and decision-making that could impact their business in the future.
You can check with your state labor department or your city government to learn whether employer credit checks are restricted in your area.
How can you prepare for a credit check?
Checking your own credit proactively lets you see what an employer would — and potentially fix any erroneous negative marks in advance.
Once you've done that, keeping your credit report in good condition is a smart financial move — and it will protect your credit score, too. Here's how:
Pay all bills on time. Payment history has the single biggest influence on your credit scores, so making on-time payments helps your scores while also keeping delinquent marks off your report.
Use available credit lightly. Experts say it's best to use less than 30% of your available credit on any card at any time — and lower is better. That shows you're not overextended financially and also helps your scores because credit usage has the second-biggest influence on them.
Monitor your credit report regularly. Some personal finance websites, such as NerdWallet, offer a free credit report and score that you can check whenever you like — giving you a way to regularly watch for negative marks.
You can request your credit report in Spanish directly from each of the three major credit bureaus: · TransUnion: Call 800-916-8800. · Equifax: Visit the link or call 888-378-4329. · Experian: Click on the link or call 888-397-3742.
🤓 Consejo Nerdy Usted puede solicitar una copia de su informe crediticio (gratis y en español) de cada una de las tres principales agencias de crédito: · TransUnion: Llame al 800-916-8800. · Equifax: Visite el enlace o llame al 888-378-4329. · Experian: Haga clic en el enlace o llame al 888-397-3742.