ECredable Review: Paying Bills as a Pathway to Credit
ECredable helps people with little or no credit history get some recurring payments added to their credit report.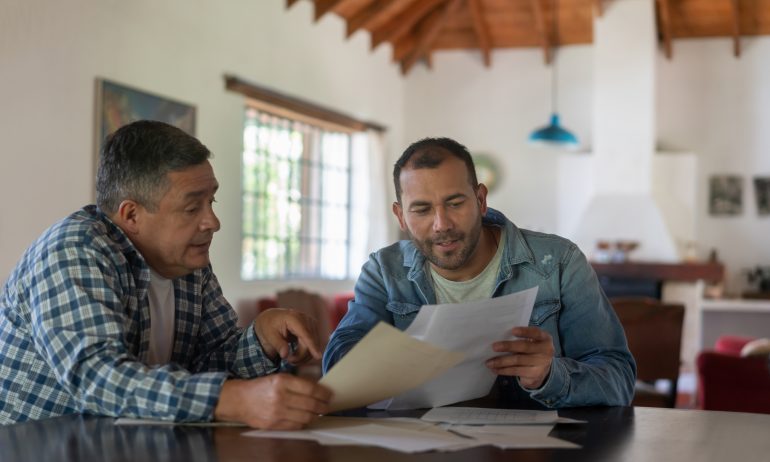 Many or all of the products featured here are from our partners who compensate us. This influences which products we write about and where and how the product appears on a page. However, this does not influence our evaluations. Our opinions are our own. Here is a list of our partners and here's how we make money.
For consumers with little credit history — either a "thin" credit file or perhaps not enough data to generate a credit score — eCredable offers a way to add utility payments to one of their credit reports.
ECredable can, with a consumer's permission, report utility payment data to the consumer's TransUnion credit report. This type of data is called "consumer-contributed data" or "consumer-permissioned data." It is information that's not typically in a credit report that a consumer would like to add in order to beef up their credit history and perhaps look better to a potential creditor.
ECredable adds payment data from some monthly bills to your TransUnion credit report. The payment history can go back as far as 24 months.
The company's basic service, called eCredable Lift, costs $24.95 a year. Consumers link their utility accounts — such as gas, power, water, garbage, cable or satellite TV, internet and some mobile or landline phones — and must provide login information for each. Then, eCredable pulls payment data directly from the utility providers.
Because payment information comes directly from the utilities, Lift can be used by people who pay in cash or use prepaid debit cards rather than a bank account or credit card. Account information is securely downloaded and reported every month until you stop the service. ECredable uses 256-bit SSL encryption to keep information safe.
There is no limit to the number of accounts you can link, but not all utilities work with eCredable. The company's homepage has a link to a utility search page so that you can check before you sign up.
Adding a tradeline — an account — that has been consistently paid on time to a credit report could have a significant score impact, particularly for people who are new to credit or have thin files. It also can blunt some of the damage from a credit misstep by adding more positive data to your credit history.
ECredable's site says the effect on credit scores can be seen within a few days — but only if the credit score is calculated with TransUnion data. The payment history does not appear on Equifax or Experian credit reports, so credit scores using data from those sources will not be affected.
A second product, LiftLocker, includes an app with budgeting help, cash-flow analysis, credit score tracking and more. It costs $9.95 per month, which includes access to Lift.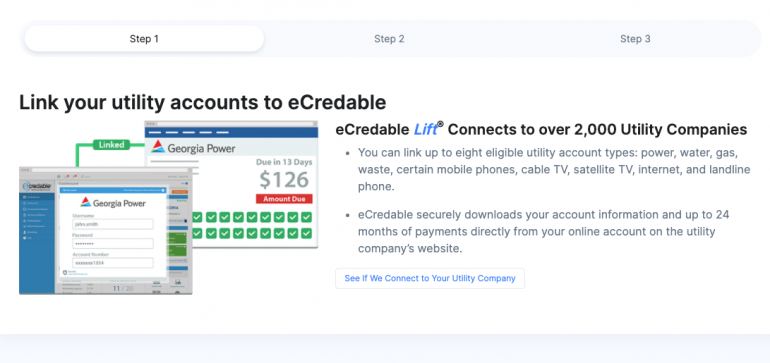 How eCredable compares with Experian's products
If this process sounds familiar, it may be because competitor Experian also has a product to let "alternative data," such as utility bills, be added to your credit report. In both cases, the aim is to help consumers build their credit.
Experian Boost can help thin-file consumers by scanning their bank accounts for utility, rent, streaming and cell phone payments, and then adding them to Experian credit reports as tradelines. That can help bulk up a thin file.
Experian also offers a product called Experian Go, which is presented to customers who download the Experian app but whose personal data does not match with a credit report. They are given the opportunity to create a credit report, which starts with only identifying information; they then use Boost to pull payment data from a connected bank account.
Here's how the eCredable and Experian products compare:
Data source: ECredable asks you to provide account login information so it can pull information directly from utilities. Boost requires you to connect your bank accounts so it can pull data about payments to accounts you choose.
If you pay with cash or prepaid debit cards rather than a bank account or credit card, eCredable is a better choice because it gets the information from utilities directly.
What is added to your report: Experian Boost adds only positive information, but eCredable reports payment records whether they're good or bad.
Who is most likely to benefit: Both eCredable and Go can be useful to consumers who don't yet have credit reports. And both eCredable and Boost can be used to help thin-file consumers add tradelines to their reports.
Cost: Boost is free, and eCredable costs about $25 per year.
What credit report is affected: ECredable adds data to your TransUnion credit report, while Boost adds data to your Experian report.
There are three major credit bureaus — Equifax, Experian and TransUnion — but both products affect only one of them. When you apply for credit, you typically don't know which credit bureau will supply the data for the credit check. Remember, though, you don't have to choose between them. You could use both Lift and Boost to help fill out your credit profile with two of the three bureaus.
Also, if you are able to get a credit card — and both services partner with credit cards aimed at people who are new to credit — information about the new card's history typically will go to all three credit reporting bureaus, helping you broaden your credit footprint.
You also could consider rent reporting, where rent payments are reported as tradelines to help your credit history. It's best if the rent reporting service reports the information to all three credit bureaus.
Alternatives to build and rebuild credit
Secured credit card: With this type of card, you have to place a deposit as collateral. After six months of paying on time and keeping balances low (30% of your limit or less), you will likely qualify for an unsecured card. If you close your secured account in good standing, you'll get your deposit back.
Credit-builder loan: These loans hold the money you borrow in a savings account, and you get the funds once you've fully repaid the loan. This can act as forced savings, helping you to build an emergency fund. And having multiple kinds of credit — for example, a loan with regular payments in addition to a credit card — can build your credit score faster than having only one.
Store credit card: Store credit cards are frequently easier to get than credit cards that can be used anywhere. They tend to come with high interest rates and low credit limits. But if you're using them as a steppingstone to good credit, and you use them lightly and pay on time, they do get reported to the credit bureaus and can help you build credit.
You could also become an authorized user, which costs nothing. You just need to find a family member or friend willing to add you to their credit card account. But it doesn't boost your credit as much as an account of your own, and not all issuers report authorized user activity to the credit bureaus.