Fed Hits Pause on Rate Hikes, Third Time Since March 2022
The federal funds rate remains at 5.25% to 5.50%.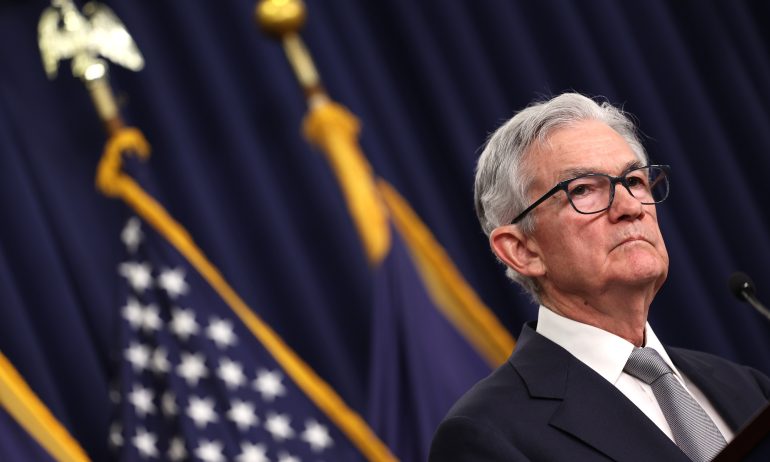 Many or all of the products featured here are from our partners who compensate us. This influences which products we write about and where and how the product appears on a page. However, this does not influence our evaluations. Our opinions are our own. Here is a list of our partners and here's how we make money.
As expected, the Federal Reserve opted to pause the federal funds rate at 5.25% to 5.50% at its November meeting, the central bank announced Wednesday.
The Fed has thus far pressed pause just three times since it began its campaign to beat down inflation in March 2022. Rates now remain at a 22-year high.
Wednesday's action isn't a guarantee of a future pause in December nor during the Fed's meetings next year, said Fed Chair Jerome Powell at a news conference after the announcement. But the tenor of Powell's address was less hawkish about future hikes than in the past.
"We're proceeding carefully because we can proceed carefully at this time," he said. "Monetary policy is restrictive. We see its effects, particularly on interest-sensitive spending and other channels."
However, Powell said explicitly that the Fed isn't yet discussing rate cuts. That's because the Fed's increases to date haven't achieved all of the effects the central bank is looking for, he said.
What's happening right now with the economy?
The U.S. is maintaining an unexpectedly strong economic picture where recession forecasts are dropping, inflation is slowing, gross domestic product is expanding, unemployment remains low and consumers are spending like there's no tomorrow. Powell said the central bank didn't add a recession back into its forecast for next year.
But the resilience of spending among Americans — despite prices remaining high — means future rate hikes are still on the table. (High spending tends to lead to higher inflation.) The Fed is committed to reducing inflation to 2%; it is 3.7% currently, according to the latest consumer price index.
Keep in mind that it also takes time — estimates are around 12 months — for the Fed's rate increases to make an overall impact on the economy. But there are clear signs of financial tightening that the Fed is looking for.
In October, the yields on 10-year U.S. Treasury notes climbed to the highest levels since 2007. Treasury note yields are tied to interest rates for mortgages, auto loans and student loans. Yields tend to move according to the Fed's rate policy and are also influenced by investor sentiment.
The combination of the elevated Treasury note benchmark and the Fed's rate hikes has already hit the mortgage market. Rates hit a 23-year high of 8% for a 30-year fixed mortgage. Rates were already higher on mortgages, deterring would-be buyers: The National Association of Realtors reports a 2.0% decline in home sales year over year for September.
"Financial conditions have clearly tightened, and you can see that in the rates that consumers and households and businesses are paying now," Powell said during the news conference. "Over time, that will have an effect. We just don't know how persistent it's going to be."
The Federal Reserve is set to meet for the final time this year on Dec. 12-13.
(Photo by Kevin Dietsch/Getty News via Getty Images)

Find and move all your old 401(k)s — for free.
401(k)s left behind often get lost, forgotten, or depleted by high fees. Capitalize will move them into one IRA you control.