Skip the Credit Check With a Prepaid Cell Phone Plan
Getting a prepaid plan doesn't require a credit check, but you'll have to pay the full cost of the phone upfront.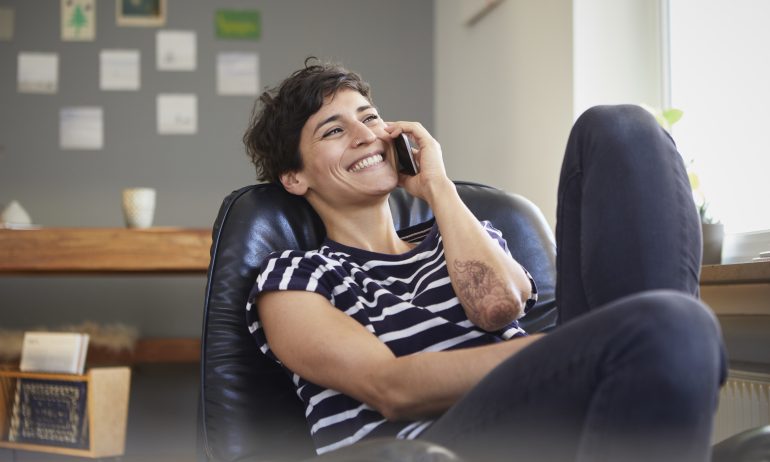 Many or all of the products featured here are from our partners who compensate us. This influences which products we write about and where and how the product appears on a page. However, this does not influence our evaluations. Our opinions are our own. Here is a list of our partners and here's how we make money.
Postpaid cellular service — plans for which you're billed after each usage cycle — along with device financing give the big three wireless providers good reason to run a credit check before signing up new customers. But the emergence of prepaid plans and budget carriers that encourage you to bring your own device have made the no-credit-check cell phone plan more common.
Try a prepaid plan or a few other options to get connected without a credit check.
Go with a prepaid plan or carrier
Prepaid cell phone plans don't require a credit check. That's because you pay in advance for your service, usually on a monthly basis, so there's no risk for the cell phone provider. The three major carriers — Verizon, T-Mobile and AT&T — offer prepaid plans, often for less than their traditional plans.
There's also a growing crop of budget carriers that offer only prepaid service, including Mint Mobile, Visible and Boost Mobile. Their plans are often cheaper, more straightforward and don't require a credit check since you pay upfront. Some budget providers are owned by a larger carrier (e.g., Verizon owns Visible). Others simply lease and resell wireless service on one or more of the big three networks (e.g., Mint Mobile uses the T-Mobile network).
Cheaper plans, same networks, no credit check: What's the catch?
Prepaid carriers have a lot to offer, but they're infamous for the D-word: deprioritization. It means the network owners (Verizon, T-Mobile and AT&T) can slow down data speeds for customers on prepaid plans when the cellular network is particularly busy. For example, Mint Mobile notes in its terms and conditions that T-Mobile may reduce speeds during times of network congestion.
Prepaid plans are also less likely to be coupled with discounts or installment plans on new phones. Plan to bring your own device, or buy one outright.
Making consistent plan payments can earn you device financing without a credit check. T-Mobile's Smartphone Equality and Boost Mobile's BoostUp programs are two options to look into.
Other options with no credit check
Verizon, T-Mobile and AT&T each offer multi-line cell phone plans with shared or unlimited data. Although the main account holder must pass a credit check to establish service, those using the additional lines do not. The main account holder is also the one ultimately responsible if you don't pay your bill, so take care not to miss any payments.
If you do join a family plan, you won't just bypass a credit check, but may also save some money. A single line on an unlimited plan costs $65 to $90 a month with a traditional carrier, but an unlimited family plan split five ways can run as low as $24 per person, before taxes and fees, with autopay turned on.
You may be able to get a cell phone plan with no credit history if you first pay a deposit. Deposit amounts will vary based on the carrier and your credit score. Each carrier handles deposits differently, so be sure to read the fine print.
Find a friend to sign up for you
Similar to getting a personal loan with bad credit, you can often get a cell phone plan with bad or no credit if you have a co-signer with good credit. Unlike a personal loan, however, the account would be solely in the co-signer's name, so that person is on the hook if you don't pay your bill.
The co-signer can eventually move the account into your name. Most carriers will run your credit when you do so, but that doesn't mean you'll have to pay a deposit. With T-Mobile, for example, you can transfer ownership of the account after 90 days. Just be aware that each carrier handles this process differently.
A prepaid plan is often your best bet if you want a cell phone plan but have no credit or bad credit. If the upfront expense of a phone is too much, though, try joining a family plan. That way, you can share the plan cost while you work to build your credit.