How I Ditched Debt: Debt Free Guys
Many or all of the products featured here are from our partners who compensate us. This influences which products we write about and where and how the product appears on a page. However, this does not influence our evaluations. Our opinions are our own. Here is a list of our partners and here's how we make money.
In this new series, NerdWallet interviews people who have faced debt and triumphed using a combination of commitment, budgeting and smart financial choices. Their stories may even inspire you to pay off your debt.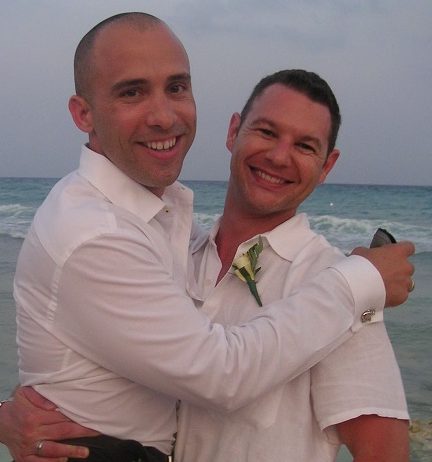 John Schneider and David Auten are personal finance authors and speakers with years of experience in financial services — but they still managed to accumulate tens of thousands of dollars in debt. Within a year and a half, they climbed out of that debt and today they run the financial blog Debt Free Guys and the podcast Queer Money. Here's their story.
What was your total debt when you started your repayment journey?
Schneider and Auten: We had $51,000 in credit card debt between the two of us 12 years ago.
What is your total debt today?
How did you end up in debt?
Even though we had 13 years of experience in financial services between the two of us, we realized we needed to make a change.
We each acquired our debt differently. In general, David built up his debt on little purchases, such as daily stops for to-go breakfasts at Einstein's and coffee from Starbucks. John acquired most of his debt from more expensive purchases, such as decorating his first apartment from floor to ceiling in Pottery Barn, putting a down payment on a car, and state-of-the-art snowboarding equipment and snowboarding clothes.
What triggered your decision to start getting out of debt?
After visiting a friend in the Rocky Mountains for the weekend, we stopped at a real estate agent's office to discuss buying land in the mountains to build a house. As we traveled down the mountain back to Denver, we sunk deeper and deeper into depression as we went down in elevation. By the time we walked into our basement apartment — an apartment we didn't own and it was so dark you couldn't tell the time of day without looking at a clock — we admitted we were financial messes and confessed how much debt we each had.
What steps did you take to reduce your debt? What resources or services did you use?
We lowered our credit card interest rates by transferring our debt to 0% APR credit cards. We seriously cut back our social activities, lowering our social expenses from $1,000 or $2,000 a month to $150 a month. We rethought spending, learning how to coupon, Groupon and finding ways to buy and live not-so-expensive, so we could live and play for cheap or free.
Did you make any lifestyle changes?
John cut back on regularly buying expensive clothes, such as $300 to $500 jeans, that he couldn't really afford. We cut down on dining out, learning how to cook at home and turning one meal into multiple meals. We also cut out all travel until our debt was paid off.
A year and a half before we paid off our debt, John's best friend planned her wedding at an all-inclusive resort in Playa del Carmen [in Mexico]. To celebrate becoming debt-free, we budgeted and saved for the trip. We literally sent our last credit card payment, including all our vacation expenses, a week before we went on vacation. We became debt-free, went on vacation in part to celebrate becoming debt-free, and returned from vacation debt-free.
Make a plan to tackle your own debt
If you're looking to get rid of debt, consider debt consolidation, which involves rolling your debt into one new credit card or loan with a lower interest rate. It can help you get a handle on monthly payments and make repaying debt more manageable. A 0% balance-transfer credit card or personal loan are two options for debt consolidation. You can estimate your new interest rate using a personal loans calculator.