How I Ditched Debt: Tenacious Focus on the Goal
Many or all of the products featured here are from our partners who compensate us. This influences which products we write about and where and how the product appears on a page. However, this does not influence our evaluations. Our opinions are our own. Here is a list of our partners and here's how we make money.
In this series, NerdWallet interviews people who have triumphed over debt using a combination of commitment, budgeting and smart financial choices. Responses have been edited for length and clarity.

Samantha Ealy thought she was being budget-smart when she transferred from Howard University, in Washington, D.C., to Baylor University in Waco, Texas.
The cost of living was much lower, but she got an apartment that was still well above what she could afford. She was struggling with debt already, and she couldn't quite make rent. And then she was evicted. She sold her furniture to repay her landlord and avoid being sued.
For about a month she slept in her car. It was August 2009, when the average high temperature was 100, and lows averaged 76. She showered in the campus gym and spent the bulk of her time in the air-conditioned library. She says she was there so much they offered her a job.
Things had to change, and they did. She saved as much as she could from her library job and checked an internal housing board at Baylor to find the cheapest living situation she could. She ended up living in an off-campus apartment with a roommate.
Still, she kept her eyes on the goal, earning her bachelor's degree in film and digital media in December 2011. But once that happened, she wanted to make her debt disappear as quickly as possible. She recently connected with NerdWallet to share her story, which may inspire your own debt-free journey.
What was your debt when you started your repayment journey?
When I started my repayment journey, I was $70,111 in debt, which spanned items such as student loans, medical bills, credit card payments, and a car loan.
How did you end up in debt?
It was college. I wasn't granted a full scholarship in undergrad, so there were expenses I needed to pay that were well above my entry-level wages and I didn't have a large savings to tap into at the time. I remember attempting to exhaust all my scholarship options, and then praying I could get enough money in student loans to cover the remaining balance.
Loans felt like "free money." When I was approved for college loans, me and my mom went out to celebrate. I am appreciative of the loans, but I was ignorant of what I was doing.
What triggered your decision to start getting out of debt?
The turning point for me came when I was evicted from my apartment and saw no other option than to sell the majority of my belongings and move into my car. I slept in the back seat, using my remaining wardrobe as bedding.
This was an infuriating experience for me; I had always worked extremely hard, held multiple jobs and got good grades in school. I thought that was the recipe for financial success, but I was wrong. Financial success requires some level of financial literacy and understanding, and I was severely lacking.
What steps did you take to reduce your debt?
I followed Dave Ramsey's program — using the snowball method and saving a small emergency fund — to get out of debt. It made the process really easy for me to follow. I made a timeline and set small goals to achieve my financial freedom.
First I pulled my credit reports to gather the information on all my debt.
Next I made a biweekly budget that was extremely detailed and captured all income from my various jobs.
I was working about 70 or 80 hours in any given week, and I was working about three jobs at any given time. I was trying to expedite the process. I originally thought it was going to take three years, which was an ambitious goal, but I did it faster than that. A bonus from work went straight to debt repayment.
I used a lot of visual cues to keep me motivated throughout this long process. I printed out a photo of a thermometer and tracked my progress. I also created a vision board with photos that depicted the lifestyle and experiences I believed I could have if I were debt-free.
Sign up to link and track everything from cards to mortgages in one place.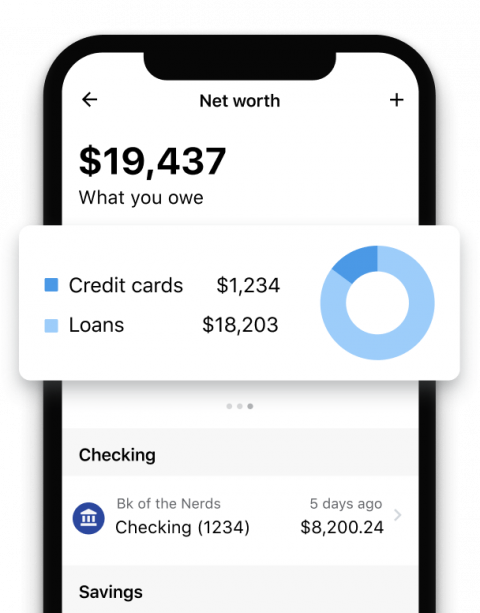 What resource do you wish you'd had?
I started a blog as I was going through the process. It gave me a sense of accountability, and it gave my readers hope that they, too, could reach their financial goals.
I never liked how taboo money is and how uncomfortable and closed off people are when the topic comes up. I wish I had a platform where I could open this conversation, in a trusted and positive environment. That's one of the reasons I started Generation Wealthy, and it's a conversation I want to continue to lead for my generation.
What mistakes did you make as you paid off your debt?
I was pretty extreme. I don't think I could do now, at 30, what I did right after college. I worked three jobs, I did not eat out and I didn't buy anything I did not absolutely need. I didn't buy so much as a new pair of socks. And my health suffered.
My whole life revolved around debt. I was so fixated that it affected other areas of my life. I had no time for myself, and that's not healthy. If I could do it again, I may have looked at four years of repayment, with time for working out and hobbies.
How did it feel to have the debt paid off?
I definitely felt a weight had been lifted off, but I found it difficult to justify buying things. Even when the debt was gone, I found it difficult to spend. It took a little while for me to go to restaurants and update my wardrobe.
How have you stayed out of debt?
I was out of debt for a few years, but I have chosen to take out student loans again for graduate school. I was extremely apprehensive, and my attitude was, "I'm not going to attend unless they pay for everything."
But I also could not see myself walking away from a Stanford MBA. This time, though, I know that I can repay the debt, and I believe it will be a good investment because the average starting salary is more than $125,000.
How will your repayment strategy be different this time?
I won't deny myself as much. I am definitely going to set a goal, depending on my starting offer. But I won't totally deny myself shopping or sacrifice my health. I definitely will lay out a goal, though, and make a budget and know how I will pay it back. I figure if I could pay off $70,000 in three years making much less, I can pay this off.
HOW TO TACKLE YOUR OWN DEBT
Pull your credit reports. Figure out where you are before you try to map out where you're going.

Look for ways you can cut expenses or increase income to pay off debt

Understand that your whole existence does not need to revolve around debt. You can enjoy your life even as you make sacrifices to repay debt.
Photo courtesy of Samantha Ealy