How I Ditched Debt: Trimming Small Expenses to Achieve a Big Goal
Many or all of the products featured here are from our partners who compensate us. This influences which products we write about and where and how the product appears on a page. However, this does not influence our evaluations. Our opinions are our own. Here is a list of our partners and here's how we make money.
In this series, NerdWallet interviews people who have triumphed over debt. Responses have been edited for length and clarity.

[Editor's note: Whether accelerating student loan payments makes sense for you depends on your unique circumstances. NerdWallet offers updated advice on how to handle student loans as the economic fallout caused by COVID-19 evolves.]
This month, Neal Fogarty and his wife, Laura, will start a renovation of the basement of their home outside Kansas City, Missouri. The updates include a wet bar, entertainment space, a bedroom and a bathroom. They've wanted to renovate the space for a while, but until last year, Neal's student loans stood in the way.
Having grown up with a single mom who found herself in trouble with credit cards, Neal has never liked the idea of taking out debt. But he knew he would need to take out student loans if he wanted to get what he calls the "leg up in life" that a college education would provide.
Neal worked his way through community college, then followed Laura to Graceland University in Iowa. Being the first in his immediate family to attend college, he didn't have anyone to help him navigate borrowing. In 2011, he graduated with $36,600 in debt across four student loans.
He made his payments steadily until he and Laura, a teacher, decided they didn't want to keep sinking money into the loans every month. Instead, they took steps to make their money work for them and they also put some away for their two little girls' futures.
In February 2019, Neal refinanced his loans at about $18,500. They cut monthly expenses they didn't need, and found ways to save on their insurance payments. In October 2019, about nine months after refinancing, Neal made his last payment.
Now 32 and working in sales, Neal spoke with NerdWallet about his journey out of debt.
Sign up to link and track everything from cards to mortgages in one place.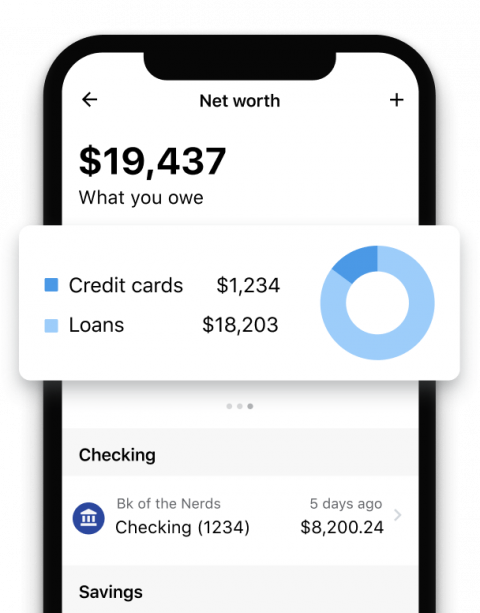 What were your monthly payments and how much did you earn while you paid them?
I started out with monthly payments of $556, but when I refinanced with Earnest, I lowered them to about $330.
It's hard to say how much I was making because I make commission and that's been a big part of my career to this point. In the last year of repayment, every commission check I made went toward my loans.
How did you increase your payments?
After I refinanced, I kept paying my loans as if I had that original $556 minimum payment. Laura and I have a joint checking account and we agreed that we'd pay ourselves a certain amount every month and then every extra dollar would go toward paying the debt. I put pretty much all the commission I made, and our tax refund, toward the debt.
We also looked at everything expense-wise and asked, "What can we eliminate?" I was paying about $100 per month to park in downtown Kansas City for work and so I started parking further away and using the $30 lot. We asked ourselves things like, "Do we really need four streaming services?"
Then, we looked at insurance, which I had never done, and we reduced our rates there as well. In all, we saved about $300 per month.
Was it difficult to make those cuts?
I think we were just so hyper-focused on the goal that we were like, "It's OK, we'll be fine." We kind of found little hacks and thought, "When you compare this to our larger goals, how important is it that we have HBO?"
We kind of made it a game, asking, "What can we cut out this month? Do we really need this now?" We found ourselves spending more time together doing things that are free, which made it easier to cut more things out.
What are your plans for the extra money you have every month now?
We have a ranch-style house and underneath the house has been an unfinished basement that we're going to completely finish. We're planning on adding another bedroom and bathroom down there and making a space to host our friends so everybody doesn't feel so compact.
It'll also hopefully add some value to our home and I'm really excited to put money into something that has a return instead of just paying interest on a loan.
I'm also proud to be putting money into my girls' college savings account. We have two Betterment accounts for education, two for their weddings and we've started saving to take a family trip to Disneyland. We haven't decided when we're going yet, probably we'll wait until they're a little older. [Editor's note: NerdWallet recommends using investment accounts for expenses that are at least five years in the future. For money you'll need sooner, use a high-yield savings account instead.]
How do you keep yourself debt-free?
As far as credit card debt, it's a fundamental belief and fear for me so I wouldn't even consider putting a purchase on a credit card if I can't afford it today. I have a credit card for Southwest [Airlines] points and we pay it off at the end of every month, so I think there's value in credit cards, especially those travel rewards programs, but again I'm just very disciplined.
I don't really make impulse choices, so if I can't afford it now, I'm not going to afford it later, I'm going to have to save up to pay for it anyway.
We're also saving up to pay for a new car purchase. Our cars are both doing well right now, but when we need to get a new one, we'll already have the money for them so we won't have a car payment.
Sign up to link and track everything from cards to mortgages in one place.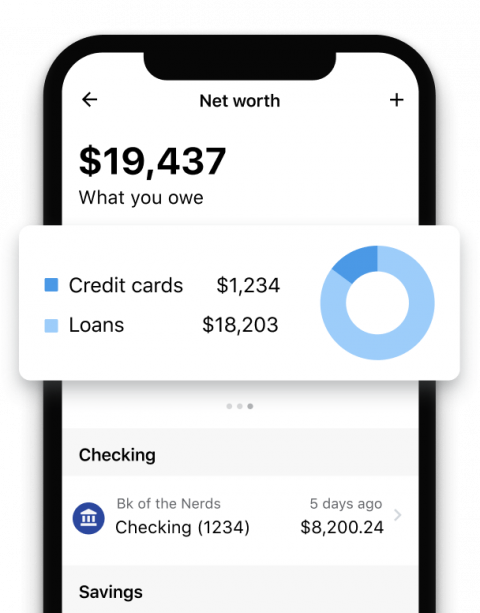 What advice do you have for others trying to pay down their student loans?
There are so many learning platforms to use now. It also helped me to listen to podcasts and read articles on a consistent basis to stay motivated.
It's so easy to stray away from your plan because any additional payments you make aren't forced on you. It requires discipline.
How to ditch your own debt
To make progress on wiping out your balances, try these approaches:
Consider refinancing: Refinancing federal student loans could get you a lower interest rate, but you'll lose benefits that could help if your income changes in the future. Make sure your job is rock solid and consider the other pros and cons before you refinance.

Make a payoff plan: If you pay down your highest-interest debts first with the debt avalanche approach, you may save money on interest in the long run. If you value little victories and think it'll be easier to stay consistent on small payments, though, try the debt snowball approach. With snowball, you focus on paying off debts from smallest balance to largest.

Consolidate where you can: If you have multiple sources of high-interest debt, such as personal loans and credit cards, you can consolidate them into one monthly payment.
Photo courtesy of Neal Fogarty.

Find and move all your old 401(k)s — for free.
401(k)s left behind often get lost, forgotten, or depleted by high fees. Capitalize will move them into one IRA you control.