Are Those Subscription Meal Boxes Right for You?
The answer may come down to convenience (and how well your pantry is stocked).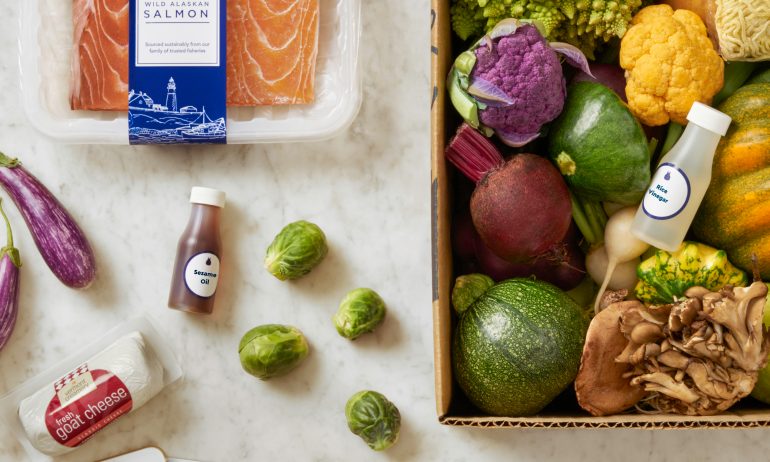 Many or all of the products featured here are from our partners who compensate us. This influences which products we write about and where and how the product appears on a page. However, this does not influence our evaluations. Our opinions are our own. Here is a list of our partners and here's how we make money.
Ever since Birchbox launched in 2010, the business of subscription boxes has been snowballing. Seven years later, FedEx could be dropping off anything from a box of dog treats from BarkBox to a crate of survivalist gear from Apocabox designed to help you weather the apocalypse.
But perhaps nothing has caught on like meal kits. With an estimated 150 varieties to choose from, there are DIY dinners for vegetarians, gluten-free eaters, omnivores, vegans and frat boys courting heart attacks (BurgaBox).
"

Most of these meals ring in at about $10 per one-person serving.

"
And there's a new one for crockpot aficionados, the Busy Bowl Club, which ships shelf-stable ingredients you can pop into the slow-cooker on your way out the door. "It cuts prep time from 30 to 90 minutes down to five minutes, and there's no waste from giant ice packs and Styrofoam," founder Jennifer Dziura says.
Besides the differing tastes and dietary needs the boxes cater to, there's another dividing line: Some come with all the ingredients chopped, measured and ready to cook, while others, like the popular Blue Apron, demand a little more from their home chefs.
It's no surprise that Amazon is getting into the boxed-meal game, though the service is available only in Seattle while the company works out the kinks.
Regardless of the source of your subscription, most of these meals ring in at about $10 per one-person serving. Introductory offers bring that price way down — at least initially. All of these services will try to lure you in by cutting the price of your first few orders.
To find out how these services compare with grocery store pricing, we checked out one meal from each of two popular services, Blue Apron and Hello Fresh. Both meals are based on the subscription price for three weekly meals for two people. The supermarket prices are based on availability from online grocer Fresh Direct.
It turns out that assembling these recipes yourself can be more expensive than the prepacked box. But that's if you had to buy each ingredient, even such staples as butter and flour — and you can't buy an ingredient like butter by the teaspoon, so we used the smallest amounts available. HelloFresh assumes you have some ingredients like olive oil, salt and pepper at home and so doesn't include them in the box.
Strip steaks and garlic butter with oven fries and tomato-green bean salad (for two): $19.98

Equivalent from Fresh Direct: $36.80
Crispy Cajun catfish with collard greens and grilled corn (for two): $19.80

Equivalent from Fresh Direct: $34.13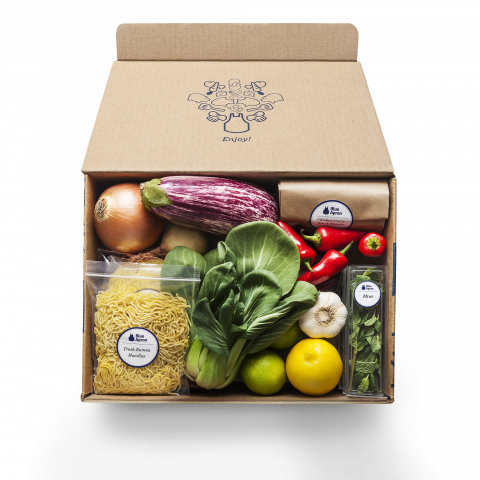 On the other hand, if you have a fairly well-stocked refrigerator and pantry, the meals can be cheaper to assemble and make yourself, without the excess packaging and carbon footprint involved in a subscription service.
But these services succeed by reducing the amount of time and energy expended in planning meals. Maybe you're the kind of person who can look in the refrigerator and throw together a mouthwatering meal out of anything that's lurking. If that's the case, these kits aren't for you.
For a lot of us, though, figuring out what to cook, how to make it, and what we need from the store is time-consuming. And then we have to go buy what we need, chop, slice and dice — without losing any fingers in the process — cook it, and hope for the best.
So for the culinarily clueless (or lazy or uninspired), getting a box of ingredients with idiot-proof recipes may not save us any dough, but it will save us time and brainpower, which is its own reward.
Use NerdWallet to discover small changes that can lead to big savings. Sign up for free to see what we can find for you.
Photos courtesy of Blue Apron.