No deje que sus puntajes de crédito se jubilen con usted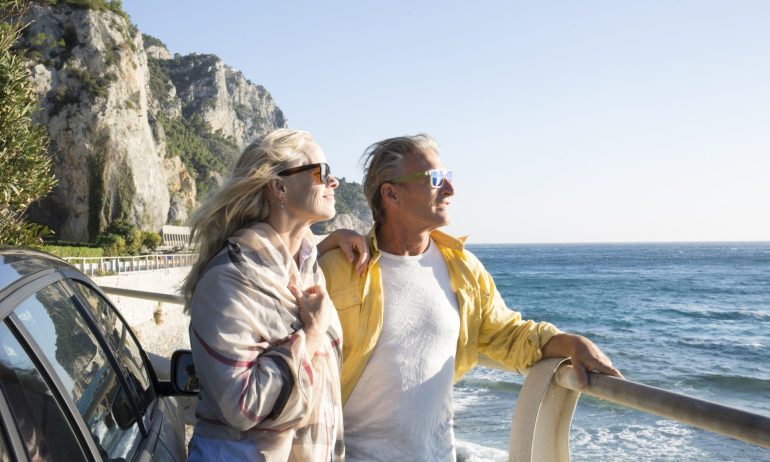 Many or all of the products featured here are from our partners who compensate us. This influences which products we write about and where and how the product appears on a page. However, this does not influence our evaluations. Our opinions are our own. Here is a list of our partners and here's how we make money.
Por lo general es buena idea liquidar las deudas antes de la jubilación. ¿Pero, quedarse sin su puntuación de crédito? Pues, no.
Las personas que dejan de utilizar el crédito también dejan de generar datos suficientes para producir puntuaciones (o puntajes) de crédito: son los números de tres dígitos que se utilizan para medir la reputación o solvencia crediticia. No contar con un puntaje puede dificultar y encarecer la obtención de préstamos. Aunque usted esté seguro de que no va volver a pedir un préstamo, la falta de puntuación crediticia (en inglés) también puede aumentar el costo de los seguros, los planes de teléfonos celulares y los depósitos de seguridad.
Felizmente, no es necesario estar endeudado para tener una buena puntuación crediticia. Pero sí hay que utilizar el crédito.
Hay más personas endeudadas, pero millones han "jubilado su crédito"
Las personas mayores son más propensas a tener hipotecas, préstamos para vehículos, saldos de tarjetas de crédito y otras deudas durante sus años de jubilación en comparación con la generación anterior, según las estadísticas de la Reserva Federal. El 70% de los hogares a cargo de alguien de 65 a 74 años tenían deudas en 2019, el último año disponible de la Encuesta de Finanzas del Consumidor de la Reserva Federal (comparado con el 51.4% en 1998). Entre los hogares cuya cabeza de familia es alguien de 75 años o más, el 51.4% tenía deudas en 2019, en comparación con el 24.6% en 1998.
Pero eso todavía deja una gran población de personas mayores que no tienen deudas y que podrían no estar usando activamente el crédito. FICO, la empresa líder en calificación crediticia, ha descubierto que 7.4 millones de personas han "jubilado su crédito", es decir, tienen un buen historial de crédito pero sin cuentas activas, según Ethan Dornhelm, vicepresidente de calificación y análisis predictivo de FICO. De todos ellos, algunos eran más jóvenes que podrían haber cambiado a un estilo de vida basado únicamente en el efectivo, pero la mayoría eran mayores: La edad media de los jubilados del crédito era de 73 años, dice Dornhelm.
Y los puntajes de crédito pueden "jubilarse" con relativa rapidez. La fórmula de puntuación FICO utilizada en la mayoría de las decisiones de préstamo requiere que al menos una cuenta del informe crediticio se haya actualizado en los seis meses anteriores, afirma Dornhelm.
Su competidora VantageScore revisa las cuentas actualizadas al menos 24 meses antes, afirma Jeff Richardson, vicepresidente senior de marketing y comunicaciones de VantageScore Solutions.
Entre los jubilados del crédito, la mediana del tiempo transcurrido desde que se actualizó una cuenta fue de más de cuatro años, afirma Dornhelm.
Lo que puede costarle jubilarse del crédito
Tener una hipoteca liquidada y ninguna otra deuda puede ser útil cuando esté jubilado y tenga ingresos fijos. Usted no tendrá que recurrir a sus ahorros ni utilizar sus limitados ingresos para pagar deudas. Pero mantener un buen crédito (en inglés) puede servirle de mucho si necesita pedir un préstamo para hacer frente a un gasto inesperado, financiar una mudanza a una edad avanzada o hacer frente a una falta de liquidez, entre otras situaciones.
La vida tiene sorpresas, y pocos pueden asegurar que nunca volverán a necesitar un crédito, afirma Bruce McClary, vicepresidente senior de comunicaciones de la National Foundation for Credit Counseling.
"Una buena puntuación crediticia puede dar tranquilidad, seguridad financiera y flexibilidad, aunque no se anticipe la necesidad de un nuevo préstamo o cuenta de tarjeta de crédito durante la jubilación", afirma McClary.
Incluso si sus días de pedir préstamos han quedado en el pasado, no contar con un puntaje de crédito podría costarle de otras maneras:
En la mayoría de los estados, las aseguradoras utilizan la información crediticia para fijar las primas de los seguros de automóvil y casa.

Conseguir un plan de telefonía móvil puede ser difícil con un crédito deficiente o inexistente, y los proveedores de telefonía móvil por lo general reservan sus mejores ofertas para las personas con buenas puntuaciones de crédito.

Las compañías de servicios públicos pueden exigir depósitos de garantía más elevados a las personas sin puntuación.

Las viviendas para personas mayores (centros de vida asistida, residencias con atención personalizada, comunidades de jubilados con atención permanente e incluso algunos hogares de ancianos) pueden exigir que los solicitantes cumplan requisitos de crédito.
La solución de una (o dos) tarjetas de crédito
Afortunadamente, no es necesario volver a endeudarse para mantener una buena puntuación crediticia. Debiera bastar con utilizar una o dos tarjetas de crédito y pagar la totalidad de los saldos cada mes. Los emisores de tarjetas informan de los pagos a las tres principales agencias de crédito (Equifax, Experian y TransUnion) todos los meses, manteniendo sus cuentas actualizadas para que sus informes puedan seguir generando puntajes.
No obstante, procure no realizar gastos excesivos en una tarjeta, aunque la pague en su totalidad. Utilizar demasiado su límite de crédito (en inglés) puede perjudicar su puntuación. Cuanto menos cuentas activas tenga usted, más perjuicios le podrían causar.
Si ya ha dejado que sus puntuaciones de crédito se jubilen, no es demasiado tarde para que vuelvan a rendirle frutos. Agregarse como usuario autorizado a la tarjeta de crédito de otra persona puede ser suficiente para reactivar sus puntajes. Otra opción es una tarjeta de crédito con garantía, (en inglés) que requiere un depósito de garantía en efectivo que es por lo general igual al límite de crédito que se obtiene. Por último, algunas cooperativas de crédito y prestamistas en línea ofrecen préstamos generadores de crédito. Estos préstamos ingresan el monto que uno pide en una cuenta de ahorro a la que puede recurrir una vez que haya efectuado todos los pagos mensuales.
Vale la pena esforzarse por conseguir una buena puntuación crediticia, independientemente de la edad.
"Si usted sigue teniendo actividad crediticia y una buena puntuación de crédito, tiene la sartén por el mango," dice Richardson.
Este artículo fue redactado por NerdWallet y publicado originalmente en inglés por The Associated Press.