Allstate vs. State Farm Home Insurance: Which Is Right for You?
State Farm's default coverage is more generous than Allstate's, but Allstate offers more discounts.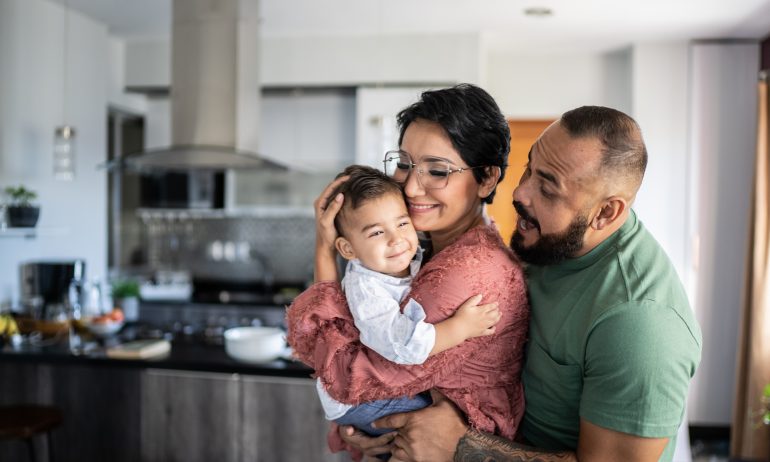 Many or all of the products featured here are from our partners who compensate us. This influences which products we write about and where and how the product appears on a page. However, this does not influence our evaluations. Our opinions are our own. Here is a list of our partners and here's how we make money.
Lots of discounts available.

Mobile app shows whether you've been part of any data breaches.

Many ways to customize your coverage.

Agents offer personalized service.

Policies generally include extra coverage for your home's structure.

More than the expected number of complaints to state regulators.

Fewer discounts than some other insurers.
Allstate and State Farm have a lot in common. They're the two largest home insurers in the U.S., with policies available across most of the country, and they each offer a wide range of coverage options to choose from. They've been around for a while, too: State Farm was founded in 1922, while Allstate sold its first policy in 1931.
The main difference between Allstate and State Farm home insurance is how each company covers the structure of your home. State Farm generally includes an additional cushion above your dwelling limit in case rebuilding is more expensive than expected. Allstate offers similar coverage but charges extra for it.
Read on to learn about other differences between Allstate and State Farm homeowners insurance, including rates, consumer complaints and policy perks.
State Farm and Allstate homeowners policies are available across most of the U.S. However, Allstate isn't selling new homeowners policies in California, Connecticut or Florida, while State Farm isn't offering new coverage in California, Massachusetts or Rhode Island.
State Farm and Allstate have many coverage options to choose from, but State Farm's default policy tends to be a bit more generous; it includes an extra 20% of dwelling coverage on top of the amount you select.
Dwelling coverage is the part of your policy that covers the structure of your home. It reflects how much it would cost to rebuild the house if it's destroyed. So if you've chosen a dwelling limit of $300,000, having the extra 20% will give you an additional $60,000 to spend if rebuilding costs more than you expect. It's a useful cushion, especially in times of high inflation.
Allstate also offers this coverage, but it costs a bit more than the basic policy.
State Farm's policies may also include ordinance or law coverage, which pays to bring your home up to current building codes during covered repairs. This coverage is particularly useful if you have an older home.
Again, Allstate offers this coverage — but at extra expense.
Beyond what's included, both companies offer a variety of ways to add coverage to your policy. Options depend on where you live, but Allstate and State Farm generally offer the following types of coverage:
Water backup, for sewers and drains that back up or sump pumps that fail.

Identity theft, for expenses associated with recovering your identity.

Personal injury liability, in case someone sues you for libel, slander or another civil offense.

Extra coverage for valuables such as jewelry, collectibles or musical instruments.

Service line, in case of damage to an underground water, power or other utility line on your property.

Green/energy-efficient improvements, to upgrade to more eco-friendly materials after a covered claim.
These are just a few of the many coverage options available. Some vary from one company to the next, but your exact choices depend on where you live and whether you get a quote online or through an agent.
For example, State Farm offers equipment breakdown coverage to pay for failures of heating, cooling or other home systems — an option we didn't see when getting quotes online from Allstate. Meanwhile, Allstate advertises increased coverage limits for trees, landscaping and lawn mowers, which we couldn't choose during the State Farm quote process.
If you're interested in a particular type of coverage, speaking directly with an agent may be your best bet.
Each company has its own formula for estimating your home's replacement cost, or dwelling coverage limit. In some cases, the difference in recommended coverage may be significant.
For instance, we got online quotes from Allstate and State Farm for the same luxury townhouse in Ithaca, New York. State Farm recommended about $474,000 in dwelling coverage, while Allstate came up with a coverage limit of nearly $778,000. Allstate's rate was much higher than State Farm's, but the company was also offering a lot more coverage.
When comparing prices, take differences like these into account. And if you see such wide discrepancies, consider getting a few more quotes or chatting with an independent agent to figure out the right amount of coverage you'd need to rebuild your home.
Depending on where you live, you may be eligible for a couple of extra perks from State Farm. In most states, the company offers three free years of Ting service to policyholders. Ting is a smart device that plugs into an outlet and alerts you to problems with your electrical network that could lead to fires.
The other perk State Farm offers is a service called Wildfire Defense Systems, which is available to policyholders in Arizona, Colorado, Oregon and Washington. If a wildfire is threatening your area, a crew can come to your home to clear debris, put in temporary sprinkler systems and take other protective measures.
Allstate also offers some useful benefits for policyholders, though they're available only in its more inclusive coverage packages. With Claim RateGuard, your rate won't go up if you file a claim, and with Claim-Free Rewards, you can get 5% back for each year you go without filing a claim. Deductible Rewards entitles you to $100 toward your deductible when you sign up, plus an extra $100 for each year you go without a claim. The maximum reward is $500 off your deductible.
A homeowners insurance deductible is the amount of a claim you're responsible for paying. Say you have a $1,000 deductible. If you file a claim for $5,000 worth of damage to your home, the insurer would pay $4,000, and you'd cover the rest.
State Farm and Allstate have a variety of ways for homeowners to save on their policies. Allstate lists more of them on its website, making it easier to figure out which ones you might be eligible for. No matter which company you choose, discounts vary by state.
Allstate homeowners may be able to save by:
Bundling home and auto policies.

Going a certain amount of time without filing a claim.

Paying their premium on time.

Paying their premium in full.

Switching to Allstate from another carrier.

Staying loyal to Allstate year after year.

Having a newly constructed home.

Having recently bought a home of any age.

Setting up automatic payments.

Installing devices that protect against theft or fire.

Applying for a new policy at least seven days before the coverage starts.

Being a senior or retiree.

Strengthening their home against wind damage.
State Farm advertises only a few discounts on its website, but others may be available to you when getting a quote online or from an agent. For example, you may be able to save by:
Bundling home and car insurance.

Installing burglar alarms, smart-home monitoring systems, sprinkler systems or other protective devices.

Having a roof with impact-resistant materials.

Having deadbolt locks or a fire extinguisher.

Fortifying your home against wind damage.

Going a certain amount of time without filing a claim.
State Farm and Allstate have average annual homeowners insurance rates under the national average of $1,820 per year, according to NerdWallet's analysis. State Farm's policies cost $1,500 per year, on average, while Allstate charges an average of $1,660. These sample rates assume dwelling coverage of $300,000, liability coverage of $300,000 and a $1,000 deductible, along with good credit and no recent claims.
Even when we adjusted the dwelling coverage amount, State Farm was consistently a bit cheaper than Allstate. Below are the average annual rates for each company for a variety of coverage amounts.
We also checked how the companies' rates stack up for several common scenarios. State Farm was the cheaper option for homeowners with a recent claim and those with poor credit. Meanwhile, Allstate was cheaper for those living in a new house (built in 2022).
Numbers below reflect average annual rates for $300,000 of dwelling coverage, $300,000 of liability coverage and a $1,000 deductible.
Although State Farm was cheaper in most of our tests, Allstate offers more discounts — so it could end up being the more affordable option for you, depending on your circumstances. We recommend getting quotes from at least three insurance companies to make sure you find the best deal for your home.
When it comes to consumer complaints, State Farm has the edge. It drew fewer complaints to state regulators than expected for a company of its size, according to three years' worth of data from the National Association of Insurance Commissioners. Meanwhile, Allstate had more complaints than expected over the same period.
State Farm and Allstate have robust websites where you can get a quote, pay your bill, learn insurance basics and file or track claims. One nice feature of the Allstate site is a live chat, available 24/7. Meanwhile, State Farm has a virtual chatbot on its main claims page.
Both companies also offer mobile apps you can use to view policy details, pay bills and file claims. Allstate's app has a unique Digital Footprint feature, which helps you monitor personal data by tracking breaches and learning which companies collect your information.
Need customer support? Both companies have networks of local agents you can call, as well as email forms and phone numbers where you can reach a representative.
When it comes to claim satisfaction, State Farm came out a bit above the national average in data analytics company J.D. Power's latest property claims satisfaction study. Allstate was slightly below average.
If you need more than just homeowners insurance, there's a good chance you can get it from State Farm or Allstate. For example, both companies offer auto insurance that you can bundle with your homeowners policy. See NerdWallet's star ratings and reviews for each company's auto policies below.
Here are other types of insurance each company offers.
| | | |
| --- | --- | --- |
| | | |
| | | |
| | | |
| | | |
| | Through a third party (Markel). | |
| | | |
| | | |
| | | |
| | | |
| | | |
| | | |
| | | |
| | | |
| | | |
| | | |
| | Through a third party (GoReady). | |
| | | |
Allstate vs. State Farm home insurance: The bottom line
Both insurance giants are solid options for homeowners insurance, but State Farm has the advantage when it comes to coverage, consumer complaints and rates. However, because Allstate offers more discounts, it could end up being more affordable for your home. It's worth getting quotes from both companies to see which offers the better combination of coverage and price for your home.
Homeowners insurance star ratings methodology
NerdWallet's homeowners insurance ratings reward companies for customer-first features and practices. Ratings are based on weighted averages of scores in several categories, including financial strength, consumer complaints, coverage, discounts and online experience. These ratings are a guide, but we encourage you to shop around and compare several insurance quotes to find the best rate for you. NerdWallet does not receive compensation for any reviews. Read our full ratings methodology for home insurance.
Insurer complaints methodology
NerdWallet examined complaints received by state insurance regulators and reported to the National Association of Insurance Commissioners in 2019-2021. To assess how insurers compare with one another, the NAIC calculates a complaint index each year for each subsidiary, measuring its share of total complaints relative to its size, or share of total premiums in the industry. To evaluate a company's complaint history, NerdWallet calculated a similar index for each insurer, weighted by market shares of each subsidiary, over the three-year period. NerdWallet conducts its data analysis and reaches conclusions independently and without the endorsement of the NAIC. Ratios are determined separately for auto, home (including renters and condo) and life insurance.
Homeowners insurance rates methodology
NerdWallet averaged rates for 40-year-old homeowners from various insurance companies in every ZIP code across the U.S. All rates are rounded to the nearest $5.
Sample homeowners were nonsmokers with good credit living in a single-family, two-story home built in 1984. They had a $1,000 deductible and the following coverage limits:
$300,000 in dwelling coverage.

$30,000 in other structures coverage.

$150,000 in personal property coverage.

$60,000 in loss of use coverage.

$300,000 in liability coverage.

$1,000 in medical payments coverage.
We made minor changes to the sample policy in cases where rates for the above coverage limits or deductibles weren't available.
We used the same assumptions for all other homeowner profiles, with the following exceptions:
For homeowners with a claims history, we added a single wind damage claim.

For homeowners with newer homes, we changed the year the house was built to 2022.

We changed the credit tier from "good" to "poor" as reported to the insurer to see rates for homeowners with poor credit. In states where credit isn't taken into account, we only used rates for "good" credit.

To see the effect of changing your dwelling coverage amount, we changed the limit to $200,000, $400,000 or $500,000. This also changed some of the other coverage limits that were tied to the dwelling coverage amount. For example, the other structures coverage limit is typically 10% of the dwelling coverage amount, so our sample policy with $200,000 of dwelling coverage had $20,000 of other structures coverage.
These are sample rates generated through Quadrant Information Services. Your own rates will be different.
Get more smart money moves – straight to your inbox
Sign up and we'll send you Nerdy articles about the money topics that matter most to you along with other ways to help you get more from your money.