What Is Comprehensive Insurance, and What Does It Cover?
No state requires you to purchase comprehensive coverage, but lenders and car leases might. Here's when you need it.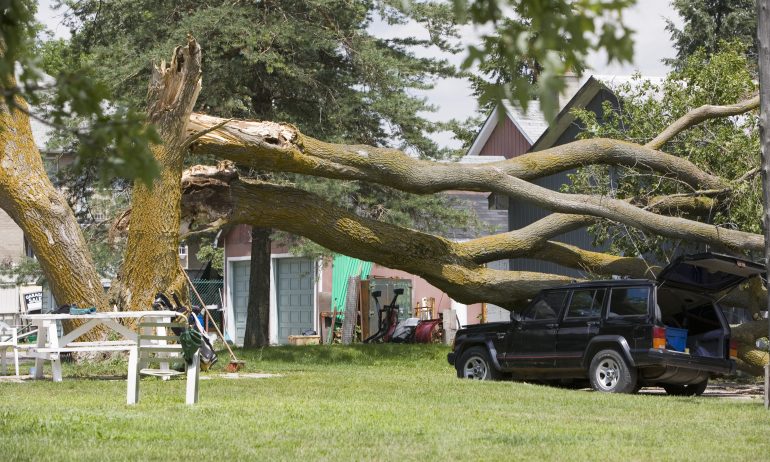 Many or all of the products featured here are from our partners who compensate us. This may influence which products we write about and where and how the product appears on a page. However, this does not influence our evaluations. Our opinions are our own. Here is a list of our partners and here's how we make money.
Comprehensive insurance is like bad luck coverage for your car. It pays for damage to your vehicle from just about anything except a traffic collision or rollover. That includes an array of random events outside of your control, from a chipped windshield or hail dent to explosions or damage from riots.
While comprehensive coverage is optional as far as your insurer and state government are concerned, lenders typically require it if you finance or lease a car.
Here's a little more about what comprehensive car insurance will pay for, plus a quick way to calculate if the coverage is worth what it costs.
Comprehensive insurance covers damage to your vehicle from:
In many states, comprehensive auto insurance also pays to repair glass damage to your windshield.
What's not covered by comprehensive car insurance:
Comprehensive insurance will pay out only up to the total value of your car, minus your deductible. The older and less valuable your car is, the less benefit you'll get from the coverage.
In most cases, comprehensive insurance is subject to a , or a predetermined amount subtracted from a claim check — typically $500 to $1,500.
Say your car was hit by a severe hailstorm, causing $1,500 worth of damage to the roof and hood. If you had a deductible of $500 and filed a comprehensive claim, your insurer would pay out $1,000 to repair the damage (the total repair cost minus your deductible). If the vehicle was destroyed by the hail, your insurer would subtract $500 from before the storm and send you a payment for that amount.
Once the repair cost exceeds the value, or even gets close to it in some cases, the insurer declares a car totaled. You could still opt to fix your car, in which case your insurer would subtract its salvage value from your payout. The car would also be recorded as salvaged on the title. Some auto insurance companies won't cover or will charge more to do so.
Raising your deductible can lower the cost of comprehensive insurance. Just be sure you can come up with that amount out of pocket in an emergency.
Comprehensive insurance is one of several types of coverage often referred to as  when purchased together. Also included in full coverage insurance are liability and collision insurance, plus uninsured motorist coverage in some states.
The average annual cost of comprehensive coverage in the U.S. was about $168 in 2018, the latest year for which data is available, according to the National Association of Insurance Commissioners. This figure includes discounts and may account for group policies that are typically cheaper than a policy you'd buy online.
Keep in mind that you can't buy comprehensive coverage on its own for a car you'll be driving. And in many cases, you can't buy it without collision coverage, or vice versa. This can be because your auto lender requires both, or your insurer requires one to purchase the other.
See info on both types of coverage in our explainer.
Comprehensive coverage becomes less useful as your car's value depreciates over time. That's because the coverage will never pay out more than the vehicle's value minus your deductible. So if you don't have a financing contract that requires it, at some point you may decide to forgo comprehensive insurance.
To figure out when to drop comprehensive coverage, first consider the actual cash value of your car and your deductible. If you have a $1,500 comprehensive deductible on a vehicle worth $1,500, you're paying for insurance that won't pay out when you need it.
Then, consider how much you're paying for the coverage. If the cost of the policy and deductible add up to more than your car's worth, comprehensive coverage won't benefit you.
Even if you decide comprehensive insurance is worth it for now, revisit this math as your car ages and you get new .
Not everyone has a choice about whether to get comprehensive coverage. If you're leasing or financing your car, it's likely required. But if you could drop the coverage, consider the value of your car plus these pros and cons: