Jewelry Insurance: Everything You Need to Know
If you'd be devastated by the loss of your jewelry, jewelry insurance may be a smart investment.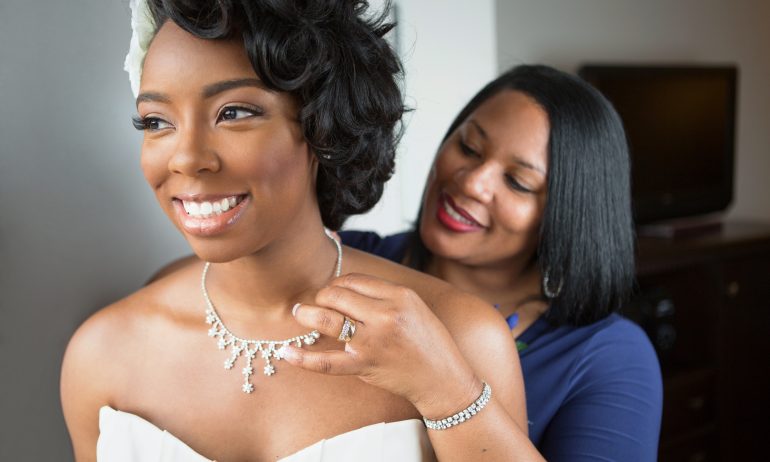 Many or all of the products featured here are from our partners who compensate us. This influences which products we write about and where and how the product appears on a page. However, this does not influence our evaluations. Our opinions are our own. Here is a list of our partners and here's how we make money.
Jewelry insurance pays to replace or repair your jewelry if it's stolen or damaged.

You can get jewelry insurance through your homeowners or renters insurance company or from stand-alone jewelry insurers.

Insurance for jewelry generally costs 1% or 2% of the item's value per year.
If your favorite piece of jewelry disappeared or was badly damaged, would you feel:
Devastated because of its sentimental value?

Crushed because you couldn't afford to replace or repair it?

Reluctant to wear or buy good jewelry again?
If you answered "yes" to any of these questions, jewelry insurance may be worth buying.
Jewelry insurance pays out when your jewelry is damaged or stolen. Some policies also pay for lost jewelry. Below is a roundup of options to help you find the best jewelry insurance for you.
Jewelry insurance from your home insurer
If you have homeowners, renters or condo insurance, that policy probably gives you some jewelry coverage — and more may be available if you need it. Here's how it works.
Personal property coverage on a standard policy
Standard homeowners, renters and condo insurance covers jewelry under the personal property section of your policy (along with other belongings like clothes and furniture).
These policies typically cover your stuff for events such as theft and fire. But they usually won't pay for problems that aren't listed in the policy — like manufacturer defects or dropping your wedding band down a heating vent. They generally won't pay for damage from floods or earthquakes either.
There are a few drawbacks to relying on your homeowners or renters policy to cover your jewelry.
First, there's often a cap on what the company will pay for stolen jewelry, such as $1,500. If you have jewelry worth more than that, your coverage may fall short.
Second, the insurer will subtract your deductible from a claim payout. So if someone steals your $1,500 bracelet and you have a $1,000 homeowners insurance deductible, you'll get only $500 from your insurance company.
Finally, filing a claim for a stolen or damaged piece of jewelry can lead to higher policy premiums.
Consider this option if: You don't own much jewelry or the pieces you own aren't worth more than your policy's jewelry sublimit.
If your existing policy's jewelry limit isn't enough to cover what you own, you may be able to get one of the following types of extra coverage from your home insurer.
Blanket coverage raises the limit your policy will pay out for a given type of valuable item, such as jewelry. For example, if the standard policy offers only $1,500 for stolen jewelry, adding blanket coverage may raise that limit to $5,000 or more. Per-item limits may also apply.
Depending on the insurer, blanket coverage could also expand what your policy pays for, including scenarios like lost or misplaced jewelry. Some companies offer blanket coverage without a deductible.
Consider this option if: You have a collection of jewelry but none of the individual pieces is extremely valuable.
Scheduled personal property coverage
When you "schedule" a piece of jewelry, you buy dedicated coverage for that item. For instance, you may not have any expensive jewelry except your $5,000 engagement ring. Instead of buying blanket coverage for a collection you don't have, you can simply insure the ring.
Unlike a standard homeowners or renters policy, scheduled personal property may include coverage for issues like losing a bracelet while traveling or dropping a ring down a drain. There's often no deductible.
You may need to submit an appraisal (a professional assessment of the item's value) to buy this coverage.
Consider this option if: You have one or more individual pieces that are worth more than your homeowners policy's jewelry limit.
Jewelry warranties and service plans
Jewelry warranties and service plans generally serve different purposes than insurance and pay for different problems.
Warranties typically cover manufacturing defects such as loose stones or structural issues. They won't cover simple wear and tear. Nor will they replace jewelry if someone steals it or you lose it at the beach.
Some jewelry stores require that you bring your jewelry in for inspection regularly — such as every six months — to maintain the warranty.
Consider this option if: You're concerned about structural defects. Your jewelry may automatically come with a warranty.
Your jeweler may offer a service plan to cover work like ring resizing, stone resetting, rhodium plating or repairs to broken prongs. While these plans can fix damaged jewelry, they won't help in cases of theft or loss.
Consider this option if: You think your jewelry has a good chance of being damaged — for example, you wear your engagement ring constantly and lead an active lifestyle.
Jewelry insurance from a specialty company
Companies that specialize in insuring jewelry often offer more comprehensive coverage than your homeowners or renters insurer. For example, they may cover preventive maintenance such as stone tightening or clasp replacement. They may also pay for jewelry lost in a flood or earthquake.
Many stand-alone jewelry policies cover your items on an "all risks" basis, which means they pay for damage from any event unless it's specifically excluded. Some events that jewelry insurance typically won't cover include:
Damage from vermin or rodents.

Intentional loss or damage.
Buying a jewelry policy from a specialty company ensures that if you have to make a claim, it won't affect the cost of your homeowners or renters insurance.
Many of these policies are "repair and replace" policies that pay your jeweler after a claim. That option could work well if you know you'd want to replace a lost piece, but repair and replace policies offer less flexibility than a cash payout.
Consider this option if: You don't want jewelry claims to affect your home insurance premiums, and you plan to replace lost or stolen pieces.
Jewelry insurance companies
If you're looking for stand-alone jewelry insurance, the companies below are worth considering.
Best feature: BriteCo will pay up to 125% of your jewelry's appraised value in case it costs more than expected to replace the item.
Downside: BriteCo doesn't offer a cash payout when you file a claim. Instead, it'll work with the jeweler who sold or appraised the piece to create a replacement.
How it works: BriteCo policies cover your jewelry for theft, loss, damage and mysterious disappearance. They also pay for some maintenance services such as prong retipping and stone resetting. In most states, BriteCo will cover up to $350,000 of jewelry per customer and $150,000 per piece. The company automatically adjusts your coverage level each year to reflect market changes that affect your jewelry's value.
Most of BriteCo's policies have no deductible. You can pay your premium monthly or get a discount for paying annually. You can save on your rate if you store your jewelry in a safe or have a central burglar alarm in your home.
The company's website is sleek and easy to use, with a quick online quote process and an electronic claim form.
Best feature: You can choose from various deductible options, which can help you customize the policy's price.
Downside: GemShield generally provides coverage up to $35,000 per piece and $100,000 total, which are lower limits than some other insurers offer. However, the company will consider higher limits on a case-by-case basis.
How it works: GemShield sells "repair and replacement" coverage. That means if your jewelry is lost, stolen or damaged, the company will work with your jeweler to fix the item or create a new one. You can use the same jeweler where you bought the item or choose a different jeweler from GemShield's network.
GemShield's policies cover theft, loss, mysterious disappearance, damage, floods and earthquakes. They also include 30 days of limited coverage for new jewelry you buy. You must submit an appraisal for any piece worth $5,000 or more. For items worth less, a detailed receipt may be sufficient.
You can get an online quote in a few minutes. If you need to file a claim, you can call the company or submit the details online.
Best feature: Discounts may be available for having a home security system, storing your jewelry in a safe deposit box or inscribing your jewelry with an identification number from an industry partner.
Downside: Jewelers Mutual doesn't offer monthly payment options, though other payment plans may be available if your annual premium is more than $200.
How it works: Founded in 1913 by a group of jewelers, this company has more than a century of experience in providing jewelry insurance. It covers loss, theft, mysterious disappearance, damage, floods and earthquakes. It may also pay for preventive repairs such as fixing bent prongs or restringing broken strands of pearls.
You can get a quote online and adjust your price by changing your deductible (or not having a deductible at all). You can file claims online or by phone. Jewelers Mutual will pay your jeweler of choice to repair or replace your jewelry; there's no option for a cash payout.
Even if you don't get an appraisal every year, Jewelers Mutual will make sure your coverage keeps pace with market changes by adjusting your limit each year. The company may also cover new jewelry for 30 days after you buy it.
Best feature: Lavalier offers an "unscheduled jewelry endorsement" that can cover a group of items worth less than $1,000 each, with no appraisals required. It's a good option if most of your collection isn't highly valuable but you still want to insure it.
Downside: There's no monthly payment option. Instead, you'll pay your premium annually.
How it works: Lavalier covers loss, theft, damage and mysterious disappearance plus claims resulting from floods or earthquakes. It also offers limited coverage for new jewelry. Its maximum limits are generally $50,000 per piece and $150,000 total, but you may be able to request more coverage.
Lavalier lets you customize your premium with multiple deductible options. You can get discounts for having a home alarm or safe, getting a gemstone grading report from an authorized provider or keeping your jewelry in a bank vault or safe deposit box.
You can make a claim through your online account or by contacting customer service. Lavalier will pay your chosen jeweler directly to fix or replace your item.
How much is jewelry insurance?
Stand-alone jewelry insurance policies generally cost 1% to 2% of each item's value. The price of a policy can vary based on:
The number of pieces you're insuring and their individual values.

Whether the policy reimburses actual value (the cost minus depreciation) or replacement value (the cost to replace it today). In rare cases, there may be a third option. Some companies let you insure heirloom pieces or other difficult-to-replace jewelry on an agreed value basis, which means the insurer will pay out the value stated in the policy.
You may be able to get a discount on jewelry insurance by:
Having a home security system.

Storing the jewelry in a home safe or bank deposit box.

Registering the jewelry with a third party such as Gemprint or Forevermark.
You can usually get jewelry insurance quotes online or over the phone. Once you have a quote, your coverage may begin as soon as you've made a payment. You may need to submit an appraisal or detailed receipt to get coverage.
How does jewelry insurance work?
Jewelry insurance works similarly to other types of insurance. You pay the premiums, and the insurance company will reimburse you if your jewelry is damaged or stolen, minus your deductible. But how that scenario plays out depends on the details of your policy.
To avoid unpleasant surprises, it's important to understand what's covered and how your insurer will compensate you. Many insurance companies say they'll pay for "repair or replacement" of damaged or stolen jewelry, but get specifics about how those payments will work. Ask the company:
Will the policy pay if I damage or lose my jewelry by accident?

Will the policy cover my jewelry if I give or receive it as a gift?

Does my coverage change when I'm traveling?

Will the insurer offer me the cash value of a lost item, or will it pay a jeweler to replace it?

Can I choose my own jeweler for repair or replacement?

If I own custom jewelry, will my policy pay for a new piece, or will I be required to accept something "comparable"?
Is jewelry insurance worth it?
It depends on how important your jewelry is to you. If you've invested a lot financially and emotionally in your jewelry, buying insurance for it is a wise move. But if you wouldn't feel the need to replace your jewelry if it were lost or stolen, insurance may not be worth it, no matter how expensive the item is.
You might also want to consider how often you wear your jewelry. An engagement ring that's on your finger every day has a greater chance of being lost or damaged than a diamond necklace that sits in a bank safe for years on end.
Frequently asked questions
Does homeowners insurance cover lost jewelry?
Does renters insurance cover jewelry?
How do you get jewelry appraised for insurance?
Can I get jewelry insurance for an item I give as a gift?
Get more smart money moves – straight to your inbox
Sign up and we'll send you Nerdy articles about the money topics that matter most to you along with other ways to help you get more from your money.