How to Find the Best Wedding Insurance
Glitches on your wedding day can be stressful. Wedding insurance may help you breathe a little easier.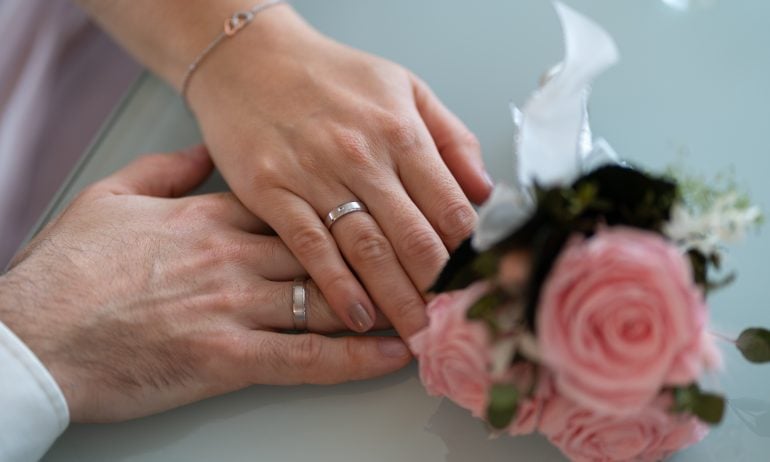 Many or all of the products featured here are from our partners who compensate us. This influences which products we write about and where and how the product appears on a page. However, this does not influence our evaluations. Our opinions are our own. Here is a list of our partners and here's how we make money.
Wedding insurance covers you if something spoils your big day, such as extreme weather or a no-show vendor.

Your policy can also cover liability issues like an injury on the dance floor or damage to your venue.

Wedding insurance costs range from less than $100 to more than $1,000.
Wedding insurance covers you if something spoils your big day, such as extreme weather or a no-show vendor.

Your policy can also cover liability issues like an injury on the dance floor or damage to your venue.

Wedding insurance costs range from less than $100 to more than $1,000.
You've put months of planning and thousands of dollars into your wedding day — which means you've got a lot to lose if anything goes wrong.
If you have nightmares about your photographer not showing up or a blizzard snowing on your parade, wedding insurance may help you sleep a little easier. Here's what you need to know.
Get home insurance quotes in minutes
Answer a few questions to see custom quotes and find the right policy for you.
What is wedding insurance?
Wedding insurance can pay for damage or injuries that occur during the big event, or reimburse you if it's postponed or canceled. Depending on the policy, your insurance may cover not just your ceremony and reception, but also your rehearsal dinner or farewell brunch — plus the setup and takedown for the main event.
Some policies will also reimburse you for nonrefundable honeymoon expenses if your wedding is canceled or postponed for a covered reason.
Wedding insurance is a type of event insurance, so you may see it sold by companies that also insure things like anniversary parties and festivals.
What does wedding insurance cover?
Wedding insurance policies generally offer two main types of coverage, which you can buy separately or together.
Wedding liability insurance
Liability coverage pays for injuries or property damage that happen during the event. For example, it could cover medical costs if someone gets sick at your wedding, or it could pay for a broken mirror at the venue if the action on the dance floor gets a little out of control.
This coverage often includes host liquor liability insurance, which protects you financially if you're planning to serve alcohol at your wedding. Say a guest has too much to drink and crashes into another car on their way home. If the other driver sued you to pay for their injuries and vehicle damage, host liquor liability could cover your legal defense.
You may also be able to add medical payments coverage to your policy. This would cover relatively small payouts for injuries, even if you're not at fault.
Wedding liability limits generally range from $500,000 to $5 million. Some policies have no deductible, while others require one for property damage coverage. A deductible is the part of a claim you'll need to cover yourself.
Wedding cancellation or postponement insurance
This coverage reimburses you if you have to cancel or delay your wedding for reasons beyond your control. The policy can help pay for a new ceremony and reception.
Here are a few sample scenarios when this coverage might come in handy:
A hurricane hits your beachfront venue the week before your wedding, and it's too damaged to hold the event.

You scheduled your wedding during the bride's military leave, but the army calls her back to active duty.

The mother of the groom has a stroke two days before the wedding.

Your caterer goes bankrupt and you can't find another one at the last minute.
Cancellation insurance often comes with other types of coverage. Many of them are designed to help if things go wrong but the wedding goes ahead as planned. Below are a few common ones. Note that separate deductibles may apply to each of these coverage types.
Additional expenses. This coverage pays unexpected costs to help you avoid canceling or postponing your wedding. For example, if your DJ backs out but you're able to find another one for a slightly higher price, this coverage could pay the difference.
Photography and video. If your photographer doesn't show up or the videographer loses the footage from your wedding, this coverage can help. Some policies reimburse the amount you were supposed to pay for that vendor's services. Other policies go further and will pay for the wedding party and immediate family to get together again and recreate the lost photos or video.
Gifts. This coverage can pay if someone breaks into your car to steal your wedding presents or drops a gift box filled with fragile china. However, coverage for cash, checks or gift cards is typically limited.
Special attire. If something happens to your bridal gown or tux, this coverage will pay to repair or replace it.
Special jewelry. This section of your policy covers jewelry purchased or rented specifically for the wedding, such as wedding bands. Note that this coverage generally doesn't include your engagement ring. (For that, jewelry insurance may be a wise purchase.)
Loss of deposits. If a vendor goes out of business or doesn't provide the service they agreed to, this coverage can reimburse you for the deposits you put down.
Professional counseling. If you're distressed by the cancellation of your wedding for a covered reason, many policies will pay for counseling for a certain period of time.
What wedding insurance doesn't cover
You can get a wedding policy to cover just about anything outside of your control that messes with your big day. However, most policies don't pay for things like:
Cold feet or a change of heart, with few exceptions.

A rainy day, rather than extreme weather.

Theft or loss of your engagement ring.

Deciding to switch to a different vendor, such as a caterer or florist, once you've already paid a deposit.

Cancellation, postponement or liability claims due to COVID-19.

Photos or videos that aren't as good as you'd hoped.

Known or pre-existing conditions. Say your father had heart problems at the time you bought the policy. If he has a heart attack the day before your wedding and you have to postpone the event, your policy might not pay.
If your wedding includes fireworks, bounce houses, live animals or other attractions insurers find risky, your insurer might decline your policy. Other insurers may still offer you a policy but exclude problems involving these types of attractions.
How much does wedding insurance cost?
Wedding insurance can cost less than $100 for liability coverage only, while premiums for larger cancellation policies can be over $1,000. How much you pay will depend on the number of guests attending, what types of coverage you purchase, the deductibles you choose and the limits of your policy. Some companies offer a discount if you purchase liability and cancellation coverage together.
Do you need wedding insurance?
You may need to buy wedding liability insurance if your venue requires it. Otherwise, the decision is up to you.
Depending on your circumstances, you may already have some coverage in place. For example:
If a relative or friend is hosting the event at their house, their homeowners insurance — and umbrella insurance, if they have it — covers liability. However, they should ask their insurance agent about liquor liability and whether they have coverage if a drunken guest causes a car accident after leaving.

Your venue may have liability insurance of its own, so you wouldn't need overlapping coverage. For example, a banquet hall likely has its own policy, but ask about what it does and does not cover.
When it comes to cancellation insurance, consider the following:
Have you put down a lot of money in nonrefundable deposits?

How much would you stand to lose if you had to cancel or postpone your ceremony?

Would having wedding insurance give you peace of mind?
Depending on the answers to these questions, buying wedding insurance may be worth it to you.
Get home insurance quotes in minutes
Answer a few questions to see custom quotes and find the right policy for you.
When to buy wedding insurance
Insurers generally recommend getting your policy as soon as you start putting down deposits. Some companies let you get coverage up to two years before the big day.
However, if you're already in the midst of planning, it's not too late. You can buy liability coverage up to the day before the event in many cases. In order to get coverage for extreme weather, you may need to get cancellation insurance at least 15 days before the wedding.
Where to buy wedding insurance
Below are a few wedding insurance companies to consider.
Overview: If you're looking for a policy with no deductibles, eWed might be a good choice. Its policies can cover your rehearsal dinner, ceremony, reception, after-party and farewell brunch. The company can also reimburse you for nonrefundable honeymoon expenses if you cancel your wedding for a covered reason.
Liability policies from eWed include host liquor liability at no extra charge. You can also add medical expense coverage to pay for injuries, regardless of fault. The company offers cancellation insurance with coverage limits from $5,000 to $100,000.
Unlike some other wedding insurers, eWed covers events only in the United States, so it may not be the best option for destination weddings.
Cost: The company advertises cancellation policies starting at $75 and liability policies starting at $119.
Overview: Markel offers a 15% discount on its wedding insurance policies if you buy both liability and cancellation coverage. In addition to the ceremony and reception, Markel can cover setup and takedown within 24 hours of the event and a rehearsal dinner up to 48 hours before the wedding.
Markel will refund your liability policy if it doesn't meet your venue's insurance requirements. Liability coverage is available up to $2 million. Host liquor liability is included, but if you won't be serving alcohol, you can remove it for a premium credit.
Markel charges $25 deductibles for each coverage type within its cancellation policies, plus a $1,000 deductible for property damage.
Cost: Markel lists rates of $75 to $235 for liability coverage. Its cancellation policies start at $130.
Overview: Founded in 1864, Travelers is one of the biggest insurance companies in the U.S. The core of its Wedding Protector Plan is cancellation insurance, with liability coverage as an optional add-on. Policies are available to residents of all U.S. states except Alaska, Hawaii and Louisiana.
The Wedding Protector Plan can cover large and lavish events, with cancellation coverage up to $250,000 in many states. Its photo and video coverage can pay to get the wedding party and family members together again to shoot new images or footage if something goes wrong the first time.
Unlike some other providers, Travelers charges extra for host liquor liability coverage.
Cost: Travelers advertises cancellation policies starting at $160 and liability coverage starting at $165.
Overview: You can buy a WedSafe policy up to the day of your wedding, though you'll need to get cancellation insurance at least 15 days before to have coverage for severe weather.
If you're planning to serve alcohol at your wedding, WedSafe will automatically include host liquor liability in its rates for liability policies. The company offers a 15% discount if you buy both cancellation and liability insurance.
WedSafe has cancellation coverage limits between $7,500 and $175,000. A $25 deductible applies for each category of coverage, such as special attire or gifts. There's a $1,000 deductible for property damage claims on the liability policy.
Cost: WedSafe doesn't publicize its rates, but you can get an online quote to see how much you can expect to pay.
Overview: Wedsure offers many ways to mix and match your wedding insurance, with a range of coverage types, limits and deductibles to choose from. The company offers aggregate liability limits up to $5 million, with higher limits available by phone. This coverage automatically includes host liquor liability.
Unlike most wedding insurers, Wedsure offers cancellation coverage for change of heart, though conditions apply. For example, the person paying for the wedding must be someone other than the bride or groom, and must not have had any idea that either of them had thoughts of calling things off.
Wedsure's photo and video coverage also stands out. If one of these vendors doesn't show up or fails to deliver what they promised, Wedsure will help you reconvene your family and the wedding party to recreate the lost images or video. It will even pay for things like travel expenses, flowers and a new cake, as long as your coverage limit is high enough.
Cost: The company advertises cancellation and liability policies starting at $125 each.
Tips for buying the right wedding insurance policy
Look over your existing homeowners and renters insurance policies — or those of any relatives hosting or paying for the wedding — to see whether existing liability insurance will cover you.

Check the deductibles. If a vendor doesn't show up, and the deductible is higher than the deposit for that vendor, you'll swallow the cost for that lost deposit.

Choose the right coverage limits. For cancellation coverage, you'll want the limit to be close to your wedding budget, including the honeymoon.

Read the terms and conditions. Many companies offer sample policies you can look at before you commit. Pay particular attention to the "exclusions" sections to understand what will and won't be covered.

Verify the refund policy. Some wedding insurance policies are nonrefundable.
Frequently asked questions
What are the most common wedding insurance claims?
Does wedding insurance cover destination weddings?
Does wedding insurance cover COVID-19?
Get more smart money moves – straight to your inbox
Sign up and we'll send you Nerdy articles about the money topics that matter most to you along with other ways to help you get more from your money.