The Cost of Extreme Sports: From Pricey Gear to High Life Insurance Rates
Extreme sports can carry a high price in more ways than one.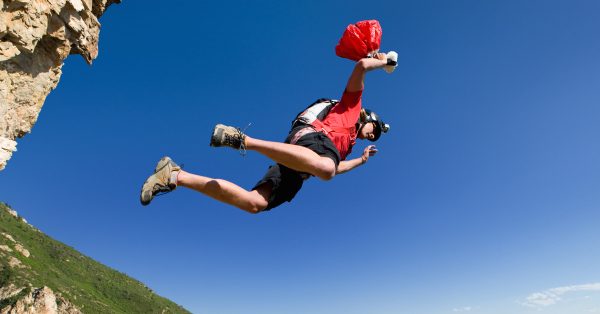 Many or all of the products featured here are from our partners who compensate us. This may influence which products we write about and where and how the product appears on a page. However, this does not influence our evaluations. Our opinions are our own. Here is a list of our partners and here's how we make money.
If extreme sports aren't enough to get your heart pumping, the dent they can put in your wallet should do the trick.
A host of underlying costs come with seeking an adrenaline rush, including for equipment, memberships, certification courses and — possibly — higher life insurance rates.
To get a picture of how expensive each extreme sport can be, NerdWallet asked experts about some of the common costs associated with these activities. We found, for example, that the casual scuba diver might spend around a thousand dollars for gear and training. That cost jumped past $6,000 for the extreme diver seeking advanced certification. A casual climber might spend a few hundred dollars on gear and a gym membership, but an extreme climber seeking higher peaks could easily fork over several grand.
How life insurance rates are affected
The disparity in costs was also found in life insurance. Hallett Financial Group, an independent insurance brokerage in Minneapolis, ran rates for different scenarios for a healthy 40-year-old man seeking a 20-year policy worth $1 million. Rates reflect a buyer's risk level based on criteria such as age, gender, health and hobbies.
Our study found that many casual hobbies, such as rock climbing, won't affect your rate at all if you're buying life insurance. But if you take that hobby to extreme ends, your rate will likely be higher.
We found an insurance bargain among the extreme sports we included: Heli-skiing came in with the lowest life insurance rate for enthusiasts. Extreme rock climbing delivered the biggest hike to the price.
Of course, the actual costs of participating in extreme sports will vary widely, depending on where you live and your preference for gear, training and other factors. But here are some of the costs to consider when deciding whether that thrill is worth the bill.
The cost of extreme sports
The following table provides an overview of the costs of gear and other sport-related expenses, as well as the median monthly life insurance rates for sports enthusiasts for a 20-year, $1 million policy.
*Note: In all examples except car racing, the casual sports enthusiast had the same median monthly insurance rate of $67.38 as someone who didn't participate at all in the sport.
Estimated activity-related costs: Starting around $400 for the casual climber and $3,000-plus for the extreme enthusiast.
Expenses won't be high for someone who climbs at an indoor rock-climbing wall twice per week. According to Ed Crothers, director of the climbing instructor program and accreditation for the American Mountain Guides Association in Boulder, Colorado, here are the main costs a casual climber could expect:
Climbing harness: $50 to $150

Belay device: $15 to $100

Locking carabiner: $12 to $20

Gym membership annual rates can range from $300 to $600. Daily rates can be anywhere from $10 to $25, depending on the facility.
Because the casual climber's hobby isn't very risky, it won't affect his life insurance rates. A 20-year term policy of $1 million would cost about $67.38 per month.
Spending skyrockets for the more adventurous climber who is trying to tackle higher peaks that can be more dangerous. The type of equipment needed will vary by the type of climbing being done — rock climbing or ice climbing. Gear will also vary depending on the conditions of the climb, such as the altitude or weather. His costs could include:
High-end technical clothing system: $2,000 to $3,000

Rock-climbing shoes: $75  to $175

Mountaineering boots: $250 to $1,000 for people who would be climbing in really cold conditions. On average, expect to spend around $400 to $500 for footwear.

Crampons for snowy or icy conditions: $125 to $175

Climbing helmet: $50 to $150

Working one-on-one with a climbing instructor: $250 to $400 per day

A multi-day group course for specific skills: $200 per day

The price for permits can vary dramatically, depending on the mountains. A Mount Rainier climbing permit costs just $45 per person, while the mountaineering special use fee for Denali is $365.
Most life insurance companies declined the extreme climber altogether in our survey. One that didn't decline quoted a monthly rate of $779.63. Another life insurance company said it would charge a rate of $153.45 per month if future climbs are 20,000 feet or lower in elevation or $603.45 per month for climbs that are 20,001 to 25,000 feet in elevation. If the extreme climber wants to go above 25,000 feet — such as the 29,029-foot-high Mount Everest — he's unlikely to be able to buy a term life insurance policy at all.
Estimated activity-related costs: Around $1,000 for the casual scuba diver and $6,000 and up for the extreme diver.
Let's say our guy dives once a year while on vacation. Mike Olson, president of the Scuba School and Dive Center in Fort Lauderdale, Florida, outlines some of the costs the casual diver can expect to spend:
Training certification for a basic open water course: $600

Rental gear package: $40 to $60

Rental package costs assume that the casual diver has personal gear purchased during the beginner scuba certification course, according to Bill Legler, northeast regional representative for the National Association of Underwater Instructors (NAUI) Worldwide. That gear averages $300 and includes a mask, snorkel, fins, gloves and boots.
This hobby won't affect prices on a term life insurance policy since this person rarely goes scuba diving, always has a buddy with him and never dives deeper than 60 feet. A 20-year term policy of $1 million would cost a median price of $67.38 per month.
But what if he explores underwater wrecks and caves five times per year without diving deeper than 150 feet? Olson says the advanced diver's costs could include:
Professional Association of Diving Instructors (PADI) certification, which includes an advanced open water course to dive to 100 feet ($400 to $500); five different specialty courses ($150 to $290 each plus $60 boat trip tickets per course); and a minimum of 50 dives total to apply for the Master Scuba Diver certification ($60 boat ticket for each dive)

Private gear including mask, snorkel and safety marker: $220 and up

Basic scuba equipment package including regulator and buoyancy control device would start around $800, while a more advanced package could cost roughly $2,000 to $2,500, according to Legler

Air refill for each dive: $5 to $8
Because of the extreme diving, he'll pay an extra $2.50 or more per thousand dollars of coverage. His median policy price is $378.45 per month.
Estimated activity-related costs: Around $450 for the casual skydiver and more than $4,500 for the extreme jumper.
A casual hobbyist might jump only once or twice, in tandem with an instructor, and not be affiliated with any skydiving clubs. Nancy Koreen, director of sport promotion for the U.S. Parachute Association in Fredericksburg, Virginia, outlines some of the main costs a casual skydiver can expect:
First tandem jump: $150 to $250 for jump, gear rental and ground training

Accelerated freefall jump: $300 for jump with two instructors, gear rental and ground training
If you don't plan to skydive again, your rate life insurance rates won't be affected. It stays at the median of $67.38 per month.
What if the diver's life revolved around jumping out of planes? Say he works for a movie production company as a stuntman specializing in skydiving. Add in membership in a skydiving club and 45 to 50 jumps per year. Expenses include:
Cost of 25 jumps with an instructor before getting a skydiving license: $100 to $250 each. Previous jumps count toward the 25, so the additional cost could be minimal. The skydiving license will be issued upon the completion of a course.

Parachute system including parachute, reserve parachute and automatic activation device: $2,000 (used) to $8,000 (new)

Membership in the U.S. Parachute Association: $55
A professional stunt person doing many jumps a year will have a difficult time getting any term life insurance coverage. Two companies in our survey were willing to offer policies: One had a rate of $5 extra per thousand dollars of coverage for a total of $379.22 per month; the other offered a rate of $7.50 extra per thousand dollars of coverage for a total of $535.85 per month.
Estimated activity-related costs: Around $3,000 for the casual racer (not including the car) and more than $100,000 for the extreme driver (including the car).
A casual racer might take his Porsche out on a closed paved track four times per year and clock speeds topping 160 miles per hour. According to Molly McCarthy, sponsorship and communications coordinator at the National Auto Sport Association, costs might include:
Gas: $50 to $100 per race weekend

Racing radio: $800 to $900

Clothing: $600 to $1,000 (a fire suit is not always required)
Heyward Wagner, director of experiential programs at Sports Car Club of America, says in order for the casual racer to get his car into shape for the track, he'll need:
Track-specific brake pads: $80 to $250

Track-appropriate tires: $800 to $1,500

Maintenance: $200 to $400
This type of racing can affect your life insurance rate. If top speeds are over 160 mph, a policy would have a minimum of $3.50 per thousand dollars of coverage tacked on. Expect to pay a median of $123.38 per month for a $1 million 20-year term life policy.
A professional driver's costs will vary greatly, depending on the speed of the vehicle and the types of competitions he enters. Some professionals will have vehicles built for them and all expenses, including competition fees, will be paid for by sponsorships. To purchase and outfit his own vehicle, Wagner estimates the extreme racer will spend:
Competitive car with all safety clothing and equipment: roughly $10,000 to $100,000
Some insurance companies declined to offer any life insurance policy in our survey. Others added on an extra charge ranging from $3.50 to $7.50 per thousand dollars of coverage. If this extreme racer qualifies for a term policy, he can expect to pay a median of $566.34 per month.
Estimated activity-related costs: Around $1,150 for casual snow sports and more than $10,000 for the extreme enthusiast, assuming neither rents gear.
Casual snow sports participant
Let's say this person lives in ski country and hits the slopes 50 times per year with a Rocky Mountain season ski pass. Gear and equipment costs, based on items from outdoor retailers REI and Evo, could include:
Ski bindings: $70 to $750

Snow jacket: $60 to $1,300
Most insurers don't see casual skiing or snowboarding as presenting a significant risk of death, so those activities aren't factored into the pricing. A term life policy will cost a median of $67.38 per month.
Extreme snow sports enthusiast
Let's say our guy snowboards on the weekends at local resorts in Wyoming and goes heli-skiing eight times per year with a professional guide. Costs, also based on items from outdoor retailers REI and Evo, could include this gear for the advanced to expert snowboarder:
Snowboard: $200 to $1,250

Snow jacket: $60 to $1,300
These costs would be for the advanced to expert skier:
Adjustable ski poles: $60 to $150

Avalanche air bag: $450 to $1,500

Avalanche transceiver: $200 to $500
Life insurance rates rise for the extreme skier or snowboarder. Some companies declined to offer term life insurance for the extremist in our survey, while most others added on an extra $2.50 per thousand dollars of coverage. The median price for life insurance would be $347.59 per month.
Regardless of whether you consider your activities casual or extreme, life insurance is an important consideration if you want to protect your loved ones from any unexpected event. NerdWallet's life insurance comparison tool makes it easy to find rates.
---
Get more smart money moves – straight to your inbox
Sign up and we'll send you Nerdy articles about the money topics that matter most to you along with other ways to help you get more from your money.