Life Insurance for Smokers — and Quitters
Smokers will pay more for life insurance than nonsmokers, but quitting can help you save.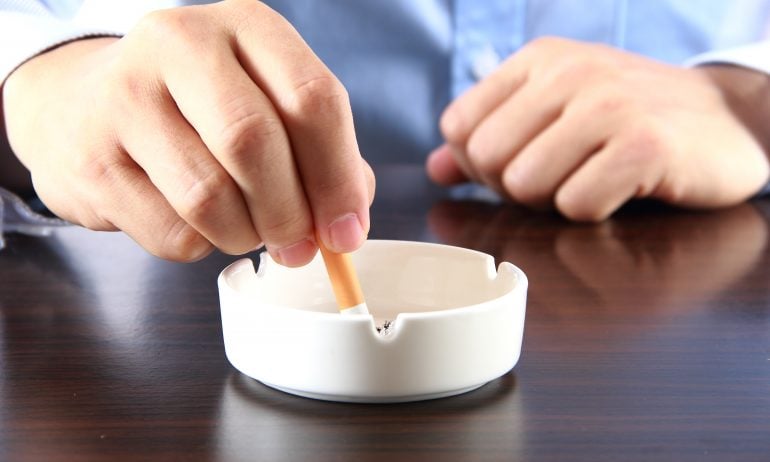 Many or all of the products featured here are from our partners who compensate us. This may influence which products we write about and where and how the product appears on a page. However, this does not influence our evaluations. Our opinions are our own. Here is a list of our partners and here's how we make money.
If you're a smoker, you probably already know the habit comes with health risks that can be costly. Cigarette smokers are 15 to 30 times more likely than nonsmokers to get lung cancer or die from it, according to the Centers for Disease Control and Prevention.
Because of this increased risk, life insurers charge more if you smoke. A NerdWallet analysis of 2021 rates shows smokers could pay five times as much as nonsmokers for a 20-year term life insurance policy with a $500,000 death benefit.
Life insurance companies have different criteria when it comes to insuring people who smoke, and each company evaluates them differently. Here's what you need to know about life insurance for smokers.
While cigarettes are likely the first thing to come to mind when discussing smoking, life insurance companies may also consider you a smoker if you use tobacco or nicotine in other forms, including:
Marijuana use is viewed differently. Some life insurance companies are more lenient on people who occasionally smoke marijuana, and may not classify them as smokers.
Typically applicants must have refrained from smoking cigarettes for at least 12 months before applying for life insurance to qualify for nonsmoker rates at most companies. To get the best rates, you'll need to have been smoke-free for about five years.
Some companies allow you to smoke an occasional cigar — with limits of four to 24 cigars a year, depending on the company — without labeling you a smoker.
Smokers will pay more for life insurance than nonsmokers due to the increased health risks of smoking. A recent NerdWallet analysis found that a 40-year-old male smoker could pay 500% more than a nonsmoker for a $500,000 20-year term life insurance policy.
Insurance companies categorize customers into groups based on their health and habits, which affect the rates they pay. Most companies use the following groups:
Here are average annual life insurance rates for smokers and nonsmokers for a 20-year term life policy for $500,000.
Here's how to get the best rates if you're a life insurance shopper who smokes or has recently quit. If you still smoke but want to quit, there are some additional tips to keep in mind.
from several companies since some insurers are more lenient than others about nicotine use.
Don't lie on a life insurance application about smoking. Lying is fraud, and insurance companies have ways of ferreting out the truth.
Inform your insurer if you use alternative nicotine products, like nicotine gum or patches. If you don't take this step, the will show that you're a smoker, and the insurance company won't know otherwise.
Enroll in a smoking-cessation program. Many employers and organizations offer them for free, and you can find tips and resources on the federal government's website. You may even qualify for a discount on your insurance premium if you participate in a smoking-cessation program. If you purchased life insurance as a smoker and then quit, ask your life insurance company how to qualify for nonsmoker rates.
Don't put off buying life insurance, leaving your family vulnerable, until you quit smoking. Find the best-priced coverage you can as a smoker and ask about how to get reclassified as a nonsmoker once you've quit. This locks in coverage for you, in case you develop other health problems in the future that make you uninsurable or that make rates prohibitively expensive. Be aware that you may need to go through another medical exam to secure nonsmoker rates.
If you start smoking after buying a life insurance policy, it's possible your insurance company may never know. However, life insurance companies have a , up to two years after you purchase your policy. If you were to die during this period and it was discovered that you were smoking or using other tobacco products, your beneficiaries may not receive the death benefit.
Life insurance companies will be able to detect nicotine or tobacco in your body through the medical exam, and they may ask to review your medical records before issuing a policy. If you indicated that you're a nonsmoker on the application and the exam shows otherwise, you may be denied life insurance.
You won't be denied life insurance solely because you smoke, though you'll probably pay more than someone who doesn't smoke. Many life insurance companies offer coverage for smokers.