Personal Cyber Insurance: A Complete Guide
Personal cyber insurance can help you recover after a cyberattack or other online crime.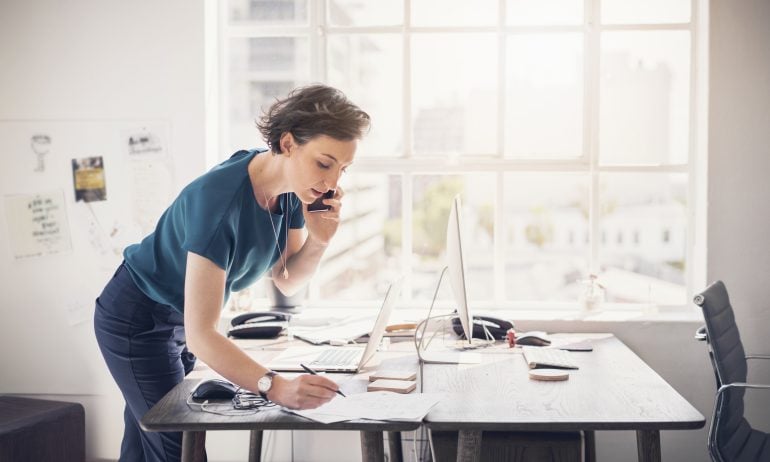 Many or all of the products featured here are from our partners who compensate us. This influences which products we write about and where and how the product appears on a page. However, this does not influence our evaluations. Our opinions are our own. Here is a list of our partners and here's how we make money.
Your "Internet of Things" — that network of smart TVs, video game consoles, refrigerators and thermostats that makes your life easier — poses a security threat. To combat the financial risk of someone hacking into your home network or putting malware on your computer, you may want to consider personal cyber insurance.
What is personal cyber insurance?
Personal cyber insurance can help you recover from data breaches, online fraud, cyberbullying and other cybercrimes. Say you click on a link in an email that installs malicious software on your computer, giving a hacker access to your data. Personal cyber insurance could reimburse you for professional IT services to recover your data or even help you pay a ransom if the hacker holds your files hostage.
Like other types of insurance, personal cyber insurance won't keep problems from happening — but it can help you recover if it does.
Get home insurance quotes in minutes
Answer a few questions to see custom quotes and find the right policy for you.
What personal cyber insurance covers
Each personal cyber policy is a little different, but you may see coverage for things like: 
Cyberattacks. If malware infects your laptop or someone hacks into your home network, insurance could cover the cost of restoring systems and recovering data.

Cyber extortion. Cyber extortion is when someone holds computer access, files or other data hostage in exchange for a ransom. Personal cyber insurance often offers access to professionals who can help you evaluate and respond to this type of demand. If they decide the threat is credible, your policy can reimburse you for the ransom payment, up to your coverage limit.

Online fraud or identity theft. This category may cover things like illegal bank or credit card transfers, counterfeit money, check forgery or phishing attacks. Note that some insurance companies offer identity theft insurance as a separate add-on, while others combine it with personal cyber coverage. Learn more about identity theft insurance.

Data breaches. Personal cyber insurance may help if someone steals your personal information, publishes it online or posts false information about you. For example, it can pay for legal fees, lost wages and a forensic IT review to find out what went wrong.

Cyberbullying. If someone is harassing you or your child online, personal cyber insurance can reimburse you for expenses such as counseling, temporary relocation, private tutoring or monitoring of social media accounts.

Deceptive transfer fraud. If you mistakenly send money to a criminal, thinking you're helping a family member in distress or paying a legitimate company, personal cyber insurance can reimburse the lost funds.
Note that insurance will generally cover only new events, so you can't buy a policy the day after someone hacks your computer to help you clean up the problem.
How much does personal cyber insurance cost?
Personal cyber coverage can be relatively inexpensive, starting at less than $3 a month when you add it to an existing homeowners or renters insurance policy. The cost depends on where you buy the policy and how high of a coverage limit you choose.
How to get personal cyber insurance
Personal cyber coverage is available from some insurance companies as an optional add-on to a homeowners, renters or condo policy. Alternatively, you can buy a stand-alone personal cyber policy from a company like NFP or Blink.
Here's a rundown with a few of your options.
You can add the Family CyberEdge endorsement to an AIG homeowners policy to cover issues including cyberattacks, cyberbullying and cyber extortion. The coverage can pay to hire a crisis management firm if a cybercrime affects your reputation. It also includes identity monitoring services for two members of your household, even if you haven't had to file a claim.
If you want personal cyber coverage but it isn't available from your own insurer, consider a stand-alone policy from Blink. The company offers three levels of coverage, ranging from $10,000 to $100,000. Policies cover a wide range of incidents, including cyber extortion, identity theft, financial fraud and breach of privacy. Blink will pay for you to relocate if you can't access your home due to an attack on its automation system. It can also pay to fix or replace devices damaged in a cyberattack.
Blink's parent company, Chubb includes some identity theft and cyber coverage with its standard homeowners insurance policies, which can pay to replace damaged electronic data property or restore your identity. Add a Masterpiece Cyber Protection policy for higher limits plus coverage for things like cyberbullying, cyber extortion and loss of funds after a cyberattack.
You can add $25,000, $50,000 or $100,000 worth of personal cyber insurance to a Cincinnati homeowners, condo or renters policy. (Certain policyholders may be able to get a $250,000 limit.) The policy can help you restore data and home systems after a malware or other attack to your computer, phone or other smart device. It can also assist with cyber extortion and online fraud.
Farmers' Cyber and Identity Shield product includes coverage for online fraud losses, identity theft recovery and taking down false information published about you on the web. If your child falls victim to cyberbullies, Farmers can help with expenses like counseling and tuition fees. You can also get help with removing ransomware from your computer.
The Hanover's personal cyber add-on covers recovery after a cyberattack, many types of online fraud (including identity theft) and advice on dealing with cyber extortion. It also pays for private tutoring, legal expenses and other costs if someone bullies your child online. The Hanover offers coverage limits up to $100,000, plus credit monitoring after a claim.
Mercury's Home Cyber Protection endorsement is available as an add-on for homeowners and renters policies. You can choose a $25,000 or $50,000 limit to cover cyberattacks, online fraud and cyber extortion. The company also offers consultations with cyber extortion experts. A $500 deductible applies per occurrence.
Nationwide's identity theft protection comes with software that can help safeguard your online data against ransomware, spyware and phishing. It can also help with data recovery, device cleanup and home network restoration after a cyberattack. Security experts are available by phone to offer advice and assistance.
Insurance broker NFP offers a standalone personal cyber policy called DigitalShield, which bundles coverage for eight different scenarios, including cyberbullying, identity theft and ransomware. The policy also includes resources for dealing with cyberstalking and will pay to restore smart devices or wearables targeted by a cyberattack. Coverage limits range from $100,000 to $1 million.
Pure, which insures high-value homes, offers coverage limits from $100,000 to $2 million. You can add its cyber endorsement to a homeowners policy to cover both online and offline fraud, as well as cyber extortion and cyberattacks. If a breach of your personal data also exposes other people's information, Pure will help you notify them and even pay for your legal defense if they sue you.
Safeco offers a comprehensive Cyber Protection endorsement that covers online fraud (including identity theft), cyberattacks, cyberbullying, data breaches and cyber extortion. You can also sign up for credit and dark web monitoring to get alerts if your data falls into the wrong hands. The endorsement is available in some but not all of the states Safeco serves.
You can add State Farm's Cyber Event, Identity Restoration and Fraud Loss endorsement to a homeowners, renters or condo insurance policy in most states. It'll pay for data recovery after a cyberattack, financial loss due to online fraud, cyber extortion response and identity theft case management. The coverage costs $25 a year.
USAA partners with Blink to offer personal cyber insurance, so its offerings are similar to what you'd find with a stand-alone Blink policy. Policies cover identity theft, data breaches, cyber extortion and more. USAA sells insurance to active military, veterans and their families. Read our USAA home insurance review for more details about the company.
You may also be able to find personal cyber coverage from smaller regional insurers such as Integrity, which operates in three Midwest states, and Safety, which serves part of New England.
How to prevent cyberattacks
You can reduce the likelihood of an attack by:
Using two-factor authentication when logging into financial, email, social media and other accounts.

Downloading software updates as soon as they're available. (Turning on automatic updates can help with this.)

Choosing complex passwords that are unique for each account or using a password manager like LastPass or Dashlane.

Making sure your internet router has a firewall and encrypts your Wi-Fi.

Using one network for connected appliances and gadgets, and a separate network for your computers, tablets and phones. This way, if someone hacks your device network, they won't be able to access your accounts.
Get more smart money moves – straight to your inbox
Sign up and we'll send you Nerdy articles about the money topics that matter most to you along with other ways to help you get more from your money.