What Is a Public Adjuster, and Do You Need One?
A public insurance adjuster works on your behalf to file insurance claims and negotiate a fair settlement.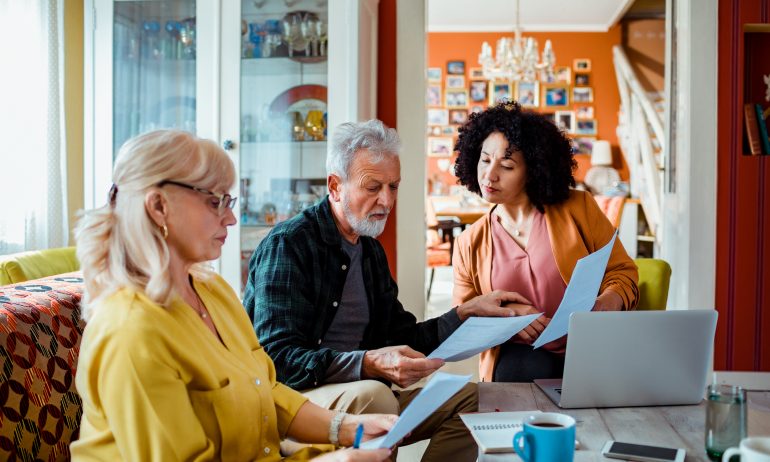 Many or all of the products featured here are from our partners who compensate us. This influences which products we write about and where and how the product appears on a page. However, this does not influence our evaluations. Our opinions are our own. Here is a list of our partners and here's how we make money.
Anyone whose house is damaged in a disaster will be thankful they have homeowners insurance. But filing a claim can be a grueling experience, with hours of painstaking paperwork — and if you make any omissions, you could get a lower payout. That's where public insurance adjusters can help.
What is a public adjuster?
A public adjuster is an insurance expert you can hire to manage your claim for you. While insurance company adjusters represent the insurer's interests, public insurance adjusters represent you. Their job is to get you every dollar you're entitled to.
What does a public adjuster do?
A public adjuster will inspect and assess the damage to your home and determine how much coverage you're eligible for under your policy. They'll also estimate the cost of fixing the damage and document what you've lost. An adjuster will communicate with the insurance company on your behalf to negotiate a settlement.
Public adjusters generally work on large, complex claims. For example, recovering after a hurricane can be especially challenging because it often means filing claims on different policies. If the wind ripped your roof off as floodwaters rose, you'd file a homeowners or windstorm insurance claim plus a flood insurance claim.
You could also face tricky questions like this: How much of the water damage was due to rain coming in through the torn-up roof and how much was due to flooding? The water damage related to the roof would fall under a homeowners or windstorm policy. The flood damage would fall under a flood insurance policy.
A public adjuster can help you figure out the answers and get the most from each available policy.
Pros and cons of hiring a public adjuster
Enlisting the help of a public adjuster isn't the right choice for every claim. Here are some pros and cons to consider.
They may be able to get you a larger settlement. The main advantage of hiring a public adjuster is to have an experienced professional negotiating for the most generous possible claims payout. They can help you document everything you've lost and spot potential damage the insurance company's adjuster might have missed.
They can save you time. Filing a large insurance claim requires significant time and energy, between filling out forms and communicating with the insurer. If you already have a demanding full-time job, are busy caring for kids or simply don't want to deal with the hassle, hiring a public adjuster may be well worth the money.
They can guide you through the claims process. Insurance policies are full of legalese and nitty-gritty details, which can be difficult for the average person to understand. An experienced public adjuster can help you better understand your coverage and how the claims process works.
They can help you dispute a settlement. If you initially filed your own claim and are unhappy with your insurer's settlement offer, you can hire a public adjuster to review the case and negotiate for a higher payout.
They're not suitable for every claim. For small, straightforward claims, you may be better off filing on your own and saving yourself the adjuster's fee. (Some adjusters won't even work on certain claims if the potential payoff is too low.)
Payouts are constrained by your policy limits. The best public adjusters are knowledgeable and good at what they do, but they aren't miracle workers. A public adjuster can't get you more money from the insurer than you're entitled to receive under the policy.
Say your home burns down in a fire and all your belongings are destroyed. If it'll cost you $200,000 to replace everything, but your personal property limit is only $150,000, a public adjuster probably can't get you that extra $50,000 in coverage.
Their fee will reduce your payout. Public adjusters usually charge anywhere from 5% to 20% of the total settlement. However, in some cases you'll pay a flat or hourly rate. Some states cap the fees, and they may be negotiable — but one way or another, you'll have to pay for the adjuster's time and expertise.
They're not available in all states. There are certain parts of the U.S. where public adjusters can't assist with home insurance claims. For example, public adjusters in Kansas can work only on commercial claims, while public adjusters aren't permitted at all in Arkansas.
They're not all legitimate. Disasters bring out scam artists: unqualified people who pose as public adjusters and take advantage of vulnerable people. Follow the tips below to avoid this type of scenario.
How to find a good public adjuster
Not all public adjusters are equally qualified and experienced, so it's important to do your research before hiring one. Follow these tips:
Check whether the adjuster is licensed in your state. Many state insurance departments, which regulate public insurance adjusters, let you verify licenses online. (Note that certain states, such as Alaska and Alabama, don't provide licenses for public adjusters.)

Check if any complaints have been filed with the Better Business Bureau.

Ask for references and check at least three if possible.

Read the contract and understand the fees before hiring the adjuster.

Stay away from anyone who comes to your door unsolicited, demands an upfront fee or pressures you to sign a contract.
Frequently asked questions
Are public adjusters legitimate?
How much should a public adjuster charge?
Do I need a public adjuster?
Get more smart money moves – straight to your inbox
Sign up and we'll send you Nerdy articles about the money topics that matter most to you along with other ways to help you get more from your money.