How to File a Flood Insurance Claim
There's a 60-day window to file a claim if you have a policy backed by the National Flood Insurance Program.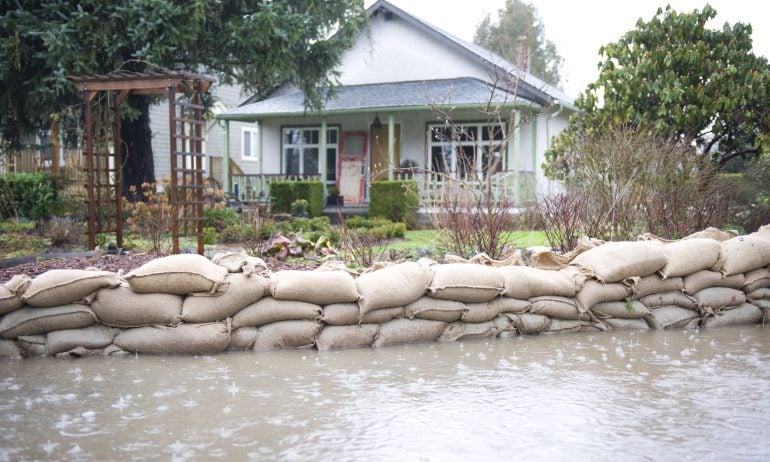 Many or all of the products featured here are from our partners who compensate us. This influences which products we write about and where and how the product appears on a page. However, this does not influence our evaluations. Our opinions are our own. Here is a list of our partners and here's how we make money.
Having flood insurance is a relief if your home has suffered water damage. But to get reimbursed, you'll need to file your flood insurance claim promptly and provide the documentation your insurer requires.
The following advice is for those who have policies backed by the National Flood Insurance Program, the nation's largest flood insurer. If you have private flood insurance, claim timelines and procedures may differ depending on the terms of your policy. Contact your agent or insurer for guidance.
How to file a flood insurance claim
Follow these tips for a smoother flood insurance claims process.
Don't put off filing a claim. As soon as it's safe to inspect your property, start your claim by reaching out to your agent or insurance company. (NFIP policies are usually administered by companies such as Allstate, Liberty Mutual and American Family.)
The sooner you file, the sooner you'll be reimbursed, so it's in your best interest to act quickly. But there's also a deadline. For NFIP policies, you have 60 days after the flood to provide a proof of loss statement listing everything that was damaged or destroyed.
Ask whether an advance payment is available to help you with immediate recovery. Any such payment will be subtracted from your final claim settlement.
Ideally, you wouldn't throw away any damaged items until your claims adjuster sees them. However, you may do so if the items are hazardous to your health or you're legally required to discard them. Just make sure to take photos or videos first. You'll also want to keep material samples such as pieces of damaged carpet or flooring.
The Federal Emergency Management Agency, which administers the NFIP, recommends taking pictures of the serial numbers of large appliances such as refrigerators and laundry machines. Don't forget to photograph the interiors of drawers and cabinets if there's damage there, too.
Keep in mind that an NFIP policy won't cover mold damage unless official closures or lingering floodwaters keep you from entering your home. That's why it's important to start cleaning up as soon as possible after a flood.
As you go through the process, make a list of everything damaged or destroyed. This will help you compose your proof of loss statement.
Once you've filed your claim, an adjuster will be assigned to inspect your property, either in person or remotely. The adjuster will document damage to your belongings and the structure of your home, and answer questions about the claims process.
Don't sign contracts with remediation or repair companies until you've consulted with your adjuster.
If the home is your primary residence, your policy will typically pay out enough for you to restore the structure to its previous condition, using similar materials. For damaged belongings, you'll receive their actual cash value. Say the flood destroyed a dining room set that you bought five years ago. Your payout for that item would reflect five years' worth of depreciation and likely wouldn't be enough for you to buy a new replacement.
For homes that have suffered significant or repeated damage, NFIP policies offer up to $30,000 of increased cost of compliance coverage. This coverage can pay to help you meet local building requirements for preventing future flood damage.
If your community's floodplain administrator declares that you're eligible for this coverage, you'll have to file a separate claim with your agent or insurance company.
How to appeal a flood insurance claim
If your claim is denied, you have the right to appeal the decision. FEMA recommends that policyholders discuss disputes with their insurers first.
During the appeal process, keep a detailed record of every call you make to your insurer. Note the name and title of everyone you spoke with, what you talked about and the dates and times of each conversation.
If you can't resolve the dispute with your insurer, you may file an appeal with FEMA. You must do so within 60 days of your insurer's written denial.
Your appeal must include:
The names of the policyholder(s).

The address of the flooded property.

Your contact information.

A copy of the insurance company's denial notice.

Details about your concern.

Documentation to support your appeal.
To make sure you include the correct information, FEMA has a form you can fill in online here. Then, email the appeal to FEMA-NFIP-App[email protected] or mail it to: FEMA; 400 C Street SW, 6th Floor; Washington, D.C., 20472-3010.
FEMA notes that emailed appeals are processed more quickly than those submitted by mail.
FEMA will acknowledge your appeal in writing and request the claim file from your insurer. It might also ask for more information or request that your property is inspected again. Requests for more information will likely have a 14-day deadline.
If it agrees with your appeal, FEMA will inform both you and your insurer and recommend actions for the insurer to take. If it disagrees, FEMA will explain why.
The appeal may raise new questions or reveal documentation you hadn't provided to your insurer before it denied the claim. If so, FEMA might tell you to submit this information directly to the insurance company to get additional payment.
Once the appeal process is over, your only further recourse if you're still unhappy with the resolution is to file a lawsuit.
Why your flood claim could be denied
Your insurer might have a legitimate reason for denying your claim. If that's the case, it's probably not worth the time it takes to appeal. Below are a few examples.
You're inside the waiting period. NFIP flood insurance comes with a 30-day waiting period before it takes effect. If you have flood damage before that time is up, insurance won't help you.
You missed the proof of loss filing deadline. You have 60 days from the time of damage to file a flood insurance claim. If you wait any longer, even if you're displaced, your claim could be denied. Sometimes this deadline is waived after a severe disaster, but not always.
There was earth movement. Damage due to movement of the earth is excluded from a flood insurance payout, even if the earth moved because of the flooding. If your insurer denies your claim because of this exclusion, consider hiring a licensed professional engineer to determine the exact cause of damage. Make sure the engineer has experience with flood damage. They may determine the damage was caused by hydrostatic pressure, which typically is covered, rather than earth movement. If that's the case, submit the findings in your appeal.
You had pre-existing damage. If water damage is confined to your home, was preventable — like a slow water leak — or occurred before you were insured, it's generally excluded from NFIP flood insurance policies.
You have basement damage. NFIP policies provide some limited coverage for basement areas, but it doesn't include basement improvements or most personal belongings.
Get more smart money moves – straight to your inbox
Sign up and we'll send you Nerdy articles about the money topics that matter most to you along with other ways to help you get more from your money.