What Is Rental Reimbursement Coverage?
Rental reimbursement coverage pays for a replacement car while yours is in the shop after an accident.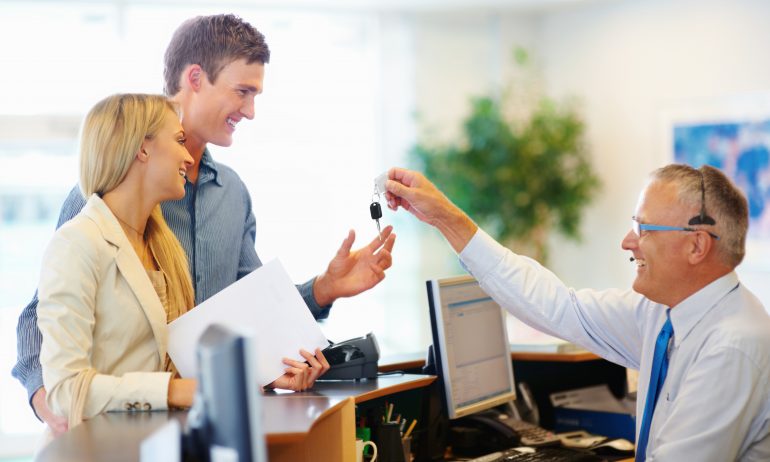 Many or all of the products featured here are from our partners who compensate us. This influences which products we write about and where and how the product appears on a page. However, this does not influence our evaluations. Our opinions are our own. Here is a list of our partners and here's how we make money.
Rental car reimbursement is designed to keep you moving when your primary vehicle isn't. This coverage pays for the cost of a rental car while your car is in the shop, even if you're at fault in the event of a rental car accident.
Auto insurance policies typically don't come with rental car reimbursement, and you'll have to pay a fee to add the coverage. Once you do, you'll be covered for any incident your comprehensive or collision insurance would normally cover.
Key terms in this article
How does rental reimbursement work?
When you're in an accident, the driver causing the accident usually picks up the tab for any damage. If someone hits your car and sends it to the shop, their insurance may pay for the repairs and for the rental car you'll drive while your car is being fixed, but it's not a sure thing.
Similarly, if the accident is your fault, your liability insurance is going to pay for the other driver's rental car. In this case, though, you're stuck with the costs of repairing your own car — unless you've got collision coverage — and paying for a rental while you wait.
Collision coverage is an insurance option that pays for the cost of repairs to your car even if you're responsible for an accident. Collision coverage has a close relative called comprehensive coverage, and it covers oddities like floods and theft.
With these policy options in place, you can add on rental reimbursement coverage. Since the other driver pays for your rental if it's their fault, rental reimbursement only comes into play when it's not another driver's fault, and you've got collision or comprehensive coverage.
Basically, if your car is in the shop and your insurance is footing the bill, it'll be paying for your rental car too — as long as you have the coverage.
What if the fault is contested?
If you and the other driver don't agree with the police report after an accident, the situation can be trickier. If you've got rental reimbursement coverage, you can get in touch with your insurer and set up a rental. If the other driver is later determined to be at fault, your insurance company can deal with theirs to get reimbursed.
If you don't have rental car reimbursement insurance, you'll have to wait to see if you can claim back the cost of a rental car. If the accident was determined to be your fault, you'll be on the hook for the rental. If the other driver is at fault, you'll work with their insurance company to get reimbursed for the money you've already spent on a rental car.
How much coverage do I need?
Like other forms of insurance, rental car reimbursement coverage has limits. Most policies have a daily and total claim maximum. The daily amount is the total your insurance company will pay per day for your rental car. Anything over that amount will come out of your pocket.
The total per claim amount is the maximum you can be reimbursed for after each accident. These might be either a dollar value ($800) or a time limit (30 days). If you need a car for an extended period of time, you can quickly run into these max limits. Some insurers offer several options for limits, while others just have one limit available.
To determine the amount of coverage you need, take a look at rates in your area and consider how important having access to a car is. If you're a weekend driver, you may not need many days of coverage. If your car gets you to work and home five days a week, you'll need to make sure you've got enough rental reimbursement coverage for reliable commuting.
How expensive is rental car reimbursement insurance?
The cost for rental reimbursement coverage varies depending on how long you think you'll need a rental and what kind of car you drive and the company you choose. The more you drive, the more coverage you'll need.
You'll also need to take into account your location. While insurance companies often negotiate better rates for themselves with providers, there may not be a preferred rental car provider near you. For instance, if your car insurance company works with only Hertz but you're surrounded by Enterprise locations, you might have higher rental costs.
Finally, because rental car reimbursement only works for accidents you have coverage for, you'll need to add the cost of collision or comprehensive coverage, if you don't already have them. Shopping around to compare auto insurance rates is the only way to make sure you've got the best policy for you at the best possible rate.
Get more smart money moves – straight to your inbox
Sign up and we'll send you Nerdy articles about the money topics that matter most to you along with other ways to help you get more from your money.